Photo by: Fashion Art Toronto
Copy Editors: Jacob Marion, Eishvinder Gill
Kimberly Tanious was caught in the backstage chaos of a fashion show.
It was dark, small, and crowded, and all that surrounded her were the most amazing clothes she'd ever seen. Tanious was preparing to walk for Lesley Hampton's show—a Canadian fashion designer from Toronto—at Fashion Art Toronto this past November.
The nerves and adrenaline rush kicked in as she readied herself to have all eyes on her.
"It's like writing an exam you were never really prepared for," Tanious said.
And as she stepped out on stage in a strapless dress covered in warm-toned colours and geometric patterns, her hair slicked back into a braid; she remembered every pose and stop she had practiced in rehearsal.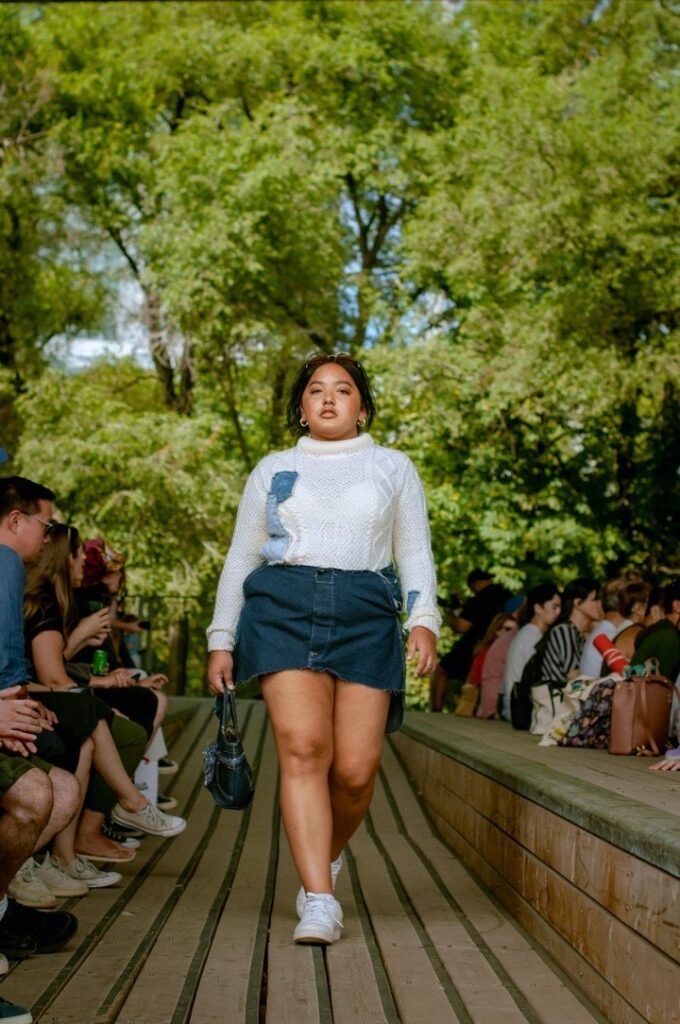 "This is something that I wanted. This is something that I only dreamt of," she said.
While Tanious was accomplishing one of her dreams, she was also making history as the first model to walk at F.A.T. with epilepsy.
Tanious was diagnosed with epilepsy when she was six years old.
Epilepsy is a condition that affects the brain and causes frequent seizures. Seizures are bursts of electrical activity in the brain that temporarily affect how it works. Epilepsy can impact people in different ways.
"Mine is very small. My hand goes numb and the side of my mouth goes numb, I'm still conscious which is unusual for people with epilepsy. But that's how it happens," she said.
As a child, Tanious noted that her experiences were different from some of the other kids.
She had to constantly remind herself to not over-exert herself when playing and to stay hydrated in order to avoid potential seizures.
"Trying to balance those emotions while you're a child was horrendous…you don't know what's wrong with you."
At such a young age, it was difficult for Tanious to understand what was going on. Visits to the hospital could only explain so much and sometimes she felt like she was going through all of this alone.
"Oher little girls had role models. They have dreams and role models. I didn't have one that looked [like me] or has gone through something that I've been through."
Tanious said she always wanted to be in the public eye, whether that meant as a dancer, singer or actress, but she was always told she wouldn't be able to pursue those dreams because of her epilepsy.
"I'd be there, but mentally, I wasn't there. I was asleep somewhere."
In 2013, Tanious made the decision to have brain surgery at the age of 14.
"It took six years to recover from brain surgery. Six years is a long time of just waiting and kind of seeing where my brain takes me from there."
At school, she would have to preface her teachers and classmates about certain protocols regarding her condition. Following her brain surgery, Tanious underwent another procedure.
"I had another surgery where they implanted a vagus nerve stimulator. So basically it's like a magnet in my chest. It sends a signal up my neck and to my brain to stop a seizure."
Tanious' overall life has been impacted by epilepsy. In college, she faced limitations when it came to socializing and partying.
"I had restrictions put on me, not by choice, but by the matter of the situation."
During the COVID-19 pandemic, when lockdown phases were rolling in and out, Tanious decided to help out one of her friends who wanted to take some photos of her to test out new camera lenses.
"I'm surprised you're not a model," her friend said to her.
And while it took Tanious by surprise, that little comment and photoshoot were enough to kick off her passion and eventual career in the fashion industry.
Soon Tanious realized that maybe she could be her own representation, and be a role model for other people who have epilepsy and need someone to look up to.
She's been able to walk for other designers through F.A.T and is also an influencer for Epilepsy Canada.
And while Tanious appreciates the headlines and the praise for diversifying the industry, it's the impact she makes on other people with epilepsy that truly matters to her.
"If someone was able to see this and say, 'she walked the runway, but she's like me and has epilepsy, and I could be able to do that too' that's what that means to me."