GRAPHIC DESIGNER: Jenifer Dao
COPY EDITOR: Erica Weekes
Anime has always been a dominating factor in the fashion industry due to its influence on its audience and cult following. On-screen cinema has inspired an array of people to dress similar or spot on to famous characters such as Serena van der Woodsen and Blair Waldorf from Gossip girl. These outfits and characters also transpire into having a lasting effect in cinema i.e. the Academy Award nominated film The Devil Wears Prada. Because these shows and movies have such a large cult following due to their aesthetic and nostalgic attachments, individuals bond themselves to the cinematic art these on-screen displays portray. NANA is the story of Nana Komatsu and Nana Osaki. They first meet on a train to Tokyo and discover that they are the same age.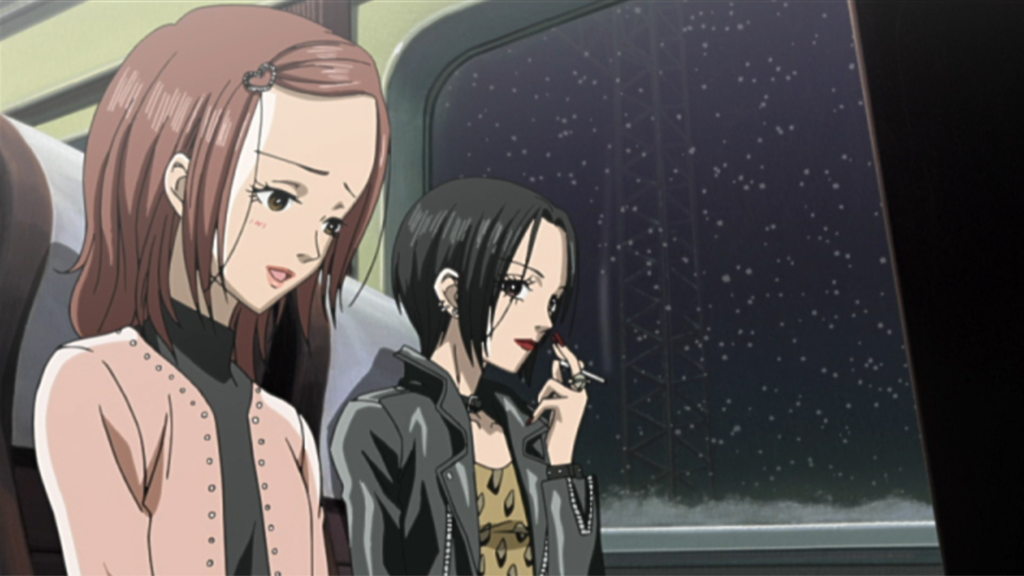 Both Nana's have different styles. Nana Komatsu (pictured left) goes by Hatchi and Nana Osaki (pictured right). Hatchi and Nana both have different aesthetics, Nana dresses with a punk rock whilst Hatchi dresses in very girly-esq outfits. They both have different aspirations; Hatchi moves to Tokyo to be with her boyfriend Shoji, and Nana moves to become a famous punk singer. 
In NANA, Vivienne Westwood is referenced in almost every episode. You can see almost all of the characters wearing something by the designer, even if it is as small as a pair of earrings. 
NANA has had a huge impact on fashion, especially through its resurrection on social media apps i.e. TikTok, Pinterest and Instagram. In summer 2020, because of TikTok, Vivienne Westwood's pearl choker with her crystal orb logo gained massive popularity, being seen on celebrities and influencers alike. The necklace is detailed as a single strand with pearls and a Westwood orb falling in the middle of the necklace. There is also a three strand version of the necklace. Both these necklaces were featured in NANA. Now, because of its resurrection, it is seen as the It-Girl accessory of 2021 thanks to its popularity on TikTok.
NANA has truly inspired a lot of people, knowingly or not, to buy many of the exact pieces featured in the show. Because of its affluence and hype, some of these iconic pieces are reselling on the second hand market for astronomically high price points. 
With the boom of Westwood's influence on a newer generation, this makes it somewhat harder to get some iconic pieces due to Nana's popularity. Because of this, it has caused a lot of fakes to be created via Aliexpress, Dhgate, and eBay to be sold on various reselling apps i.e. Grailed, Heroine and Depop. As a result, it sometimes gets harder to identify the real and authentic piece especially if someone is buying into the brand because of NANA and its symbolic influence it has on the buyer or watcher. It takes away from the brand because it's turning an iconic brand like Westwood into fast fashion because of the mass produced pieces. In no way is this Westwood's fault because she supplied products that rose in popularity due to anime, social media and seeing people wearing these pieces. However, if Westwood was to lower her prices and start to mass produce her items, it would take away from the brand's exclusivity and message. An example of this would be House Of Sunny where they rose to fame due to their infamous David Hockney inspired dress. House of Sunny based themselves upon sustainability and spaced out drops however when the dress started to get popular they started to mass produce items. This also affected the quality of their garments and their dress was now being replicated on AliExpress. Westwood's jewelry is costume jewelry, so they're not made out of pearls, diamonds or precious metals. It's up to you if you want to spend £120 on a MINI BAS RELIEF CHOKER via the official Vivienne Westwood site. 
Westwood's influence on fashion has inspired a generation of young creatives. However, her influence on NANA truly changed the way people correlate animated TV shows into real life outfit and lifestyle inspiration.