GRAPHIC DESIGNER: Ryan MacDonald
COPY EDITOR: Imani Busby
Eclectic, opulent, and inordinate are words that define Paris-based brand Y/Project. The internet has had a love/hate relationship with the brand's pieces, with magazines even dubbing their pieces "meme fashion". Denim jackets with arms measuring six feet, pop-out denim shorts and deconstructed skirts are just a few of the brand's most viral designs.
Y/Project's designs are characterized by elements that add a surrealist edge, such as the addition of pliable wires sewn into denim, allowing for the piece to be twisted and turned to add dimension and create a new look each time. They artfully blur the lines between avant-garde and commercial fashion.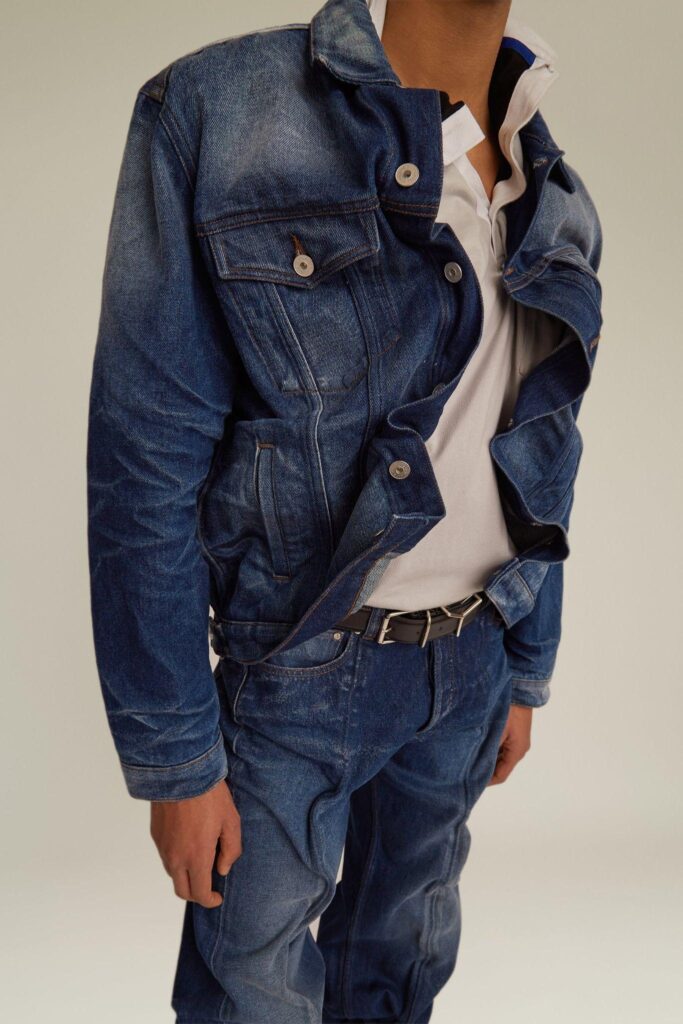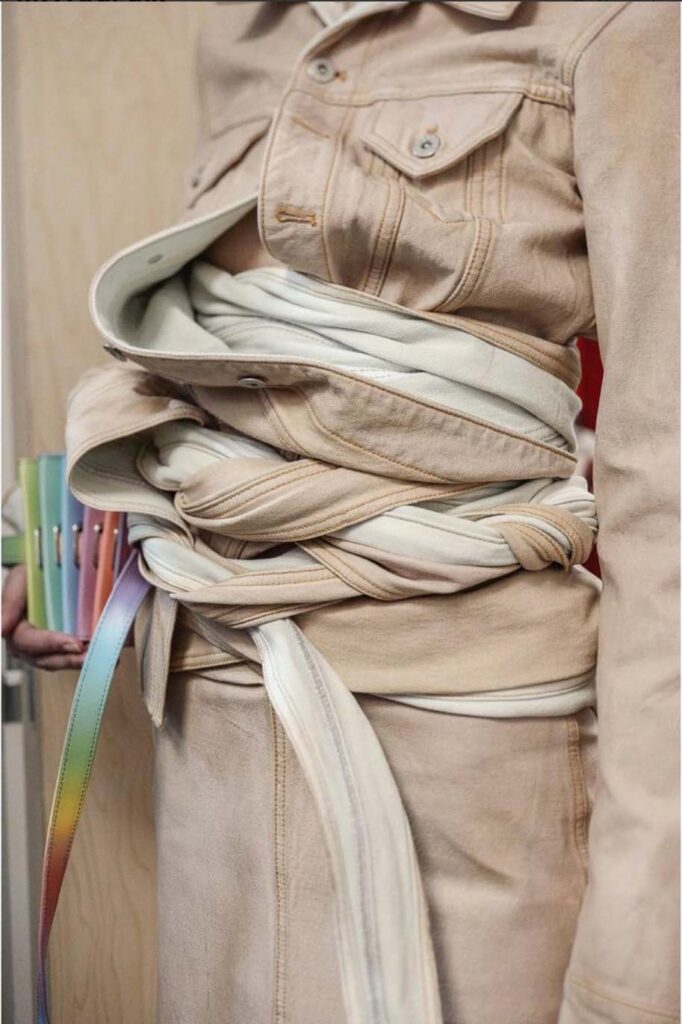 "[…] These looks are not intended for everyday life," says creative director Glenn Martens in an interview with i-D. "[…] They make you dream and laugh." Although the exaggerated sleeves might have caused a divide on the internet, they succeeded at reinterpreting commercial pieces as avant-garde. Y/Project continues to ask the same question with every new season: what is fashion if not fun? Their playful designs often take select elements and reinvent them, creating uniquely disproportionate clothing. 
Denim jackets are taken and embellished with buttons that can attach and detach panels to create volume and shape. Knitwear pieces receive three collars instead of one. Detachable trousers and twisted shirts are not uncommon at the Y/Project online store. When asked about his work, Martens says: "I like to challenge myself and challenge my customers."
Light-hearted and playful denim are another trademark characteristic of Y/Project's DNA. The idea for each piece is to let the wearer experiment with fashion. The extra length allows wearers to style jeans scrunched or folded. The multi-cuff jeans also allow the wearer to adjust the cuffs and experiment with placement and styling as they desire. 
The appeal of Y/Project's designs is in the bizarre and avant-garde. So who are these pieces designed for?
Y/Project continues to ask the same question with every new season: what is fashion if not fun?
Creative director Glenn Martens says, in an interview with SSENSE: "I don't make a distinction between genders. For me, it's important that you put the garment on and you ask yourself, "How am I going to make this my own? How am I going to make this me?" The brand would often showcase the same pieces on male and female presenting bodies with this idea in mind. 
Martens also notes that the casting of his shows is meant to reflect Paris, with Y/Project being the earliest brand to cast North African models in their shows. In an interview with Evening Standard, Martens said that the Y/Project atelier is composed entirely of people with different nationalities, cultures, and backgrounds working together. 
But, it seems that while the brand's pieces claim to be designed for a diverse audience, the brand's runway shows often do not reflect their work onto models with disabilities or plus sized models. Elle, a wheelchair user and a fan of Y/Project's FW 2017 and FW 2018 collections, noted: "I'd be wearing the blue thigh-highs, leather pants, and furry collar, if I was able."
Why do experimental fashion lines often not reflect a diverse audience?
Y/Project pieces are designed for a wide audience, for people who love to express their individuality. However, most of the brand's pieces are often inaccessible to individuals who are disabled or plus-sized. 
An analysis of Y/Project's brand identity poses the question– why do experimental fashion lines often not reflect a diverse audience? Most denim pieces can be redesigned to have elastic waistbands or deconstructed to accommodate for leg braces. And although some avant-garde brands have experimental and adaptive clothing, pieces are rarely, if ever, showcased on disabled models.
Fashion allows us to be playful, carefree, and unique to the individual. But fashion needs to be designed to be inclusive and to reflect a contemporary audience.  
Opulent brands in the vein of Y/Project include GmbH, In Good Company and Chez Ichiro. Toronto brands include Dorian Who, Swaby, IZ Adaptive and Vejas Maksimas.
However, Y/Projects bizarre, surrealist pieces serve as perfect inspiration for incorporating avant-garde style into everyday, commercial clothing. We can cut out pieces to allow for unique shapes, reconstruct thrifted clothing, or add a scrunch detail to denim or cotton for a unique texture. Experimenting with deconstruction and focusing on elements like collars, sleeves, jean-cuffs, and more are few of the many ways to incorporate commercial avant-garde style into our personal wardrobes.