GRAPHIC DESIGNER: Jackie Borg
COPY EDITOR: Anh Phan
Designers stepped out and showed up this Fashion Month's Spring/Summer 2022 season. As the festivities draw to a close, I outlined the extraordinary and emotion-evoking collections that were clear standouts above the rest, all establishing clear connections to their rich cultural backgrounds. They all artfully married where they are now to where they're from in a way that both celebrated their heritage and showcased their mastery of design.
Twenty-five-year-old Maximilian Davis made his runway debut at London Fashion Week showcasing both the brand's Spring 2022 collection and Black elegance. Davis was born and raised in Manchester from an Afro-Caribbean background and his designs have already been worn by the likes of Dua Lipa, A$AP Rocky, and Rihanna for Dazed Magazine's 30th Anniversary issue. The collection was inspired by his Trinidadian heritage, featuring twenty-two looks that paid homage to this culturally rich island through the national colours of red, white, and black, sheer dresses and swimwear inspired pieces melded together with classic British tailoring techniques. The bright red seen throughout the collection also tips its hat to Trinidad's national bird, the Scarlet Ibis, which is the collection's namesake. However, the most talked about look from the collection was the artistically inspiring finale piece which resembled a sea urchin. The piece was worn as a backpack which resembled the quintessential (usually feathered) accessory worn by masqueraders during Trinidad Carnival Tuesday.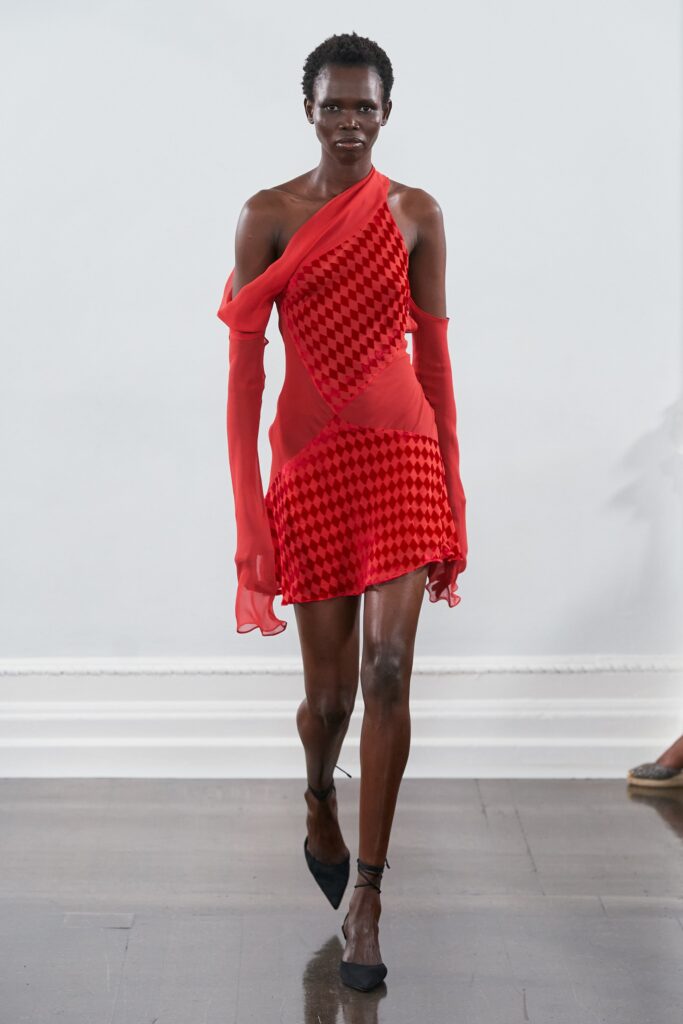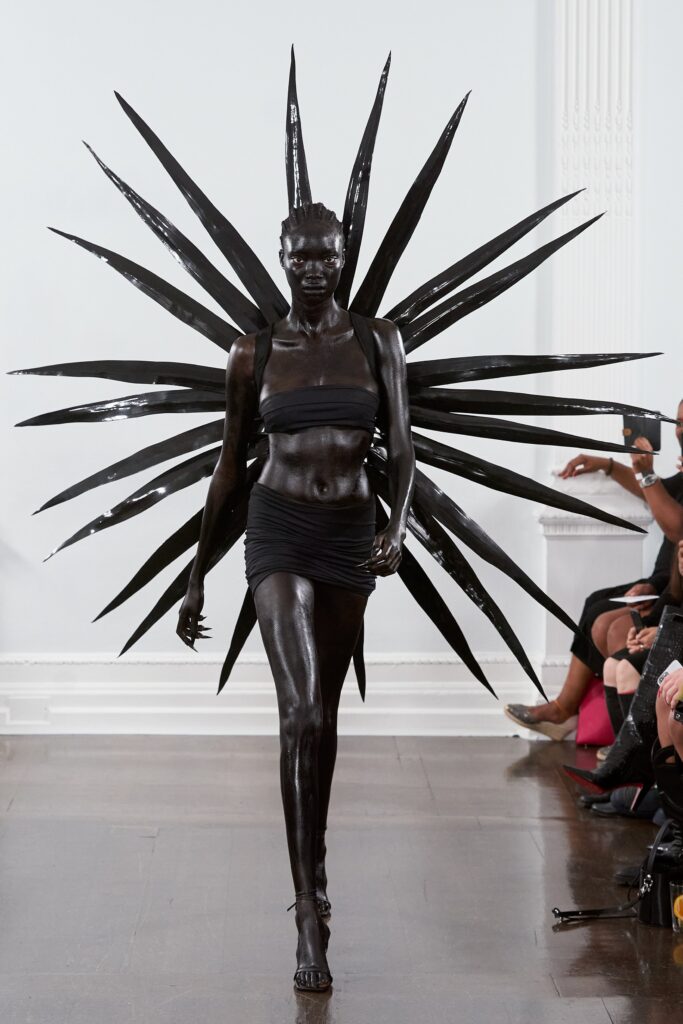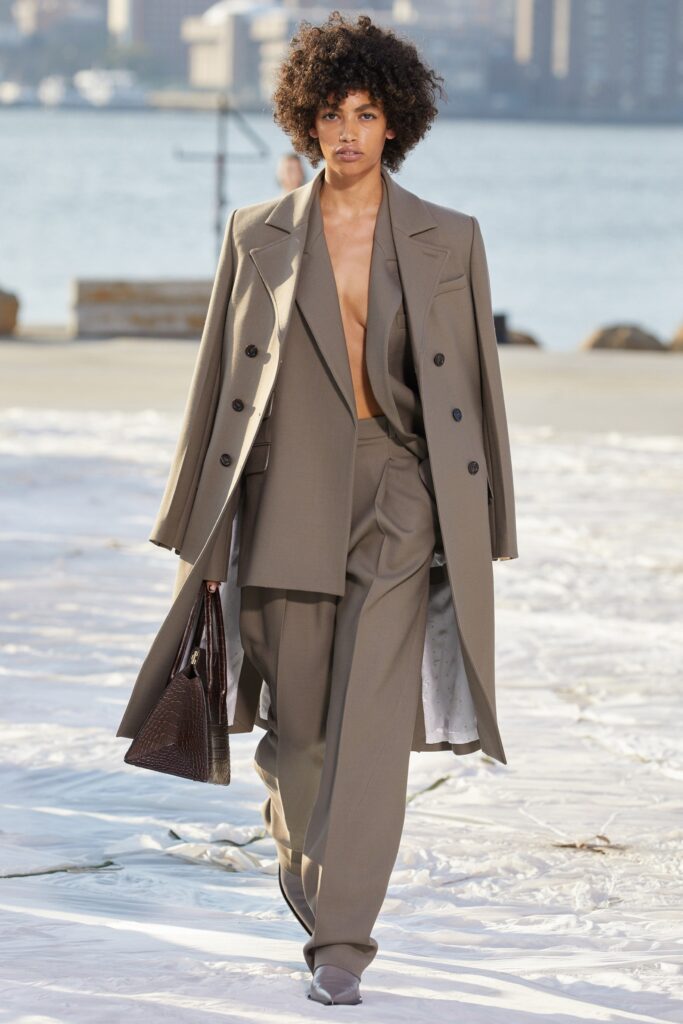 Another awe-inspiring runway debut was that of Peter Do's collection at New York Fashion Week. Do's collection was heavily influenced by his Vietnamese heritage and growing up as an immigrant in Philadelphia with his father. Titled 'Home', Do likened this collection to that of making a "good Pho," which is, "reduced and edited, to an essence." Home really did capture this essence with its clean cuts, beautiful and functional tailoring, and exclusion of excess. The show featured many monochromatic blazer and slack looks and most notably, the collection featured silky trench coats in various colours. Bringing a sense of peacefulness and calm, the show was likened to a breath of fresh air in the midst of the chaos of New York Fashion Week. Aside from the personal concept and exquisite pieces, Do was praised for his incredibly humble demeanor and kind disposition. For the walkout at the end of the show, he bowed his head in gratitude and pointed to the rest of his team to be applauded. 
Edvin Thompson, born in Jamaica and based in Brooklyn, presented Theophilio's 'Air Jamaica' collection at New York Fashion Week. Air Jamaica was the airline that Thompson flew on when he immigrated to America in 2002 whose elements, colours, atmosphere, and even food inspired the collection. The first few looks showcased berets and short, tied, neck scarves which referenced quintessential flight attendants' attire. The general concept of the show melded together themes of Jamaican pride with New York style. The beautiful colour-way of red, green, yellow/gold, and black, crochet pieces, and mesh 'cover-ups' referenced Rastafarian imagery and representative colours while the comfortable, sexy, and figure-hugging silhouettes are all New York-inspired. Thompson and the models really put on a show and brought the Caribbean energy to New York Fashion Week.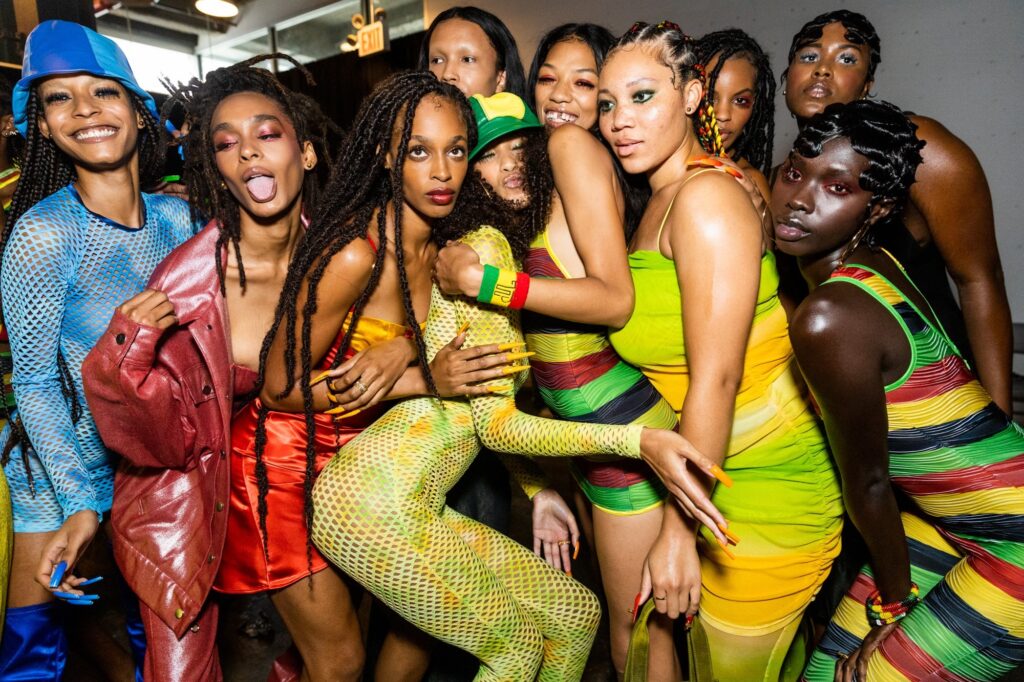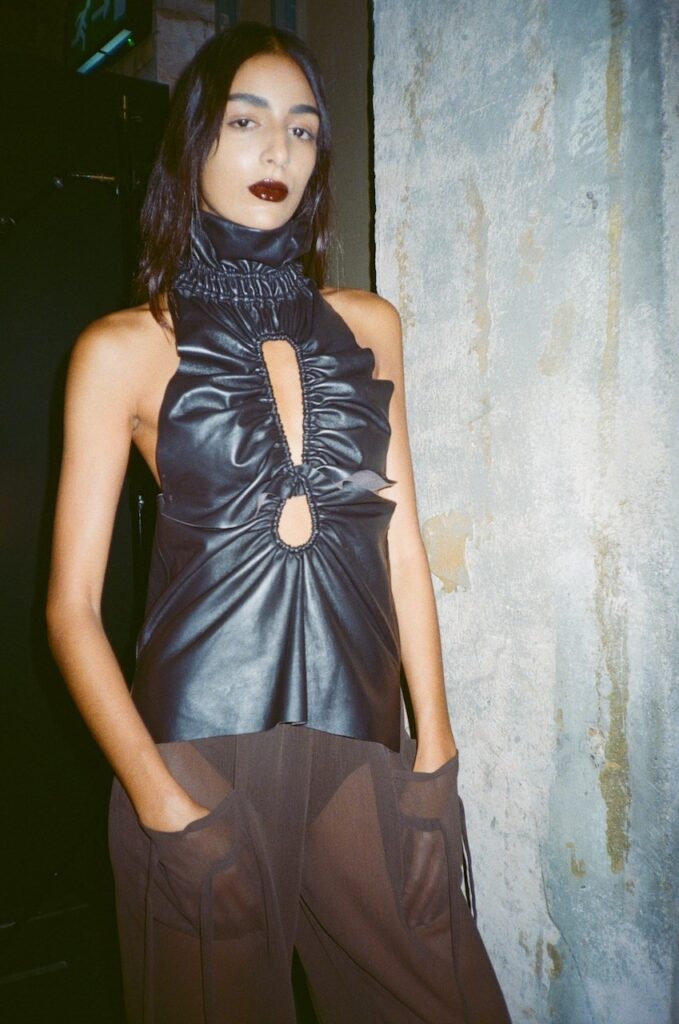 The British-born Indian designer showcased her collection at London Fashion Week, titled 'Freedom and Joy'. Even with the collection's name set aside, the collection screamed for an eager resurgence of clothes fit for a vacation or a sexy night out. The brand's sexy and sophisticated identity was on full display at the show with several strong looks featuring its signature keyhole cut outs, figure-hugging draped transparent pieces, and asymmetric shapes. She makes it a point to show off the body and adorns the female figure with her colourful and artful designs. Lele also brought in, as she frequently has in the past, many references to her Indian heritage. Some of these include, but are not limited to, ruched bras, draping, and crop tops, which are often seen as a part of the traditional Hindu sari. Other notable pieces from the collection are the see-through mesh pieces made by embroiderers in India, out of sequins. Lele makes it clear that she means for the pieces to be played around with and styled according to the individual consumer's tastes and creativity. Again, this designer bridges two worlds according to her heritage and upbringing, meshing her contemporary style with subtle Indian influences and motifs. 
Straight from Queens, New York, LaQuan Smith presented his show at the Empire State Building for New York Fashion Week this season. Smith has been known for its sexy, glitz and glamour-focused identity and using the body's curves and edges to showcase the clothes. His pieces have been worn by many notable celebrities such as Kim Kardashian, Khloe Kardashian, and Kylie Jenner in the past and he brought back some of the most-loved items from past seasons like the reflective metallic pants in different colours. Body-hugging leather draping, cotton jersey dresses, lace, and deep V necklines travelling all the way down to the belly button were common themes presented in the show. The clothes ranged from sexy sparkly bikinis to stunning 'night out' looks. One of the looks featured was a white cotton jersey dress with a matching white corset recently seen on Rihanna. Most notably, however, was the look featuring a cotton gathered, twisted, and draped dress with lots of sexy cutouts. A few of the models on the runway also sported a poodle on a leash as an accessory, which turned heads.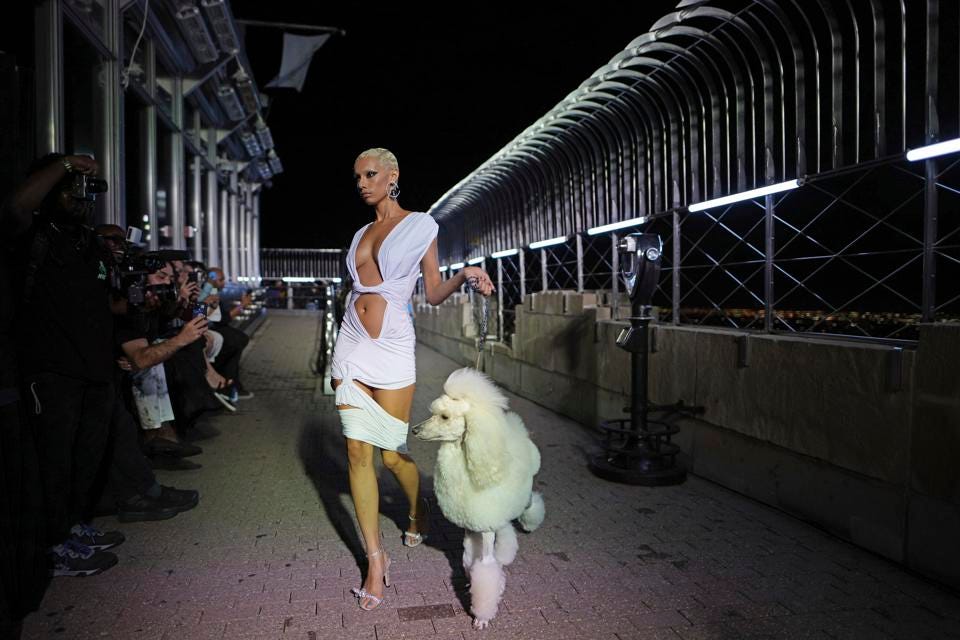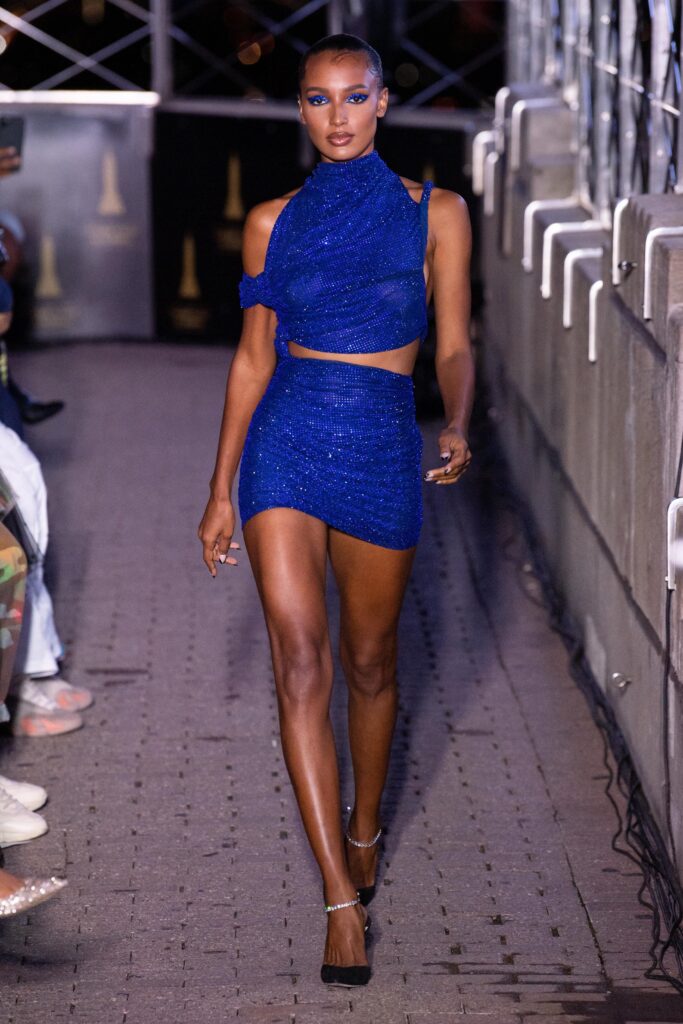 Kenneth Ize, born in Nigeria and raised in Austria, kicked off Paris Fashion Week with his Spring/Summer 2022 collection, 'A New Dawn'. The show was also coming off a high of Kenneth's busy year prior, collections being released during the pandemic, an LVMH Prize finalist, and most notably his collaboration with the Karl Lagerfeld brand, the first collaboration after the passing of Karl. Ize makes use of traditional asoke fabric in most of his designs which are handwoven in his factory in Ilorin, Nigeria and finished in Italy. The collection brought up feelings of joy, positivity, and new beginnings with its colourful display. The high quality artistry is so apparent in the pieces yet there is a sense of community in the clothing.