The Book by StyleCircle, Issue 04, centres around the theme of Beyond The Frame, exploring the intersection between art and fashion.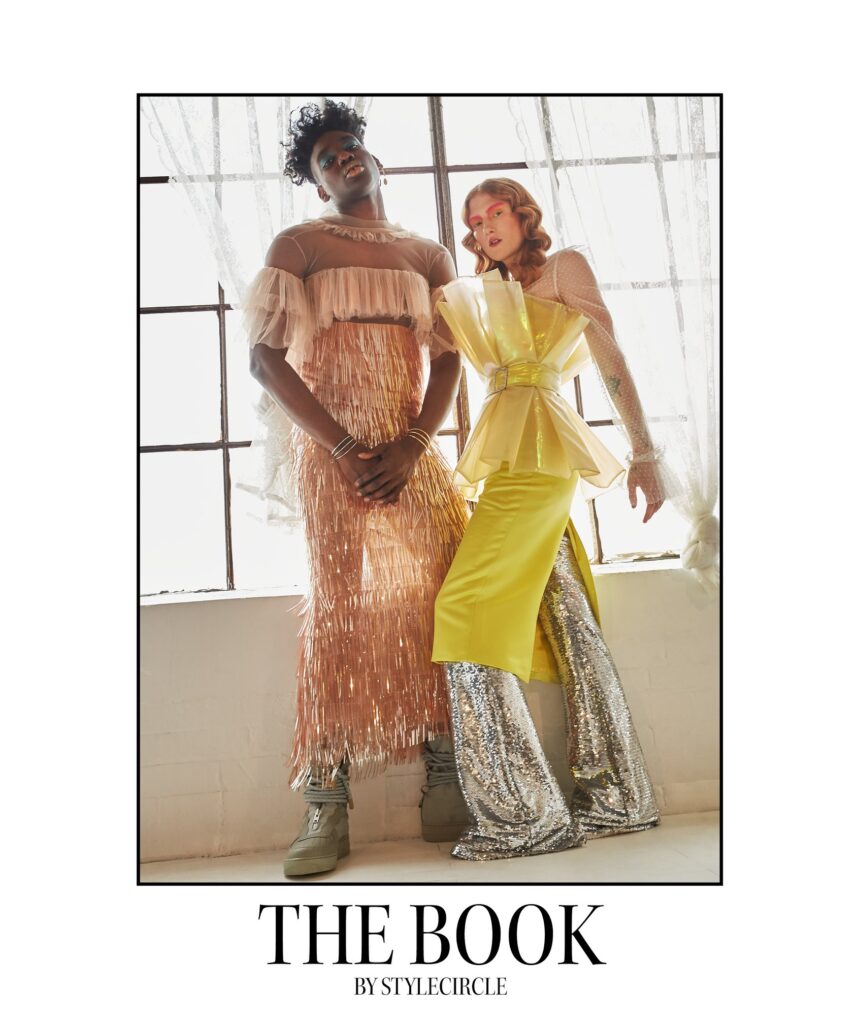 Alicia Churilla, Emily Bartosiewicz, Vanessa Smickle, Lesley-Jane Deboer, Natalie Robin, Omar Taleb, Ellis Mathews, Harrison Clarke, Kelsey Adlem.
Alicia Churilla, Maxim Caron, Leah Chan, Oojoo Chun, Joanna Ho, Olivia Lemieux, Steve Nguyen, Quinne Murakawa, Samantha Cass, Jared Miller, Jonathan Matta.
Joanna Lupker, Chelsea Atwood, Alexandra Anisman, Melissa Dunphy, Daniel Bosco, Ally McJannet.
Maryam Aregawi, Razan Azhari-Ali, Ana B, Amanda Brunswick, Lauren Brunswick, Charlotte Carbon, Emmett Charuk, Emma Cheuk, Taylor Chousky, Bronwen Clewley, Rafaela Conde, Quiton Cruickshanks, Juzar Dean, Lindsay Anne Delaney, Darryl DeSousa, Heather Dunn, Shaz G, Kyla Garbutt, Wilma Giglio, Olive Grey, Lauryn Hopwood, Jessica Jansen, Nadia Juhasz, Madeleine Kay, Victor Keita, Iris Kim, Akira Laine, Sarah Lam, William Lavina, Amanda MacKay, Caitlin Mahut, Maxine McCarthy, Simone Meron, Elenora Morris, Alana Ocano, Arielle Olouna, Pegah Peivandi, Samantha Pickles, Haely Pike, Durga Rajah, Liam Redhead, Samuel Rees, Bianca Roco, Rachel Romu, Felicia Ann Ryan, Nimo Said, Beatriz Sartorius, Tasneem Sayed, Kelly Smith, Freya de Tonnancour, Robin Vice, Lyra W, Melissa Wade, Nicole Weitzel, Kaylah Wilson, Alexa Xavier.
Beyond The Frame, the Fourth Issue of The Book by StyleCircle
Hello dear readers, thank you for stopping by for our fourth issue of The Book by StyleCircle. I've been on the StyleCircle team since it's first print iteration in 2015. Writing this letter feels like a commencement speech, acknowledging my full circle journey into the fashion industry. When I found out I would be taking over StyleCircle as Editor-in-Chief and Creative Director last March, it took me 2 days to pick a theme for this years print issue, indicating to you, dear reader, that I have a very personal connection to the theme.
Being rather shy growing up, I found my voice through fashion. I always enjoyed the practice, placing importance and experiencing pure bliss through what I wore throughout my childhood. While appearing meek to my high school peers, my red lipstick and bold artist style spoke for me when I couldn't. Eventually, I found my voice through not only my art, but through my actions. My relationship with self-expression continued throughout University, and now leads me to a deeper understanding of fashion. Most importantly though, I found out who I was and want to be as my future-self. Fashion gives that voice to many others, alike myself—whether that is through gender, identity, self-worth, confidence, etc. Fashion is a powerful visual and expressive statement, like artworks. This issue explores how fashion takes art beyond the frame, and into the realm of our lived society.
Writing this letter feels finite, as if what my team and I accomplished this year is in the past. But upon reflection, this magazine represents just the opposite. My hope is that our work is just the beginning of Issue 04's journey. ­The words will ring throughout your brain and evoke emotional response for days after. The imagery will bring new meaning to how you see art and fashion in your everyday lives. And eventually, it will live on in your bedroom collections of magazines, until one day you rediscover the words and images that will inspire you again. Until we meet again, enjoy this issue and allow your mind to open.
Sincerely, Alicia Churilla
THE BOOK BY STYLECIRCLE ISSUE 03