There was a notable change in the atmosphere moments before Fashion Art Toronto's (FAT) 7 p.m. set of collections on their final day of shows. Suddenly, the organized chaos amped up as an influx of people poured into The Parkdale Hall. Fashion journalists and local influencers were shuffled around the front row while conversations could be heard amongst the audience about Jesse Woon Sam's collection titled "The Woven Letter".
As the lights rose and the show started, an eerie and unnerving instrumental track began booming as the first model appeared. The look was monochromatic dusky gray, with the model donning a full face mask, a common thread throughout the show.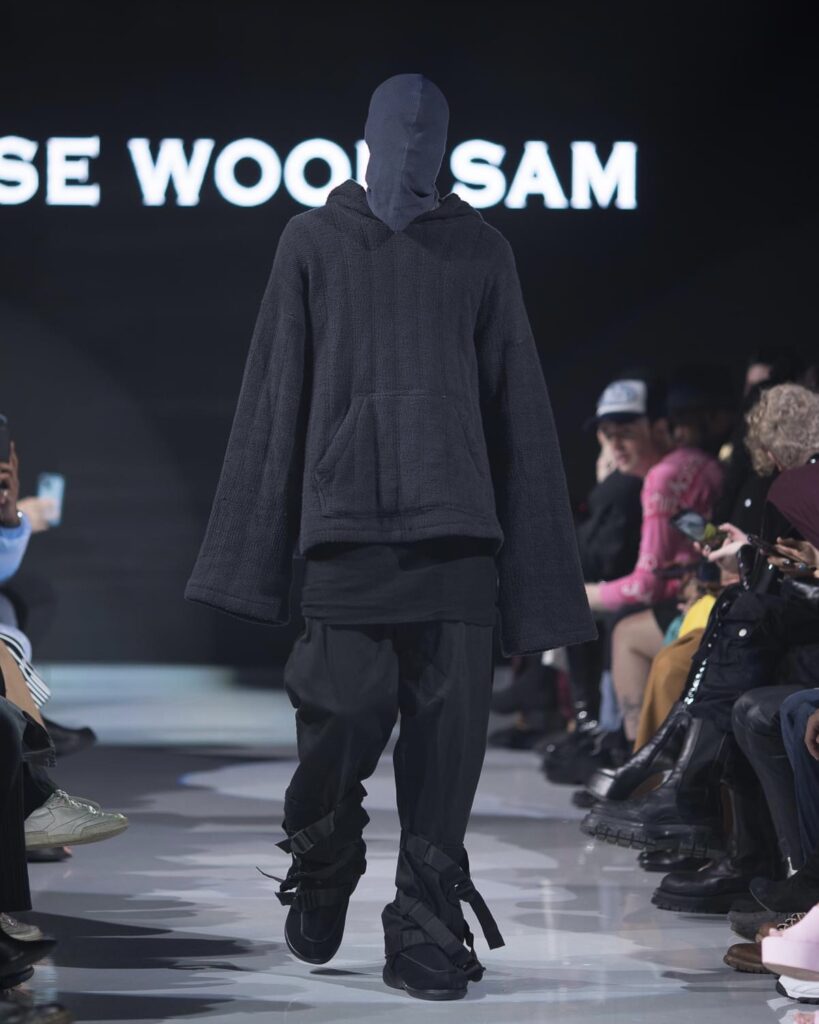 In an age of fashion and technology where there is virtually no privacy and often models are just as spectacle as the designs themselves, the anonymity on display at Jesse Woon Sam felt unnerving yet refreshing. At the same time, our post-COVID-19 and climate-distraught reality made for an easy connection between these masks and the looming fear of an apocalyptic future.
"Living through the pandemic the last few years inspired me to make looks that we might wear if our future went a little differently," the designer said in a video posted to Fashion Art Toronto's Instagram.
This dystopian vibe continued throughout the show as a variety of utilitarian looks stomped down the runway. Military-inspired vests, hoodies, belt bags, rubber boots, and pocket-heavy cargo pants were shown in practical materials. Looks fit for a Mad Max or The Walking Dead character, yet also your local "hypebeast". The muted colour palette of black, grays, beige and army green cemented the end-of-the-world atmosphere.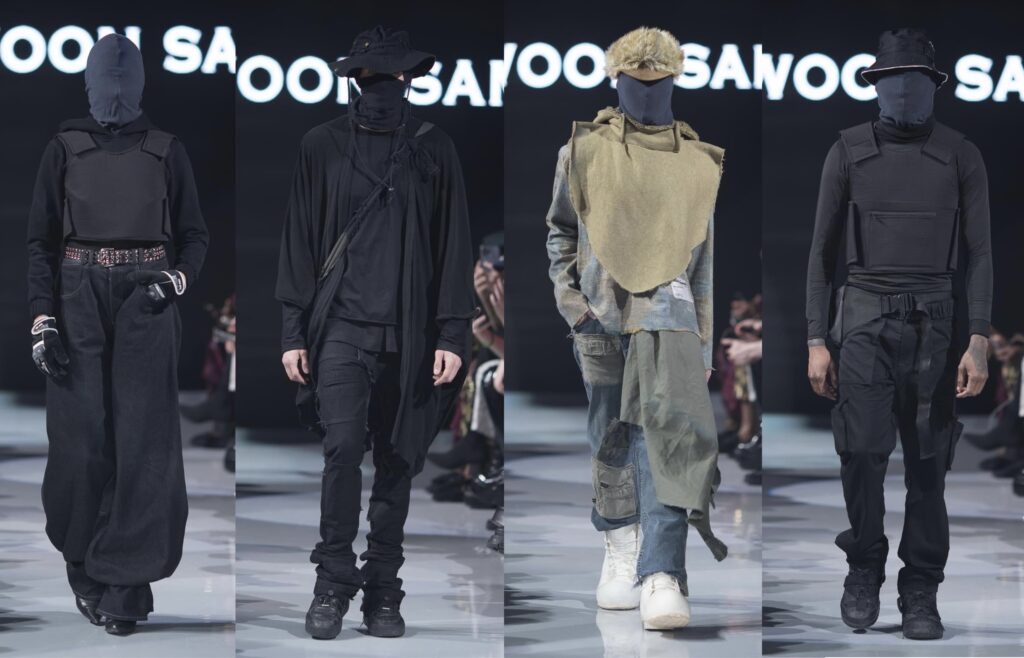 Amongst the practicality, Jesse Woon Sam weaved in some fun. A model wearing a mesh hoodie dress with thigh-high leather boots and another in fringe leather pants were more for fashion's sake than cataclysm. A singular pop of colour, bright yellow mixed with black, was reminiscent of biohazard symbols and brought balance to the collection.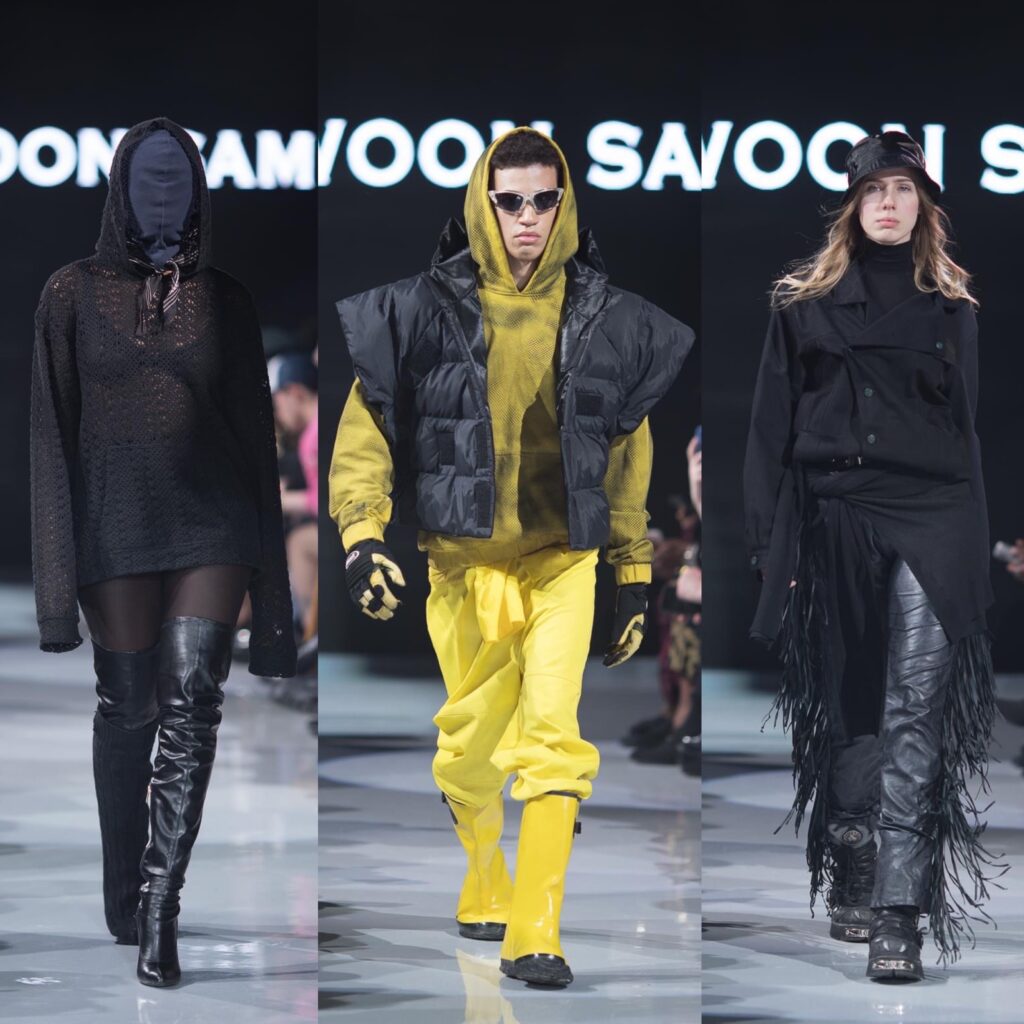 As the show concluded with the finale, another shift in music began with an even more sinister track playing behind the cheers and applause. A man in the audience exclaimed, "finally some real fashion!"
With brands like Balenciaga and Rick Owens also showing their takes on apocalyptic fashion in the past few seasons, it's safe to say that fashion is keen to evolve alongside the dark possibilities in our future.