Fall 2022, Toronto Fashion Week. It is Saturday night on the third day of Fashion Art Toronto (FAT).
There is a great lineup including shows from Ao Dai Canada, Katerina Sfaelos, Fugnitto, House of Étoile, Karoline Mazzarella, Summer Zhang, and Martianally. I arrive on the scene at Parkdale Hall and the outside is overrun with swarms of people dressed to the absolute nines; in things so out-there, most people wouldn't even fathom wearing them. Guests are queuing up to get their photos taken, photographers snap pictures. It's raining and people are huddled together under big black umbrellas. I pick up my media pass and head inside.
Inside there is even greater chaos. Attendees push to get through to the next room where the runway is located. I flash my media pass and finally make it through. I was in the pit. Pressed up against the photographers and other media people on wooden stands, all of us were fighting for the best view of the runway. But it didn't matter, I simply was happy to be there. 8 o'clock rolls around; the House of Étoile show is about to begin. I pull out my little yellow notepad and elbow my way to the front.
A video pops up on the screen signifying the start of the show featuring models laughing maniacally, twirling knives around, blowing out candles, drinking tea, and dealing tarot cards. The opening look consists of a purple 'Little Red Riding Hood' cloak with a feather trim and red and gold dragonfly embellishments and a black lace babydoll dress underneath. Whimsical music plays and models move in disjointed, abrupt movements, some adding a signature curtsey or evil laugh.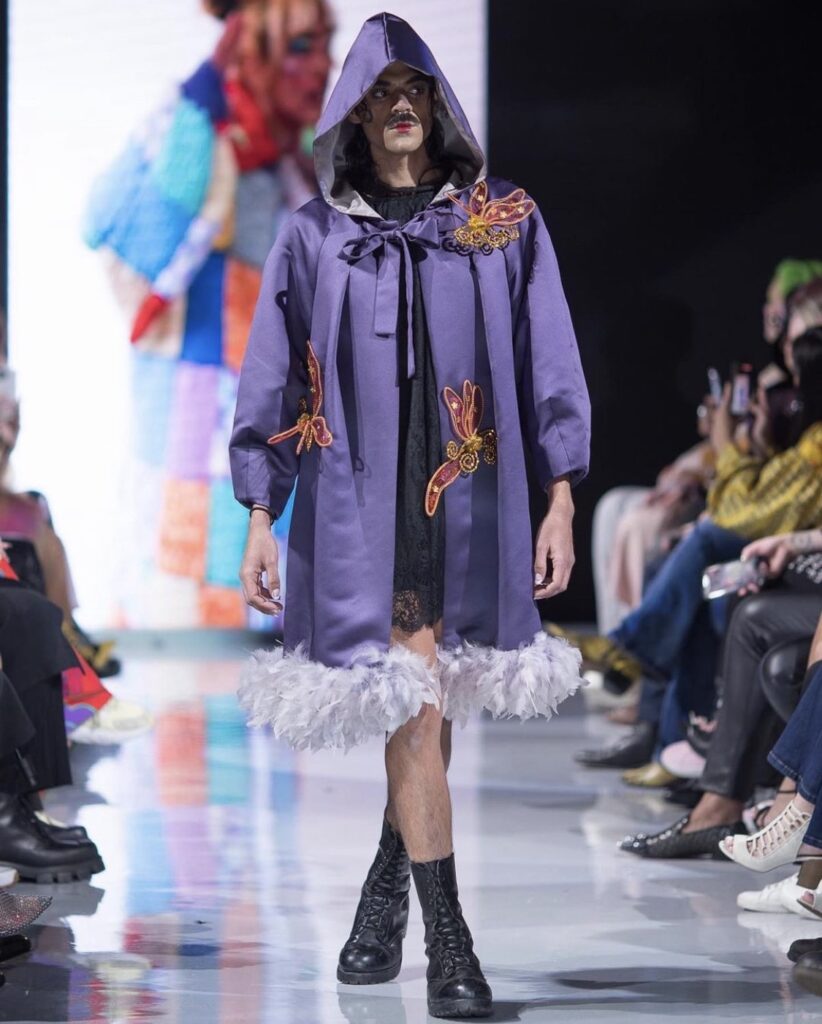 Named after the occult concept; Egregore, this collection by the 17-year-old House of Étoile designer; Prada Lola Faraji is inspired by the monsters under your bed and the inner mind of a child. In my interview with the young designer, she says each look is intended to be a character inspired by drawings she did as a young child. According to Prada, silhouettes were carefully chosen to mimic various objects you might find in a bedroom: lampshades, curtains, blankets, etc…
The second look emerges. A creepy clown dressed in a pale pink and yellow silk smock with a tulle collar, green ribbons down the front, and green opaque tights stumbles wide-eyed down the runway making intense eye contact with guests in the audience. Several sequin motifs pepper the smock such as: eyes, lips, flowers, and butterflies.
I try to jot down as many notes as possible without missing a second of the show: "Pastels, crochet, repetition of eye motifs," I scribble in my notepad. I see the blanket inspiration come through in the next look, with the model draped in a multi-color patchwork crochet dress reminiscent of a quilt or crochet throw blanket. Out struts the next model, in a teal and light pink masterpiece. The sheets of paper layered under the pink silk organza hoop skirt, are love letters from an ex, says Faraji, which she wanted the presentation and model's temperament to be "the creepiest and most interactive." Unfriendly split maybe?
Next up comes a regal princess in a full royal blue gown with beautifully draped bunches in the fabric. The crochet bodice repeats the eye motifs from earlier designs. The model strides confidently down the catwalk as if she is about to address her kingdom and curtseys once she reaches the end. The next look consists of a lavender corset with beaded floral trim, and a pink crochet skirt with yarn eyeballs attached to it by their red knit optic nerves. However, the showstopper of this look is the green satin gloves, with accentuated, elongated fingers, resembling something you would imagine reaching out from under your bed to grab your ankle in the middle of the night. Eek.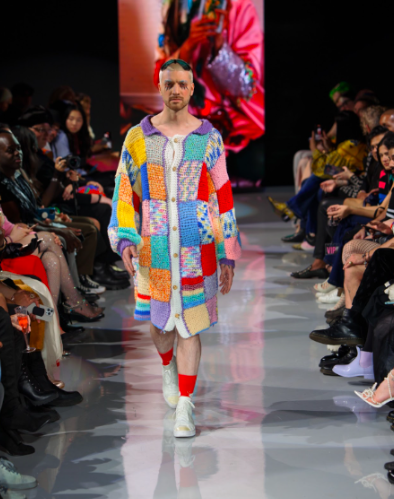 Out of all the Egregore looks, Faraji cites the fabric for this one as the only one not upcycled or secondhand in some way. The thrift-store chain; Value Village is the designer's textile gold mine. The rich blue and gold slinky frock paired with the slicked back "wet" hair, transforms this model into a mythical serpent-like creature emerging from the ocean.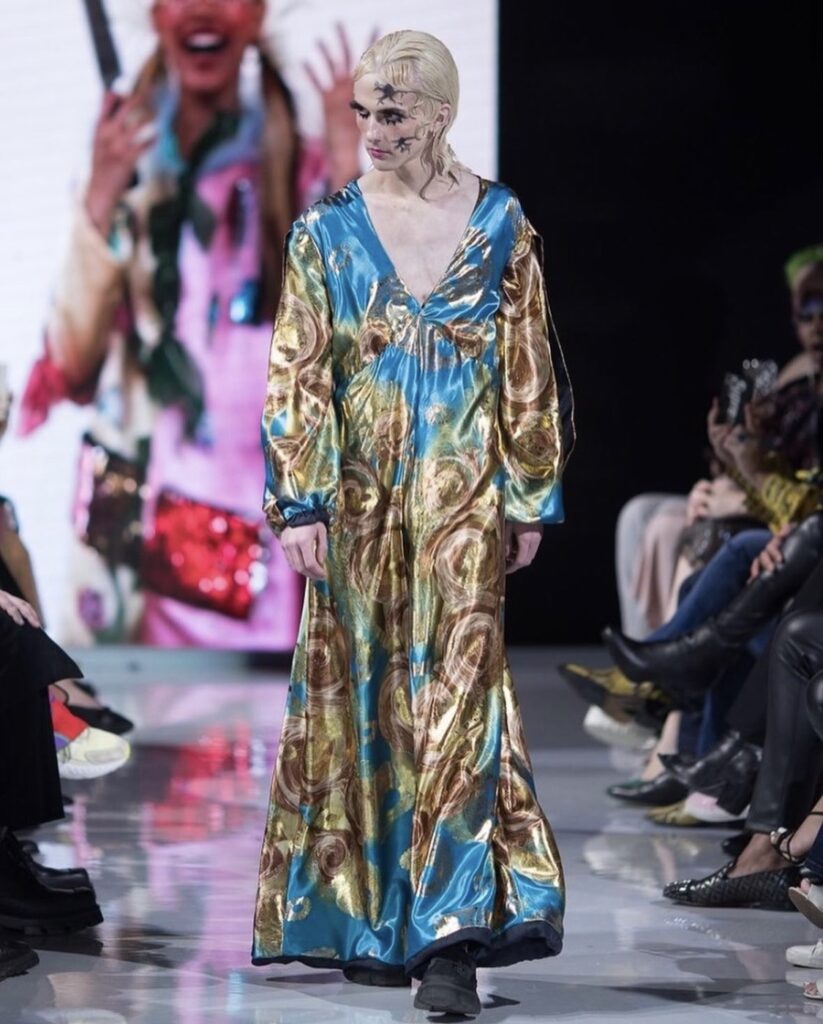 The final look of the collection was a dress made of tiny canvases held together by chain. Faraji states these artworks were created by her friends, a wonderful callback to the theme of the collection, with some definitions citing Egregore as a "group thought" worked on by all members of a coven. The show closed with thundering applause. "She's seventeen!" a woman near me whispered to the person next to her amid the crowd's roar.
Faraji's design aesthetic relates to recent trends in eclecticism and maximalism we have been seeing currently in fashion. Popular creators like @tinyjewishgirl and @oldloserinbrooklyn have been touting this all-over-the-place styling and mismatching of garments on the platform TikTok. Which Faraji certainly embraces, with a multiplicity of colors, textiles, and embellishments in her designs. In theory, this seems like it wouldn't all go together. But it does, with the collection's inspiration and theme being its common thread.
After the show, I headed backstage to try to speak to Faraji and pester her with my burning questions. I finally track her down amongst the utter pandemonium that is the backstage of a fashion show. Yet, she is unfazed by the commotion, celebrating and taking pictures with friends or members of her "coven." I take her aside and inquire if I can ask her a few questions, to which she politely accepts. Throughout the interview she is calm and gracious, not seeming to have grown a big head whatsoever with being a 17- year old mega-talent and it being her second year participating in FAT. She describes the entire experience as "amazing" and states "I love it, it's addicting in a way" in reference to the rush of exhilaration one gets from the fast-paced, hustle, and bustle involved in putting on a major show like this one. From speaking to Faraji and seeing her incredible work, you can clearly tell her motives are nothing but honorable, designing this collection for the pure sake of creativity and expression.
I have no doubt that she will go far with her immense talent. Make sure to look out for this young prodigy.