When up-and-coming Canadian fashion brand Fashion Kills presented its latest collection at Fashion Art Toronto's (FAT) fall showcase this month, viewers were able to feast with their very own eyes on the provocative and powerful essence sustainable fashion has to offer.
Fashion Art Toronto has been organizing fashion weeks in the capital of Ontario for decades. The fall showcase – marking the organization's second event this year – happened on November 10 to 13 and spotlighted over 30 Canadian designers, including Fashion Kills. FAT's annual fashion weeks have easily become one of the most anticipated spectacles in the city for fashion lovers. For creatives, the shows are a haven for emerging designers to exhibit their latest work and branding to Canadian audiences.

Fashion Kills is a Canadian-based brand helmed by Andrew, acting as the creative director and designer for his brand. As shown on his personal Instagram, the 24-year-old designer's love for fashion and creating extraordinary designs is apparent. Fashion Kills website asserts that the brand strives to be "one of the many sustainable alternatives to the murderous Fast Fashion industry." How the brand distinguishes itself from other proclaimed sustainable fashion brands is by its utilization of sourcing of fabrics and clothing that could have been sent to landfills. These materials are then reworked and sewn to create entirely new garments that will then be sold on their official website.
The heart of Fashion Kills lies within its goal to maintain a one-of-a-kind aesthetic and reduce the carbon footprint of clothing. When examining the clothing and branding, it's evident the brand prides itself on its influences and wears them with pride. The aesthetic heavily leans on that ever-persistent nostalgia for the Y2K era of fashion and the modern twist this generation has put on that style. Staple elements like saturated colours and distressed t-shirts and bottoms make up a significant portion of Fashion Kills' shop. There are also a good amount of reworked accessories that toy the line between playful and edgy. Even on the website, memes and embedded videos satirize the damage fast fashion has had on our society. The daring designs and environmental stance garnered tons of intrigue for the brand and many were excited to see what designs would be showcased on their slated FAT runway appearance.
Inside the illustrious Parkdale Hall, guests took to their seats Saturday night and waited eagerly for the Fashion Kills runway to begin. As the lights dimmed, two words appeared on the projected screen in bold font: "FASHION KILLS." A jazzy and lilting track accompanied the words but this moment of peace was soon interrupted by continual static, hinting at the controlled chaos to come. Soon, the music transitioned into an EDM-based sound and the runway lights were turned on, shining red light, indicating the runway show was about to begin.
Strutting down the runway walks a model wearing what can be perceived as the brand's take on an everyday working businessman. Coffee cup and briefcase in hand, he wears a button-up made of two contrasting shirt patterns and a tie that's been clipped by a safety pin. The intertwining of business casual with punk aesthetics has made a resurgence coinciding with the Y2K revival and this mishmash of aesthetics is applied to practically every look that appeared on the Fashion Kills runway. While everyone believed they had seen it all, the model then unleashed an element of surprise, revealing his coffee cup was actually filled with crumpled-up dollar bills. The bills were poured onto the floor of the runway and the model turned around with a laissez-faire attitude. It would be trite to pretend the message of this statement is underlying but regardless, this choice is incredibly theatrical and further cement the in-your-face stance the brand has against capitalistic greed and values. A powerful opening to a show if there ever was one.
Subverting expectations, the proceeding look is a simple but gorgeously constructed two-piece set with cutouts, the model flaunting it with poise. This outfit notably deviates from the flashy Y2K look the brand has constructed—showing versatility in its designs.
It does not take too long to see the show's outfits return to their brand DNA. Out walked models wearing designs ladened with pop culture references and eclectic pattern combinations to the music of Doja Cat. An unforgettable moment came when a model came out in a two-piece short and t-shirt set while wearing a helmet embellished with a smiling face and teeth. The best way to describe the look is if a Gen Z teenager decided to write a quirky cyberpunk movie à la Blade Runner or Akira. Seeing Hello Kitty and Toronto Raptors iconography make appearances on a fashion runway felt like a surreal experience but nonetheless, left a mark on us all. A point must be made to all the talented models as their charisma elevated these already well-crafted looks.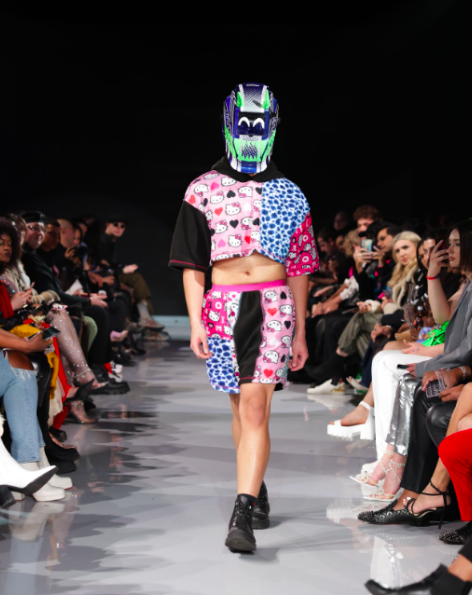 The next set of looks featured a lot of t-shirts, jumpsuits and two-piece suits but of course, with a Fashion Kills twist on classic silhouettes. A lot of the shirts bore statements making references to gay sex, abortion and the word "vagitarian" (do with that term as you will). A model even comes out with a look reminiscent of toddler wear, going so far as to have a binky in his mouth. To some, this may come off as shock value for shock value's sake, but it can also be argued that maximalist fashion choices should be embraced in the fashion industry.
The brand reaches its highest level of maximalism with its final look. A model walked out under bright red lights wearing a navy blue jumpsuit with "BLOODSHED" written in blood on the centre of the torso and decapitated stuffed animals surrounding the model like a halo. Pulled straight out of some A24 horror film, the look evokes this primitive nature confounded with cute stuffies. It's an audacious decision to make this the final look for a brand called "Fashion Kills." Are the audience supposed to feel frightened, intrigued or both emotions simultaneously? Is there a deeper meaning to this look? When a final look makes one question things like this, you know the show produced a great ending.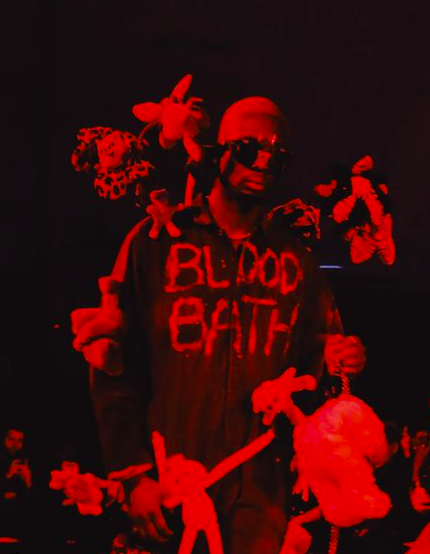 Reflecting on the show, the Fashion Kills runway left a lot of lingering thoughts. For starters, we can joke all day about how some looks in runway shows can be unwearable but the looks in Fashion Kills' show are already in tune with current trends and niches. Blazers, ties, comfy knits and peculiar t-shirt designs have already been seen in fashion. On a larger scale, the brand is embracing the recent desire to adhere to personal style rather than fitting the typical mould of fashion. Who is truly to say that one cannot wear any of the looks presented on this show? The pieces from this collection can even be purchased on the brand's website. This show's looks and stunts exuded the playful energy and political statements you'd see in a Heaven by Marc Jacobs campaign or Moschino by Jeremy Scott show. The order of the looks presented was a conscious choice made to provide a linear cohesiveness to the show. A fully-fledged production is the best way to describe this show, thoroughly thought out from beginning to end and especially in its messaging. Incredulously, it must be lauded how Fashion Kills' managed to craft these complex looks out of sustainable materials and practices.
In this current fashion industry, the concept of sustainable fashion has arguably become disconnected from the ethos of the sustainability movement. It seems like every brand has advertised the implementation of more eco-friendly materials and manufacturing practices. In reality, these brands are greenwashing to put on a front that restores their clean reputation. While it has become public knowledge that brands like SHEIN and H&M damage the environment, there must be light shed on how luxury fashion brands have equally played a role in pollution. During the last few decades, there has been an imperative shift for consumers to find ethical methods to reduce the carbon footprint of fashion, an unfortunate consequence of the indifference of corporations. However, fashion is a reflection of many facets of one's facets. As undeniably corny as it may sound, people take pride and comfort in expressing themselves through the clothing they wear and it can even become a reflection of their beliefs. It becomes an internal struggle for many to adhere to their beliefs on sustainability while also finding stylish clothing in line with their personal style.
In an oversaturated industry like the fashion world where new brands are popping up every day, Fashion Kills stands out for its core values and the artistic vision of the brand. Fashion brands, luxury or fast, seem to create an apolitical and pristine image in the belief that they won't alienate any potential customers or scare them off. Despite their literal brand name referencing how fashion is killing both the environment and humanity, the brand at its core uplifts the grander purpose and pleasures of fashion— that it's ultimately the wearer that has the power to decide how they look and what they mean. Defying this common approach in fashion, Fashion Kills is cementing a new mindset—fashion and politics do not have to be detached from one another.