GRAPHIC DESIGNER: Imani Edwards
COPY EDITOR: Taite Krueger, Eishvinder Gill
Fashion Month for spring and summer 2023 is over, which means it's time for a runway roundup. As brands debuted their newest collections and latest trends, some designers opted for more creative ways to display their clothes.
From small names to major designers, Fashion Month featured several unique runways.
COPERNI
Coperni was one of the month's most talked about runways, and their closing piece was an example of how fashion and technology can be combined.
Bella Hadid stepped out onto the Paris runway in just her underwear, as two technicians spray painted a dress onto her body. Coperni collaborated with technicians and used Fabrican, an instant spray-on fabric technology. The dress, which dried and turned into actual fabric, was then styled into a white off-the-shoulder midi-length piece, with a slit. Hadid walked the runway displaying "the future of sustainable fashion," according to an article from HypeBeast. After wearing the dress, the fabric can then be removed and turned back into a solution, to eventually be reused. The video of the runway amassed millions of views on social media. The spray-on dress can be compared to Alexander McQueen's 1999 spring collection, considered a timeless piece of performance art in the fashion industry. McQueen ended the show with model Shalom Harlow standing in a white dress on a rotating platform, while being sprayed with paint.
The rest of Coperni's collection, designed by Sébastien Meyer and Arnaud Vaillant, experimented with menswear cuts and darker, more muted tones. A few pops of colour and floral added quintessential spring elements to the collection. Coperni also played into some current trending items, like cargos, low-rise pants, and oversized blazers.
SUNNEI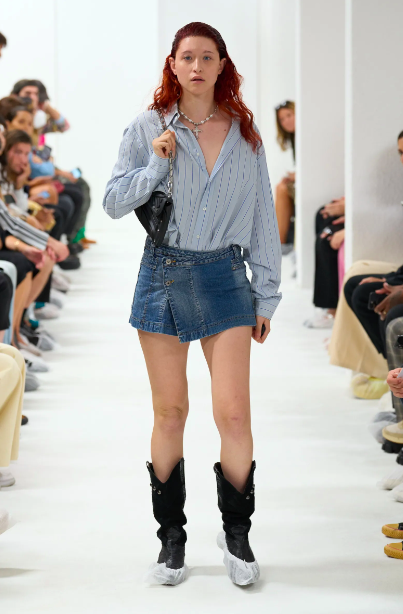 Sunnei, an Italian menswear brand, went viral on TikTok for its fashion performance. The brand had models hide in the audience, popping up almost like a flash mob. The models then went behind a curtain to quickly reveal their twin wearing a full look of the collection.
The designers, Loris Messina and Simone Rizzo, noted that the show was, "a metaphor of how
fashion can act as a transformative force, which is as magical as it is utterly crazy."
The brand's collection displayed a more youthful style with casual streetwear, bright colours, and patterns.
The audience members in the show were pleasantly surprised and the unique idea garnered 3.6 million likes on TikTok.
GUCCI
Two is better than one during Fashion Month. Gucci's collection this season also involved twins. Alessandro Michele's collection at Milan Fashion Week featured 68 sets of twins down the runway in two identical shows, staged side by side and divided by a wall.
What makes this Gucci show even more interesting is audience members were unaware of the matching show happening next door. The setup was revealed to the audience when the wall was lifted, and the twins were reunited on stage.
The show was inspired by Michele's mother, who is a twin. He said the concept that no two people are perfectly identical, even if they purposefully try to look the same and share the same DNA, is what inspired his decision to cast pairs of twins.
As for the collection, Gucci's clothes this season are loud. Funky patterns and juxtaposition are a huge part of the clothing. Sequins, leopard print, leather, and cutouts are just some of the features of this season's collection. Chain jewelry and chiffon dresses were also the main themes in the show.
AVAVAV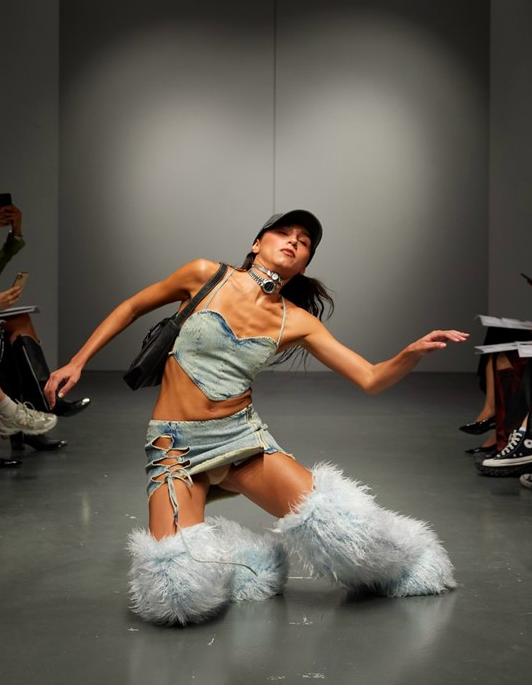 The Florence-based company, AVAVAV took performance art to a whole new level, as models dropped onto the runway at Milan Fashion Week.
As each model stepped out onto the runway modelling a new look, they also took a tumble and purposefully tripped, as part of the show.
According to Vogue, Creative Director Beate Karlsson said she wanted to make fun of the self-seriousness of the industry. She mentioned remembering runway shows from the 2000s where models would fall and disrupt the whole mood of the show.
And just like its runway, AVAVAV's clothing is definitely unique. The brand incorporated a lot of fur and cool footwear or "bootlegs" into its collection.
THOM BROWNE
Thom Browne is incorporating fairytales into his spring/summer collection. Browne's collection was Cinderella-inspired, Fashionista and Vogue reported.
Actress Gwendoline Christie opened the show, dressed in a silk satin embroidered dressing gown and addressing the audience to tell a story. On the runway, Christie embodied the character of "Charming," and actor Michaela Jaé Rodriguez played "Cindy."
Models walked around a giant shoe displaying Browne's vast collection. The first 20 looks were colourful opera coats with collegiate numbers on each back. Then, an array of frock coats and skirts with petticoats. From there, the show shifted into what looked like scenes from Alice in Wonderland, with fun Mad Hatter-esque prints and hats. Polka dots and pastels with lots of layering was a huge focus.
The end of the show is what really turned this runway into a movie. Cindy appears on the runway in a gold-embroidered opera coat with navy blue details. She reunites with Charming and then steps inside the giant shoe where she does an outfit change, transforming into her true self, according to the brand. The new outfit featuring a cropped white shirt, gray pants, and Thom Browne-branded underwear is revealed. Cindy then gets inside a pink Cadillac carriage and exits the runway.
Fashion with a plot.
This month's collections proved that fashion is more than just clothes. It can be a space to tell stories, display new technologies, and send new messages through designs and performances. These runways also helped bring more attention to Fashion Month, even unintentionally. While Sunnei, Messina, and Rizzo noted that going viral was not the motivation of the show, it helped shed light on smaller brands and show the unique ideas and clothes that are prevalent in the fashion community.
Many on social media commended the fun runways this year saying that this month's collections showed that fashion is back.