COPY EDITOR: Eishvinder Gill
GRAPHIC DESIGNER: Ryan MacDonald
Following the launch of Kylie Jenner's lip kits in 2015, the matte lip was all the rage. The glossy lips of the early 2000s were out and bold lips were in. In fact, a 2016 article from Elle described matte lips as "the biggest beauty trend of 2016."
But over the course of the pandemic, when going out became a rare occurrence, people started to embrace more natural makeup looks. The rise of the "clean" aesthetic took over social media—bringing back lip gloss and creating a space for lip oils.
One lip oil, in particular, has made major moves on the video app TikTok and is the face of Pinterest makeup boards. The Dior Lip Glow Oil has become a makeup essential for many, with the hashtag on TikTok reaching 85.8 million views.
The lip oil, which is available in eight different shades from light pink to cherry red, gives the lips a very natural, glossy appearance. Lip oils, in comparison to lip glosses, are more nourishing and hydrating, thus making it a staple for any natural makeup look.
According to Dior, the lip oil is infused with cherry oil and "protects, softens and revitalizes the lips."
The costly price of US$35 has not stopped consumers from purchasing the little glass bottle of oil— if they can even find it in store. There is a huge demand for the product as makeup and drug stores like Sephora and Shoppers Drug Mart are constantly sold out of the product.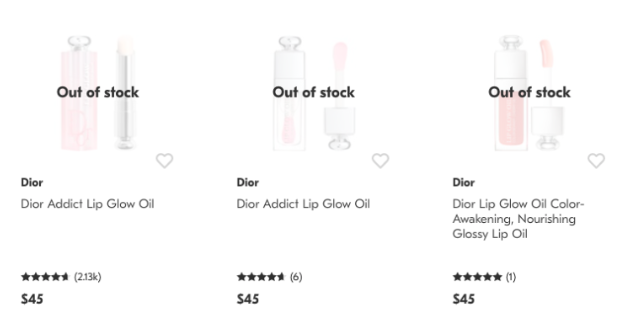 Celebrities like Bella Hadid and Emily Alyn Lind from HBO's Gossip Girl reboot have been using the product in TikTok videos and for Vogue's Beauty Secrets segment.
Toronto makeup artist Taylor Chousky is a fan of Dior's lip oil.
According to Chousky, "It's really great as a base as well as a finish. They're very hydrating and they adapt to all lip colours so they're super versatile."
TikTok creators have raved about the product in reviews and unboxing videos as well.
@rudiberry on TikTok posted a video trying the Mahogany shade, describing the oil as long lasting. In her review, she also said that the product takes a few minutes to give its full effect, adding that waiting will make your lips look "juicier".
TikTok creator @artemis.pr's video went viral in December 2021 generating almost 700 thousand views as she showed off her collection of five Dior Lip Glow Oils.
She said she likes the product because it can be worn alone for a more natural look without a pigmented lip product underneath, but can also be a nice gloss to put over a lipstick.
"I also don't find it that sticky compared to other glosses I've tried in the past."
The TikToker's favourite shade is Rosewood, for its subtle colour and because it pairs well with a lip liner she uses often.
However, while she loves the oil, she noted that part of the appeal is the luxury brand name, adding that you can probably find a cheaper oil that gives the same effect.
"I think most people are paying that much for the brand itself rather than the actual product. But, it does feel nice to have something special like that."
Nirali Mistry, a makeup artist from Mississauga, ON, echoed a similar statement when it comes to luxury products in general.
"When it comes to makeup and luxury brands you're just paying for the brand name because sometimes there are better quality products that are cheaper," she said.
Mistry said she prefers to spend more money on higher end skincare products rather than makeup.
And while lip oils are super popular at the moment, some makeup artists prefer a different product altogether.
Makeup artist and hair stylist Stephanie George said she has yet to "dabble" in lip oils. Instead, she likes to use lip masks rather than lip gloss. George says she uses the Laneige Lip Sleeping Mask and the Tatcha mask as they are hydrating but still provide a glossy finish.
The Dior Lip Glow Oil is a great product if you can find it and want to treat yourself with a fun makeup purchase. However, other brands of lip oils are not hard to come by.
If you're looking for an alternative, here are some recommendations: