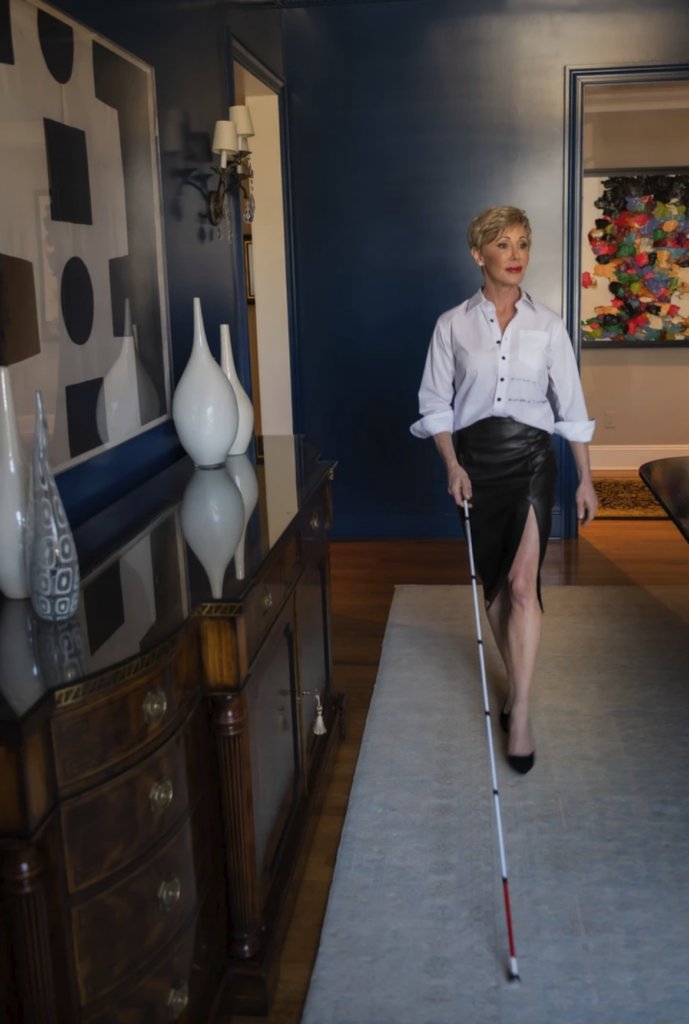 GRAPHIC DESIGN Sarah Pasquini
In a fashion industry rapidly (albeit, belatedly) seeking to integrate diversity and inclusion, here is a trailblazing story that goes against the grain. From amidst Toronto's burgeoning fashion scene, we present Aille Design: a brand whose story displays how co-design can be used as a foundational design tool for inclusivity in the fashion industry.
Aille Design is a clothing brand that Alexa Jovanovic began as a capstone project in her final year at Ryerson University. Upon seeing a beaded jacket one day while shopping, Alexa drew a connection between the bead size and Braille, wondering why the beauty of beading did not also serve a functional purpose. Thus, Aille Design was born.
The brand is focused on designing universally-appealing garments that incorporate Braille into the design such that the blind and visually impaired communities can access garment information that may otherwise be inaccessible. This includes detailed garment descriptions including colour, size, and care information. Aille Design does this all under the guiding philosophy that "good design should not exclude anyone" and seeks to create garments with universal appeal. Currently, the brand has a collection of basic closet staples, including garments such as t-shirts.
I had the privilege of asking Alexa a few questions about the brand.
ACROSS: Model Catherine Harrison posing while wearing original Aille Design pieces. 
Photographer: Julia Wagner, Feather and Root. 
Model: Catherine Harrison, Grogan Management (Photo courtesy of Alexa Jovanovic)
S: Aille Design began with research for your capstone project in your final year of Fashion Communications at Ryerson. Can you elaborate on your journey from The School of Fashion to Aille Design, specifically regarding the type of role the university played?
A: The School of Fashion at Ryerson University played a crucial role in teaching me how to challenge fashion industry norms and introduced me to an incredible network of fashion academics, disruptors, and thought leaders. In my final year of Fashion Communication, I worked closely with Dr. Ben Barry, Chair and Associate Professor of Equity, Diversity, and Inclusion at the School of Fashion. We worked together to develop my capstone research on inclusive design and begin the groundwork to evolve my findings into a Braille fashion company. During this time, I applied for an American as well as a Canadian design patent and have now officially received both.
Even after graduation, Ryerson continued to play a supportive role. I was introduced to the Fashion Zone, an incubator at the university, and became a member [during] Fall 2019. Joining the Fashion Zone was a truly pivotal moment in the success of Aille Design. The invaluable mentorship, resources, and skill set[s] I've gained since joining has allowed me to better understand the business operations of building an impactful fashion startup. It made introducing Braille beading into mainstream fashion a reality. 
S: How do you navigate being a fashion designer working with a marginalized customer segment to which you do not belong?
A: I've made a practice of never assuming the needs of others. Since the early research stages, I've worked through a co-design process with blind and visually impaired communities to better understand their needs and wants as consumers. Gaining first-person insight is crucial. Together, we discuss different challenges that are associated with fashion; everything from clothing identification and choosing what to wear, to social misconceptions of what it looks and feels like to be blind.
S: Aille Design employs a unique design process that brings your consumers into the heart of designing these garments. Please tell us a little bit about this creative co-design process.
A: When it comes to product design, we involve the consumer every step of the way. We work alongside a diverse team of fashion lovers from sighted and non-sighted communities to create fashion-forward products that empower and celebrate diversity. My philosophy behind the company is "good design shouldn't exclude anyone," so by working through a co-design process, inclusivity is engrained in the company culture and guarantees all Aille Design products and experiences are inclusive.
With the blind and visually impaired community, we discuss the legibility and placement of the Braille beading, different clothing styles, and the types of information and phrases to be included in Braille. It was during these co-design sessions that we discovered the functional value in creating garments with Braille beading that describe clothing characteristics such as colour, textiles, wash instructions or fit, but we also discovered the desire to create separate garments with motivational messages, such as our black t-shirt design with white Swarovski Crystal Braille beading that reads, "Fashion is for everyone."
With the sighted community, we discuss garment aesthetics to ensure our designs are fashion-forward and appeal to a larger fashion and socially-conscious community. We also discuss Aille Design's ability to change [the] perception towards blindness and disability, educate about the importance of creating products that are universally beneficial, and how Braille beading can be incorporated into mainstream fashion to create more inclusive representation in the industry. The white t-shirt is a wardrobe staple that is incredibly versatile and has been adopted by diverse consumer groups. It was during a co-design session that we discovered the value of upgrading this classic piece and created our own inclusive version of it. Our white t-shirt design has white Swarovski Crystal Braille beading with a cheeky phrase that reads, "My plain white T."
"My philosophy behind the company is "good design shouldn't exclude anyone" " (Alexa Jovanovic)
S: Language is important as it can have the power to include or exclude. What are the dos and don'ts that you've learned regarding language and accessibility? 
A: All experiences are unique and that holds true for language preference as well. It's always best to consult the individual and ask about preferred terminology. The disability should never be used as the individual's main identifier and should only be referred to when relevant to the conversation.
When possible, only refer to the individual by their name. This becomes increasingly helpful for the individual with low vision because if present, they are aware the conversation is directed at them. Saying someone's name is comparable to making eye contact. It is also important to introduce yourself and say your own name when approaching someone with a visual impairment, so it is clear who the conversation is with. 
Language preference isn't just limited to situations of labeling and identification. Different perceptions with words such as "look" and "see" can help with social inclusion since it is a natural part of daily language, but to others, it can be viewed as a form of ableism. When choosing [a] language, make sure to be descriptive, and if you're unsure, just ask!
S: What would you describe as the biggest learning curves since the creation of Aille Design?
A: Accessible products are often known for being designed for a specific audience with a very specific need. Until recently, they also weren't known for being very fashionable or desirable. Aille Design products disrupt all of those misconceptions, but one of our biggest learning curves has been making it clear that Aille Design products are also intended for use by sighted individuals.
We're starting to see a shift in the industry towards inclusivity, as its importance is finally coming to light. 
However, it's not enough to jump on the bandwagon and say you care about inclusivity. There is power in purchase and leading by example. When an item includes Braille, a non-Braille reader automatically assumes the product is not for them, but we're working to change that perception and instead, increase familiarity around Braille and encourage its use in more spaces. By wearing an Aille Design product, consumers signify that fashion is for everyone and advocate for more inclusive representation.
"My mission is to disrupt the fashion industry and create a new standard of inclusion." (Alexa Jovanovic)
S: Aille Design has been received very well in the fashion industry, garnering international attention. What do you personally view as the brand's biggest achievement to date?
A: Working with Model Catherine Harrison and the connections that we built in New York City earlier this year were a huge milestone for Aille Design. What started as an Instagram DM from Catherine about her interest in our Braille beaded clothing led to two separate photoshoots and a partnership between Aille Design and the American Foundation for the Blind (AFB).
We organized a photoshoot with Catherine and photographer Julia Wagner in a gorgeous modern home in Rumson, New Jersey. Melody Goodspeed from AFB joined us onsite to interview me on behalf of AFB and a second time on behalf of Bold Blind Beauty magazine. Melody invited me to accompany her to AFB's Hellen Keller Achievement Awards where we would have the honour of dressing her in a custom Aille Design Braille beaded dress for the gala. While that event was put on hold due to COVID-19, our momentum certainly was not. We're in discussion of several other major opportunities and look forward to sharing more details soon!
S: What is your mission and future vision for growth?
A: My mission is to disrupt the fashion industry and create a new standard of inclusion. I'm working towards growing the brand to a level that allows us to bring inclusive design to mainstream fashion, and partner and collaborate with major companies and influencers to expand our reach to a global audience and change the way we think about disability in fashion. This growth will allow us to design a model that actively employs individuals with disabilities and show by example how other companies can do the same.
S: We have seen the ways in which the COVID-19 pandemic has been affecting many different fashion brands. How has Aille Design managed the challenges presented with this pandemic?
A: COVID-19 continues to largely impact the fashion industry and has influenced consumer buying trends as society adopts a more comfort-driven wardrobe and places increased value on supporting local businesses. Aille Design adapted to these changes by launching our online store with a more versatile product offering: the t-shirt. Our t-shirts are designed and manufactured in North America and 8% of their profits are donated to Fighting Blindness Canada. 
We released our "My plain white T" white t-shirt and our "Fashion is for everyone" black t-shirt during the Wear Canada Proud virtual event presented by CAFA and FASHION magazine, a 48-hour shopping event in support of Canadian designers and brands who have all been impacted by COVID-19. The sale included over 150 Canadian designers and Aille Design was honoured to participate.
ACROSS: Two models posing while wearing Aille Design's black, "Fashion is for everyone" t-shirt. (Photo courtesy of Alexa Jovanovic)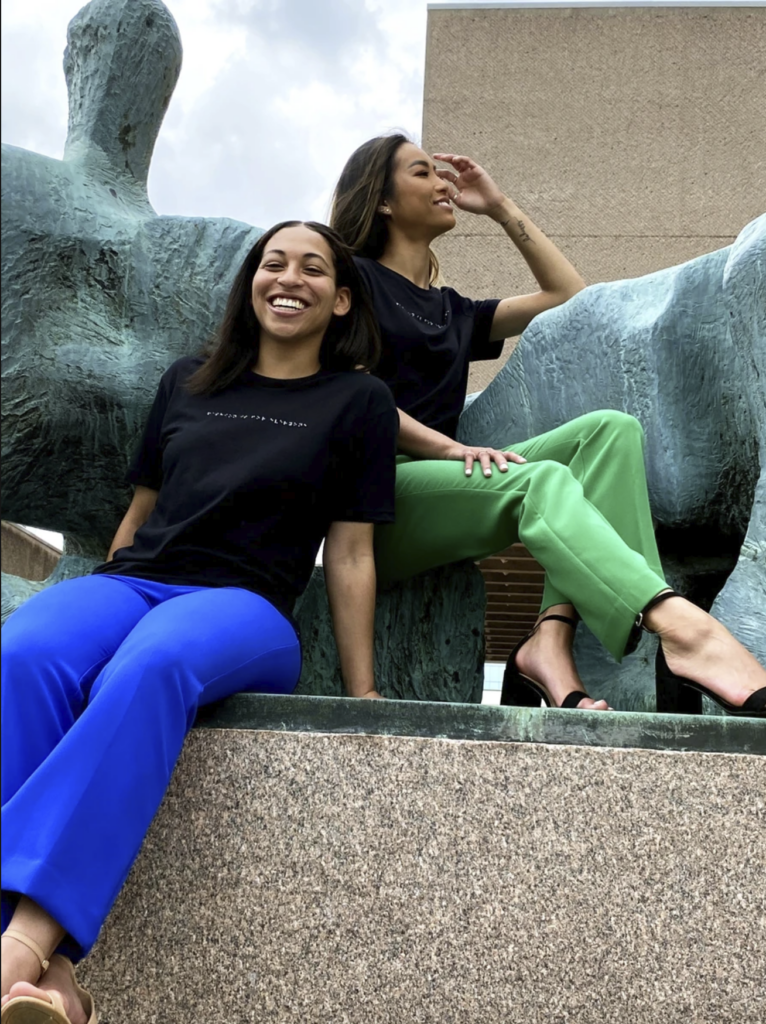 S: What advice would you give to young fashion students?
A: I cannot emphasize enough the importance of research and community outreach. Understand 
what you're designing, who it's for, and before you devote your life to it, determine if it's something your audience truly benefits from. I began my research at a time when inclusivity wasn't "trendy" and my decision to build a company focused on inclusive design was challenged. Working with the blind and visually impaired community gave me first-hand insight [in]to the importance of creating universal products that place equal value on function and fashion. Having the full support of the community allowed me to be confident in pursuing Aille Design. Believe in yourself and your ideas, because there might be times when no one else does.  
S: Where can individuals find and/or contact you?
A: Aille Design is built on community feedback and engagement, so please reach out with feedback, questions, suggestions and collaborations. We're on Instagram @ailledesign with the hashtag #BrailleFashion. Our products are available for purchase at ailledesign.com and we can be contacted via email at [email protected].
*This article was originally published with Samantha Cass as the author, that is incorrect. Safia Sheikh is the author of this article.