Recently, we had the pleasure of attending the Toronto Fashion Collective's holiday pop-up shopping event. It was partly curated retail space, part showroom, and part designer meet-and-greet. At 100 Avenue Road in the heart of Yorkville, the unique luxury shopping experience featured nine Canadian designers who were all present in store to speak with customers and share their brands. It started as an idea between a few of them who'd met after showing their collections at Canada House during London Fashion Week.
"We all sort of said, 'why don't we work together?' We were all interested," Jewels by Alan Anderson's namesake designer recalled. His one-of-a-kind necklaces, earrings, and brooches, set with colourful vintage stones, were displayed at the front of the store.
"We all collectively did this together, which is why we decided to call ourselves the Toronto Fashion Collective."
The strong bond between the members of the collective, as creative professionals and as people, was apparent in the way they interacted with each other, whether they were collaborating to enrich a client's shopping experience or posing for group selfies.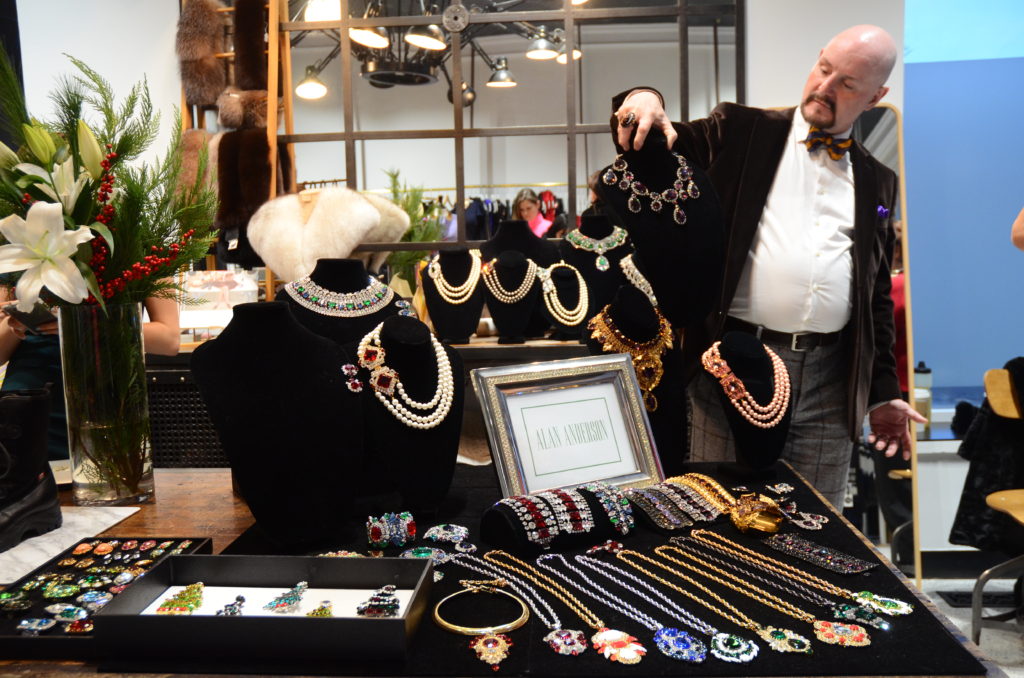 "We all collectively did this together, which is why we decided to call ourselves the Toronto Fashion Collective." 
– Alan Anderson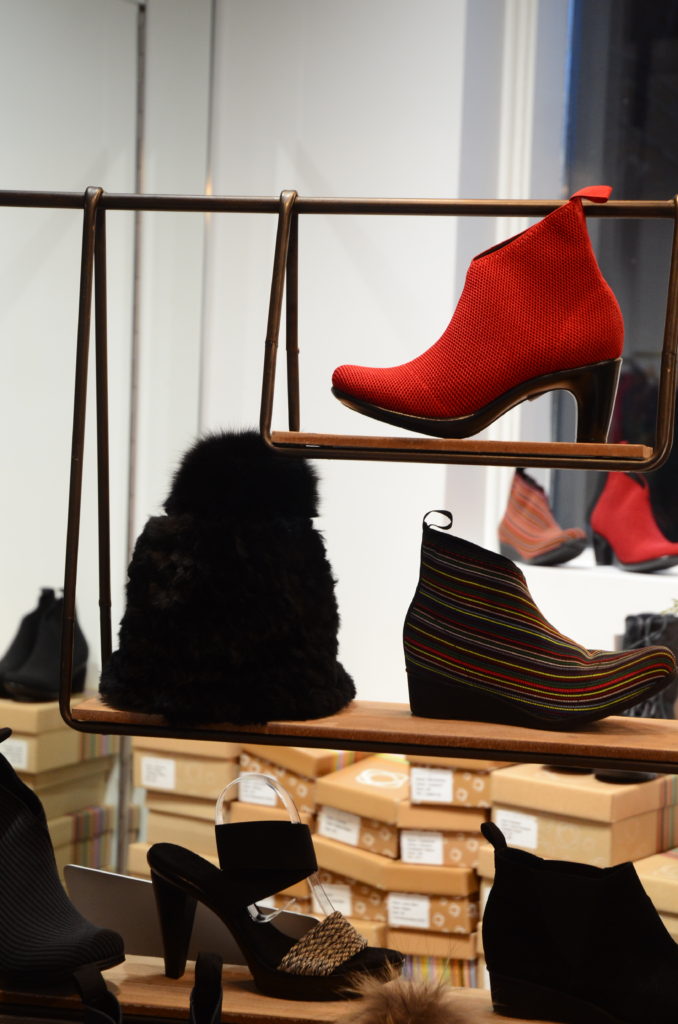 "It was a two-month process since we organized it to now, so there has been that relationship building for a few months and it's wonderful," another organizing member, Michael Zoffranieri of ZOFF, said. Zoffranieri graduated from Ryerson University and has shown his dramatic evening wear collections at Toronto Fashion Week. "You're in close proximity to designers you normally wouldn't be, and I think that's a really unique and awesome experience."
"Another benefit of the space," he said, "is its Yorkville location. We're close to where [our clients] live, shop, and work."
The pop-up provided the designers with exposure to a wider audience—the public—and allowed shoppers to interact directly with their products. This was important as many of them sell exclusively online or by appointment only at their studios. Others found that it was difficult to get their collections into department stores.
"The challenge I have is just getting people to see and touch and feel my product," said Ivana Walker of Anavi Designs. A goldsmith by trade for over thirty years, Walker started her handbag line after having difficulty finding a stylish, lightweight bag that was travel-friendly. Her handmade-in-Canada designs feature materials sourced from throughout North America.
Quality, originality, and timelessness were focuses of all of the designers in the space.
"I think the worst thing you can do as a designer is follow trends." Anderson said. "You have to come up with your own vision, your own aesthetic, and follow that."
His sentiments were echoed by Alexandra Thompson, a buyer for Vancouver-based retail studio Wardrobe Apparel. "Our vision is to create a space and a selection that women can come and choose their core pieces from. We don't do a lot of trends. We've never really done trends. I think you have to find your own style and stick with it."
That mindset is reflected in Victory of the People, a fine jewellery brand by Nicoletta Papadaki. "I try to design unique pieces that are timeless, that's just my style and taste." Her 14k gold and precious stone pieces are made by craftspeople in Toronto. One of the benefits of having a local team, she added, was the ability to monitor production to insure quality. "It's harder to be competitive [due to manufacturing costs], but the quality is there. It's appreciated."
"We've never really done trends. I think you have to find your own style and stick with it."  
– Alexandra Thompson
Other designers in the collective included Ross Mayer, Lesley Hampton, Roxana Esmailji, and Miriam Baker. Artwork by painter Barbara Georgacopoulos decorated the space.
Ross Mayer's Mayer Man offered high-quality, "lux meets street" menswear pieces in a variety of materials and textures. He was the only designer showcasing menswear in the collective.
Roxana Esmailji's brand Barcelona Collective features "bold design, bright colours, and pragmatic style."

Lesley Hampton, an indigenous Canadian designer, champions inclusivity and diversity through her eponymous brand. "It's nice to authentically represent what indigenous fashion is. My work doesn't reference [my indigenous background] as much as other designers, so it's nice to show the public the broad range of what indigenous fashion can be. We really want to make everyone feel comfortable and confident in their own skin. We've shown size 0 to size 22, mental health advocates, and people with prosthetics [on the runway]."
Addressing a gap in size offerings was the focus of Miriam Baker's designs as well. Her line caters to women with larger chests. "Everything is sleek, classy…but with a little more room for the bust." Like Zoffranieri, Baker is a Ryerson graduate and winner of the Toronto Fashion Incubator's Most Promising New Label award.
For the designers, the collective acted as a way to showcase their work as well as be a support network amongst one another.
Zoffranieri recalled the best piece of advice he'd received during his university years:
There's a seat at the table for everyone.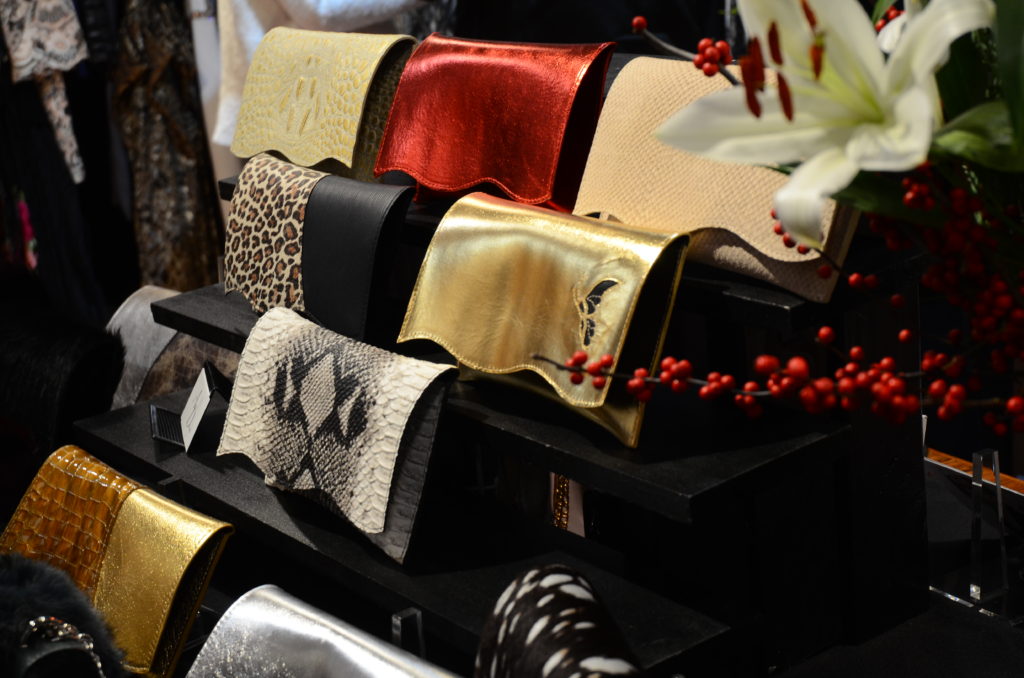 "When there's a seat at the table for everyone, that means there's kindness. You're willing to make space for someone, and they'll feel that…We do this so that everyone has a space."
Anderson gestured around him to all of the designers' respective displays. "It's about supporting each other, helping each other, and helping each other to succeed."
"When there's a seat at the table for everyone, that means there's kindness. You're willing to make space for someone, and they'll feel that…We do this so that everyone has a space."
– Michael Zoffranieri