This NYFW S/S 19 presented Ralph Lauren as top dog for creating a buzz on social media, boasting the brand's 50th anniversary with a blowout fashion show and party in the Bethesda Terrace in Central Park. The brand dominated with social engagement during the week, especially on Instagram where they posted trending images of the designer himself, looks from the runway, and shots of celebrities who attended the event.
Also notable was Coach, as they sparked interest on social media after debuting its Coach x Selena collaboration. Coach also offered a "see-now-buy-now" feature during their show where guests could purchase items straight from the runway.
Meanwhile, Tom Ford showed his humorous side by posting parody videos by comedian Celeste Barber on the brand's Instagram page that were comical, but also humbling, slightly mocking the fashion industry. Celeste Barber is infamous for recreating glossy, unachievable-by-the-general-public, celebrity Instagram photos using herself as the model. The result of these parodies were really quite hilarious and help put into reality exactly how staged and silly some of the posts we see on social media actually can be.
Trend 1: Sharpie Colour Blocking
Electrify your wardrobe with bright hues from head to toe. Instead of wearing different saturations of one shade, try mixing and matching analogous and complementary primary colours to create a stand-out look that will be sure to turn heads.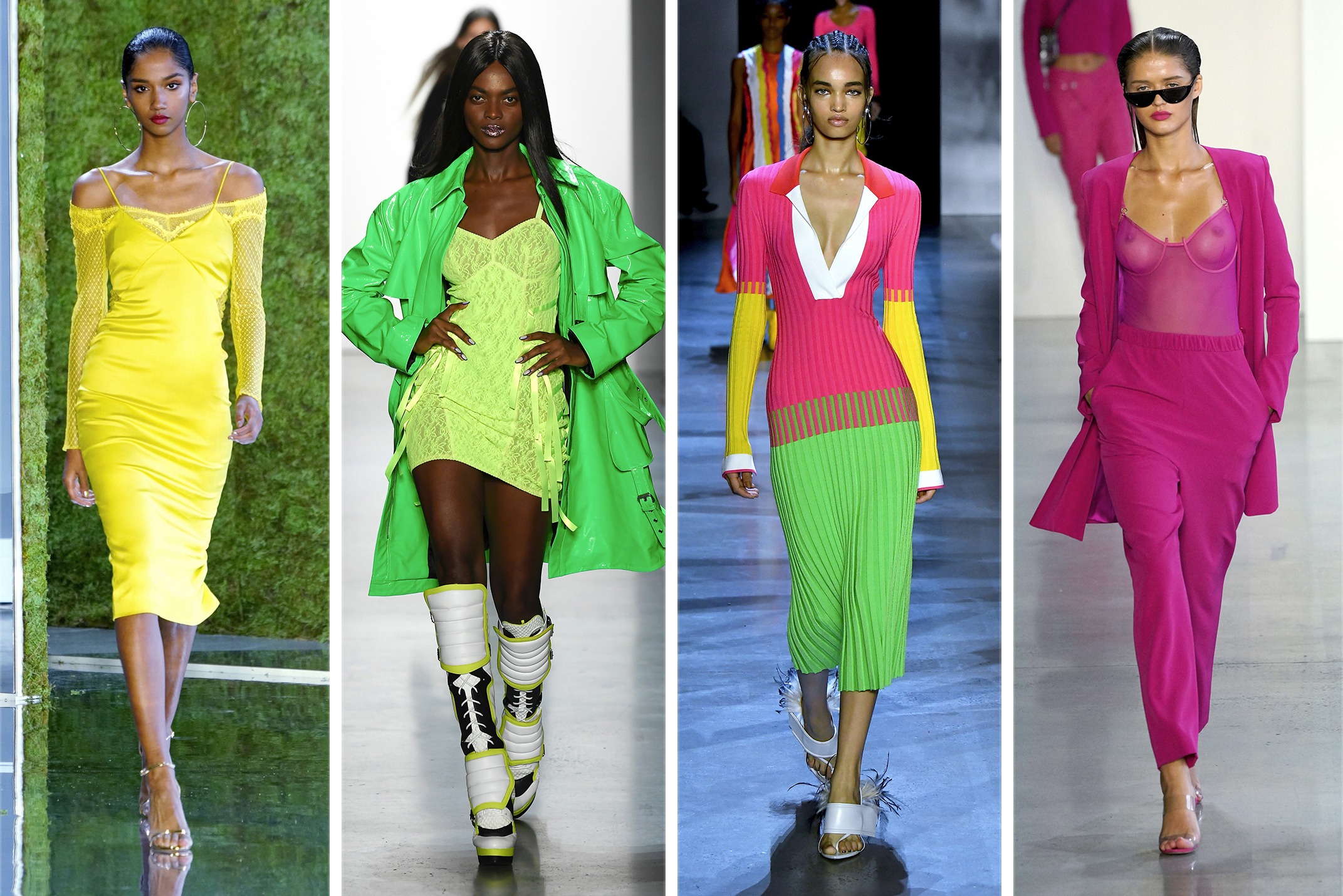 Trend 2: Prairie Chic
Textures of ruching, gathering and bunching and details of bows, leg-o-mutton sleeves, silks, and lace will be all the rage – but with unexpected layers and drapery to add an edge. Billowing silhouettes, delicate paisleys and wildflower florals are popular, all encapsulating the modern day "prairie chic" look that all the fashion mavens will be lusting over this coming spring. Add a sweetheart  or square neckline, some ruffle details, and a victorian style hairdo or brooch and you'll achieve the look of a modern day prairie born handmaiden.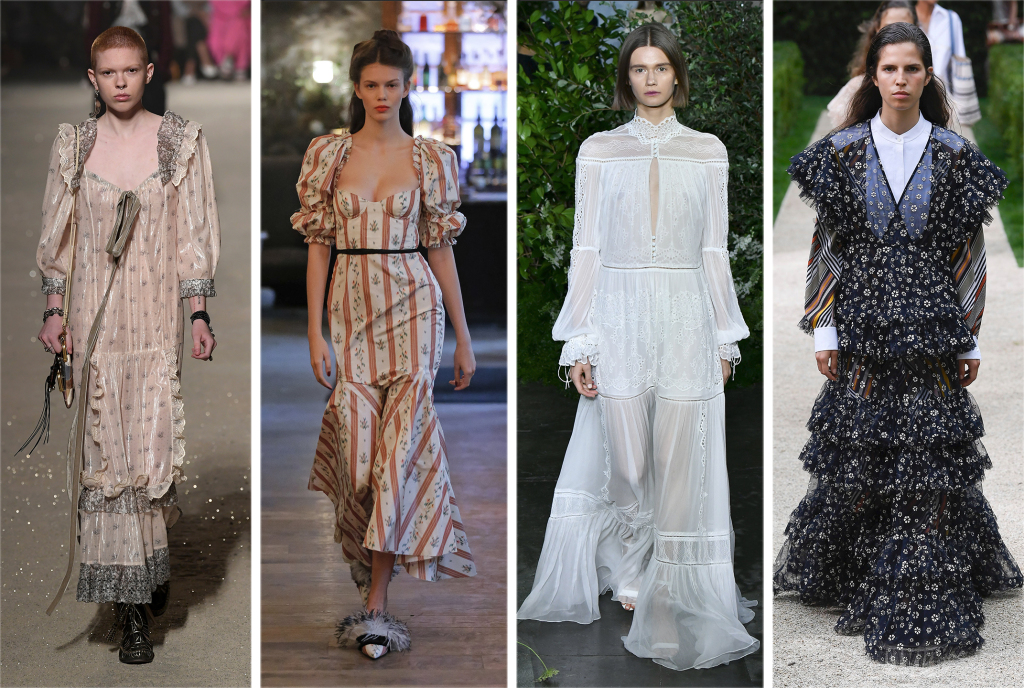 Trend 3: Modern Suiting
Take a twist on your classic suit and try pairing your work blazer with a trouser/bike short hybrid…the sportier the look, the better! Tartan shorts with asymmetrical blazers, knot closured pants and jackets, and even sandals are now acceptable for the office (at least we think?!) thanks to the S/S 19 shows. Also, don't forget your X-girl glasses to block out those dangerous blue light waves from your computer screen.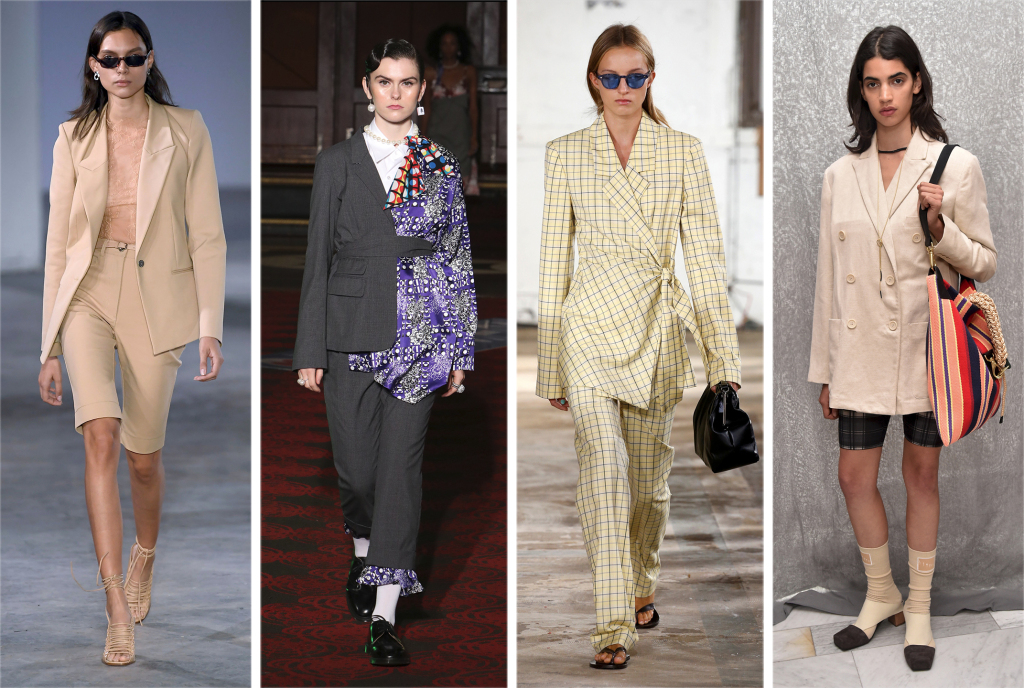 Trend 4: Summer Suits For Men
What would a trend report be if there was nothing there for the boys? This NYFW has you covered. Youthful summer suits are in! Try: pastel shorts, lightweight fabrics, feminine details, baby pinks, loose fit trousers and summer trenches. However, before you leave the back door – don't forget your bucket hat! Oh, and socks and sandals (socks optional) are officially a thing.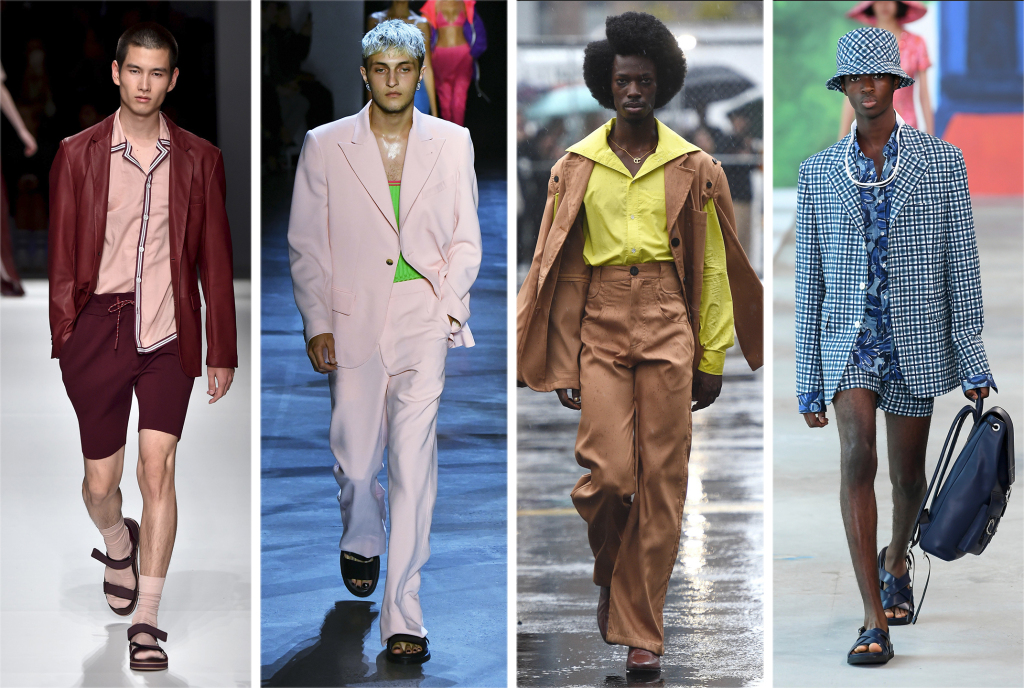 While it's hard to imagine wearing any of these things as we dive into the upcoming weeks of cold weather, here's an idea of the trends we can expect next summer. May dreams of bright and bold colours and socks and sandals get you through the long winter ahead.
Feature collage by Joanna Ho