For as long as I can remember the universal narrative told and understood about Canada across the globe was one of a familial nature. Canada has always been understood within the global landscape as the United States' reliable neutral younger sibling – never stepping outside the lines, always at the ready to stand up for its big bro. And when all was right and well with our pals to the south, this narrative worked. For generations Canada and the United States have been close; but never stronger allies than when President Barack Obama and Prime Minister Justin Trudeau held simultaneous office. Due to the pairs' now infamous "bro-mance", Canadians and Americans alike were happy to be referred to as interchangeable. Our politics, our economics, our trade, worked. This is not the case anymore, and Canada is stepping out on its own in more ways than one.
Now before you click out of this window at the fear of your personal politics being challenged pause for a moment, and remember: this is a fashion website. I am not talking about politics anymore, but the comparison is apt given recent developments in international affairs. But what I am talking about now, is a case for Canada when it comes to, you guessed it, the fashion industry.
All Hail America(n Fashion)
As long as the United States has been strong, its fashion industry has dominated the global stage. Season after season American designers, brands and publications have dictated what the rest of the global fashion world wears and cares about. All your favourite online retailers are American. Our fashion media starts and ends with Vogue and Women's Wear Daily. Maybe Refinery29 if you are politically informed. Glossier rules the beauty roost. Our local publications like Flare, FASHION and Elle Canada are homegrown heroes, but rarely does their content dominate what Americans think and wear the way the Americans do for us. See where I am going here?
Brands and designers that helm from the U.S. of A. know how to do it, largely in part to the robust financial support systems that exist there. One of the many examples: every year the CFDA x Vogue Fashion Fund provide 3 top emerging designers with a total of $700,000, to build their brands and achieve world domination. Most state governments offer tax breaks to creatives that actually help their bottom line. The UK has a Minister of Fashion. Canada's investment landscape can't boast the same. Yet. Additionally, every industry connection you could ever want exists in either NYC or LA.
Aside from a pitiful private investment ecosystem (Sorry Suzanne Rogers, you can't single-handedly bankroll Canadian fashion forever), one of the biggest reasons Canadian fashion flails in comparison to the States and Europe is because of our infantile age. Canada as we know it today, if we are being generous, is only about 400 years old (Quebec was around long before official Confederation). Our infrastructure, our history, our development is incredibly new and in many cases still growing into itself. The United States on the other hand is about 525 years old, so not much older than us, but their population (and thus economy) is gargantuan; so that helps. France's early days can be charted back to 51 BC, London to 50 AD, and Milan began to get its shit together around the 1200s. So by this measure alone these major fashion centres had centuries and centuries to develop their culture and appreciation for the arts long before Canada was a twinkle in Britain's colonizing eye.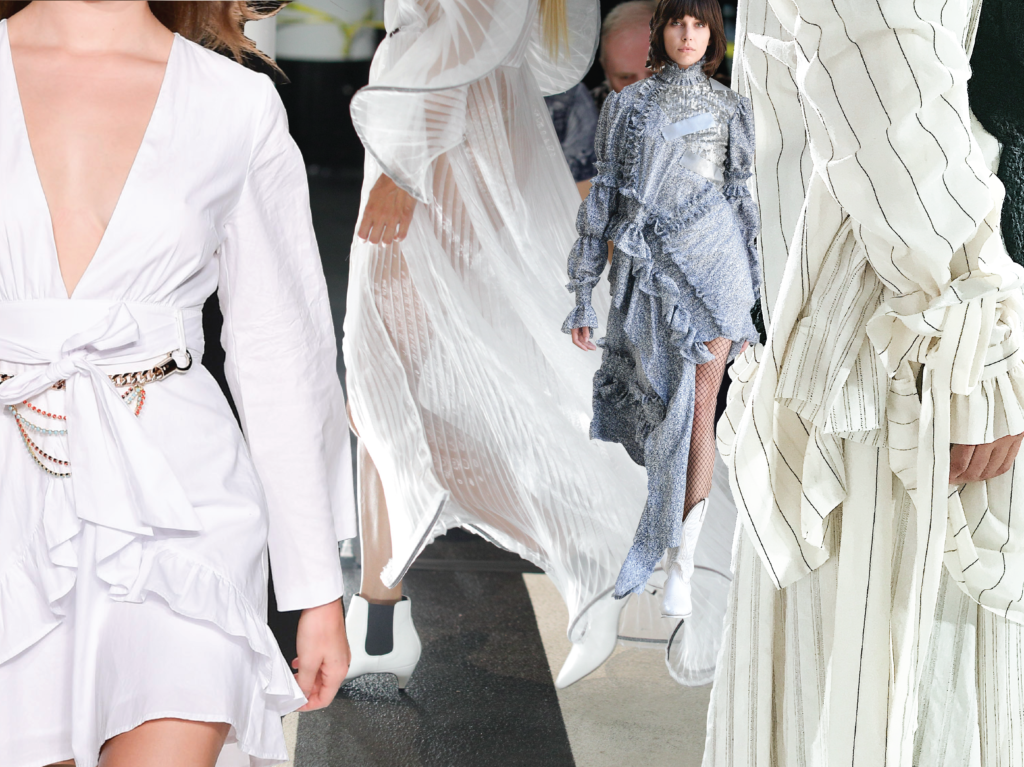 While the Cat's Away the Canadians Shall Play
Given all of this, it's no surprise American brands are able to rise to stardom quicker than their Canadian counterparts. But the tide is shifting. America is not what it used to be, thanks to you know who. The international community (generally) no longer associates the US with stability and diplomacy like it once did. Brexit has completely distracted anyone in Europe from focusing on fashion. And as sad as this is, the growing pains seem to be working in our favour. For the first time in Canada's pubescent life, our big brothers aren't paying attention and stealing our spotlight. This is Canada's time to shine.
Now say what you will about the politics, but the dissipating focus on American fashion, and American businesses for that matter, is making many notable Americans take stock of the opportunities that exist for them in the north. Nordstrom expanded into Canada in 2016 and has since shifted what Canadians come to expect of a luxury fashion experience. Shopbop has held not one, but two, under the radar events in Toronto – the first, a floral fashion presentation at the Great Hall back in the spring, and a second just two weeks ago at Pray Tell. The #StyleHigh has come to the #6ix. Goop announced last week that their In Goop Health Summit will host its first international iteration in Vancouver's Stanley Park come October, with another event set for Toronto sometime after.
#Canada Eh
Canadians are making their mark internationally. Mary Young has caught the attention of Refinery29 and their Senior Fashion Editor Alyssa Coscarelli (@alyssainthecity). Sid Neigum presented his collection at London Fashion Week last season thanks to DHL. Beaufille is now a veteran NYFW favourite, gushed about by all the major Instagrammers. And let us not forget mega-fashion brand Coveteur, who hails originally from the 416, has taken over the American fashion media scene.
Inversely, American and British influencers have realized Canada as both a fashion-forward and nature-oriented travel destination. Net-a-Porter's #JetaPorter Jet Set initiative recently sent Instagrammer Jacey Dupree (@damselindior) to Vancouver for a few days of glamping dressed head to toe in Net-a-Porter brands. Last Christmas, British blogger Lucy Williams (@lucywilliams02) holidayed in Whistler, in collaboration with Away as part of their #AwayIn program. Canadian influencers are gaining traction in the south too – just look at multi-hyphenate Dani Roche (@daniesque) and her catapult to the upper echelons of the influencer hierarchy by way of Jenn Im-Gunsuk (@imjennim) and Kristen Grace Lam's (@kristengracelam) peer group. Lam, interestingly enough, works as Social Media Manager at Shopbop…so maybe this newfound interest in Canada can be credited to our very own creators making influential friends?
But speculation aside, Canada is not being noticed just because our creators are succeeding away from home; Canada is drawing outsiders here as well. Holt Renfrew over the last year has held numerous events that have been sprinkled with international A-list guests. And don't even get me started on TIFF. The Jimmy Choo x Off White opening party saw supermodel Lily Aldridge and actress Katie Holmes spend an eve in Toronto at the Bloor Street location of Holts. This spring HR's H Project hosted supermodel Doutzen Kroes at the Art Gallery of Ontario for a gala celebrating her Knot on My Planet initiative. Do all of these examples feel mountainous? Do you feel the pile of evidence growing? Well you should, and this is why I feel convinced that Canada is poised for a fashion revolution (as I've said before).
[carousel_slide id='7244′]
See It [at Fashion Week] to Believe It
Despite all of this evidence, this paradigm shift was no more evident than at the Spring Summer 2019 iteration of Toronto Fashion Week x RE/SET. This season designers at TFW x RE/SET came to play ball, and those organizing the prodigious event came to play harder.
Sid Neigum made his anticipated return to the #6ix in a parking garage below Yorkville Village on Sept 4th, and it was probably the designer's most wearable collection yet. Pastels, bright colours and sleek menswear-inspired tailoring solidified Neigum's reign as one of Canada's top design talents to watch. Also on day one we saw the unveiling of Hudson's Bays new collaboration with 12 RE/SET designers where the retailer will be championing the future generation of Canadian design. Looks were mixed and matched between brands such as WRKDEPT, Biko, Cuchara Jewelry, Beaufille, Hillary MacMillan, Atelier Guarin, Sid, WIL Studios and more. The looks were daring, but oh so chic, and felt very Canuck.
Mikhael Kale showed his newest collection at the ROM, where for the first time the designer created clothes that were equal parts wearable and daring. Kale has finally found a design identity that feels conscious and deliberate, accented with just enough bare skin to get our hearts racing. That asymmetrical tartan number is poised to rock the closets of influencers the globe over, if they know what's good for them. I cannot wait to see how he continues to produce garments under such a beautifully honed vision.
A breakout star came later in the week during RE/SET designer Daniel Gregory Natale's presentation. Complete with real flowers and crochet from head to toe, the designer hit the nail on the Prairie-chic head, joining the ranks of NYFW standouts banning together to drive the fashion farm-girl trend. Natale's layering teetered on the cusp of excess, making garment on garment mishmash feel wholly realistic for the working world. I will be buying every piece. Hillary MacMillan played with print and proportion in a style reminiscent of Michael Kors, but with more vibrant patterns. Christopher Paunil presented one look fit to challenge Self Portrait, but the rest of the collection felt like more evening gowns we don't need.
[carousel_slide id='7266′]
If street wear is more your vibe look no further than WIL Studios, because this season they killed the "brooding hipster that only uses analogue film cameras" vibe. Daniel Caesar was in the house for the show and I can guarantee he would wear every single look.
Sorry this has gotten long.
Whether you agree or disagree with the politics and political leaders of either countries it is undeniable that the path Canada is currently pursuing is resulting in ~major~ international attention. Whether it's the legalization of marijuana, our smoking hot leader, (you said it not me), universal health care, our overall perspective on the environment and healthy living or the weakness of our dollar, Canada is slowly gaining its autonomy and defining itself against global power players.
[carousel_slide id='7291′]
A Case for Canada
Now that I have apologized and taken too much of your time, like the true Canadian I am, I will leave you with this.
There is a case for Canada. There is a case for Canadian fashion. There is a serious business case for investing in Canadian designers. To all those brands, designers, influencers, investors and media who have not yet explored the potential of the great white north, I invite you to come and take us for a spin. I invite you discover a land away from home that sucks a lot less than yours currently does. I invite you to explore a place where people say hello to strangers, where you can find Vogue-approved streetwear and where you might run into Drake (unless he's in Chicago). Our boutiques carry the coolest designers, and our designers have the coolest boutiques.
We promise, you'll love it here. And oh, we have money to spend on clothes. So come give Canada a try, eh?
Collage by Naomi Brearley.
Imagery courtesy of George Pimentel / Toronto Fashion Week and Naomi Brearley.