Graphic Designer: Aiva Perrone
Copy Editors: Harleen Grewal, Eishvinder Gill
Since his debut, Martin Margiela has been one of the most influential designers of this generation. Inspiring artists such as Raf Simons, Margiela's influence continues to impact already established and up-in-coming designers. Jean Paul Gaultier's former prodigé was notably confused with being a part of the Antwerp Six, but this Antwerp graduate made sure to set himself apart from his peers. Founded in 1988 alongside Jenny Meirens, he started his brand with the premise that he wanted his clothes to speak for themselves, without the influence of branding. The four white stitches at the back collar represent practicality and if one wanted, the branding could easily be removed. Debuting his first collection on October 23rd, 1988, guests were seated on wooden benches and white cotton fabric served as the runway. This peculiar makeshift set-up connected to the themes of deconstruction and interpretation that the collection represented. During Paris Fashion Week, fashion houses at the time hosted their shows within the 1st arrondissement however his show took place at the Café De La Gare, located in the 3rd arrondissement. It became a controversial way for Margiela to debut his collection. Creating garments out of vintage clothing was one of the reasons why Margiela is known for his artistry. He questioned the obsolescence of outdated garments and constructed them into something transformative to reveal their inner workings.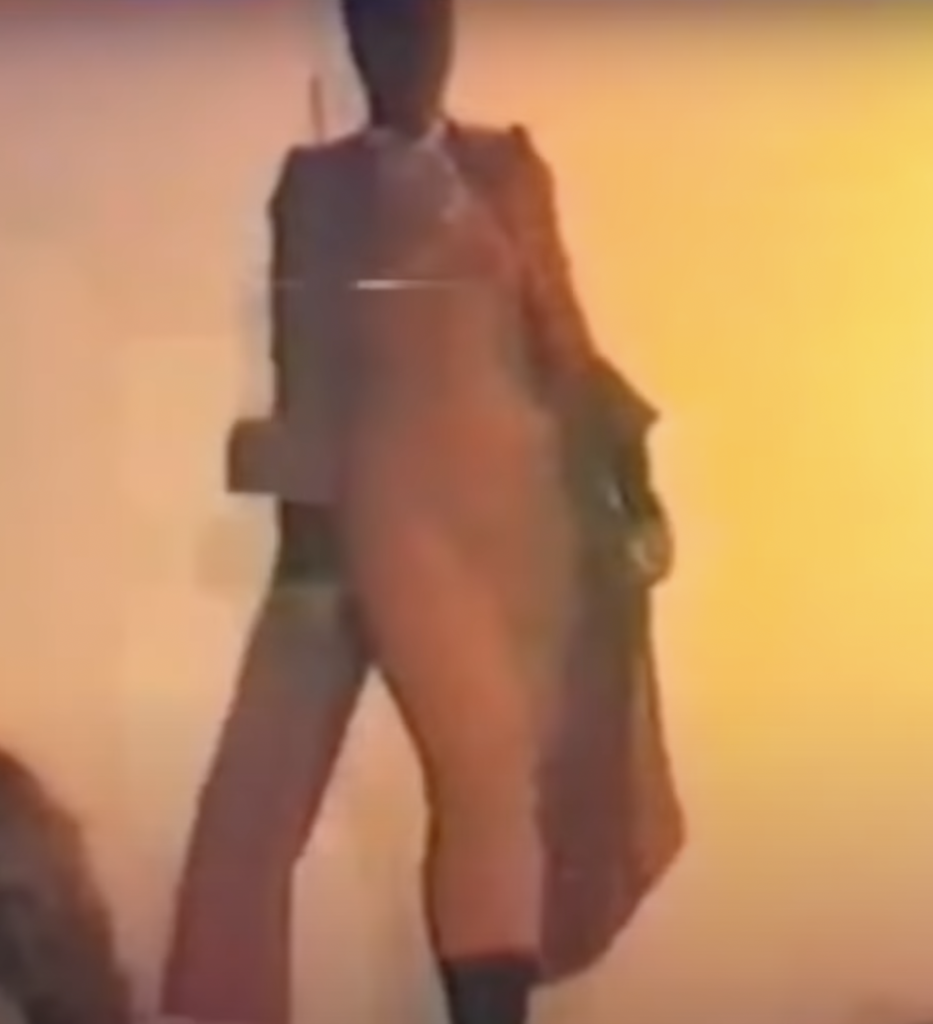 He was also known for using a variety of everyday elements such as duct tape, garment bags, and spray paint to make runway pieces.
The standards in the '90s were to have highly influential supermodels to sport your designs and to have frivolous and outgoing runways (i.e. Chanel and Versace). The models Margiela used, however, were friends and strangers he plucked off the streets. He did this because he wanted to show that his clothes can be worn by everyday people and to highlight the house's main theme of anonymity. Kristina de Coninck, a model who walked for his shows, recalled her experience working for the designer.
"[…]When Martin was casting models, he was always looking for a certain attitude, to let our personality show through. The fall/winter 2000 show was such genius — elegant but done with a sense of humour and attention to the finest detail."
During his 1995 Spring/Summer show, he had the models wear rhodoïd strips over their eyes, concealing their identity to refocus it onto the clothes. Fashion houses in today's age have adopted the concept of having models who are descendants of famed moguls within the entertainment industry.
Vogue dubbed Margiela a "Bad Boy" after his 1994 Fall/Winter Show because he refused to show his collection to the press before it hit the stores in September. Margiela's name itself is extremely common in conversations and themes within the fashion industry, however, there are very few photos of him. Margiela did not want his physical image to speak for his designs, rather, he prioritized the brand being viewed as a collective, not one monolithic image.
In 2002, Diesel acquired Maison Martin Margiela due to financial troubles. During the acquisition, the brand had gone through major shifts in its identity which ultimately resulted in Margiela resigning from his position as creative director in October 2009. After his departure, the house's anonymous design team who are famed for sporting white lab coats continued to design for the label until John Galliano was appointed creative director in 2014.
John Galliano is a Central Saint Martins graduate who previously designed for big houses such as Givenchy and Dior. Galliano was known for his flamboyant personality, logomania, and interesting designs. Galliano himself was a figurehead, never shying away from the spotlight, walking down the runway dressed in outlandish costumes (i.e. astronaut and sailor). Since Galliano's takeover of Margiela in 2014, he has shifted the ethos of the brand to focus on refinement, poetry, and storytelling. Although Galliano is known for highlighting these pillars (as seen in Spring/Summer 2022), he has made this once garment and design-focused house into a house that is catered to today's youth, who are heavily attached to the digital world. John Galliano stated that "The online presence of fashion houses can feel cold, detached, and transactional […] much of our grammar at the Maison is founded in movement: dressing in haste, work in progress, the bourgeois gesture." Ultimately, the sense of mystery was lost because of Galliano's identity despite the anonymous approach that the house was founded upon.
The brand also introduced more logomania items and had numerous collaborations. This has strayed away from the brand's pre-Margiela departure ethos and it spiralled into a mass-consumerism, nonsensical, and somewhat profit-chasing brand. Maison Margiela is known for its collaboration with H&M, Reebok, and Samsung.
Margiela was a minimalist brand based on the bias of deconstruction, intricate designs, and practical wear. Now, it is a part of the public sphere and has been somewhat reduced to their popularized Tabi shoe due to the boom of social media. On TikTok alone, the hashtag "tabi maison margiela" has amassed 219.7M views. A brand that was originally known for going against industry trends, has now turned into the one setting them. Margiela is coined as the founding father of Anti-Fashion, and he's up there with the greats such as Rei Kawakubo and Issey Miyake. Although Galliano is a talented designer, he tried to establish himself within the Maison in order to not lose all of the brand's foundation. Galiano has a podcast called "The Memory Of… With John Galliano" where he narrates the collections he creates under the brand, further revealing the mystery of this once tight-lipped brand.
Although Galliano and Margiela are two different designers, they've still found a way to be some of fashion's most reputable figureheads. Galliano may be a change of scene from the original ground built upon the foundation Martin had framed for the past several years.