COPY EDITORS: TAITE KRUEGER
COPY EDITORS: JACOB MARION, EISHVINDER GILL
As someone who has spent much of my four years in Toronto trying to find the best places to thrift vintage clothing and shop from local makers, I feel confident in saying that this is one of the best street markets the city has to offer. Toronto's Hippie Market is a year-round pop-up that hosts some of the best vendors in the city. It springs up in different spots across the city every few weeks, drawing crowds of creatives with its unique vintage pieces, handcrafted jewelry and candles, and local artwork. Not only that, but with the holidays approaching, it is a prime location for thrifting and gifting!
Here are my three reasons why you need to check out this recurring thrift market!
One-of-a-kind finds! The vendors at this market work to curate incredibly unique pieces. Everything from delicate peasant blouses and leather mini skirts from the 1970s to circle skirts and straight stovepipe trousers from the 1950s, you are sure to find your next statement piece. "I love the assortment of small businesses and craftspeople. It allows me to support the community while shopping in style. All my grooviest pieces are from the market," said Kayleigh Pike, a frequent Hippie Market shopper.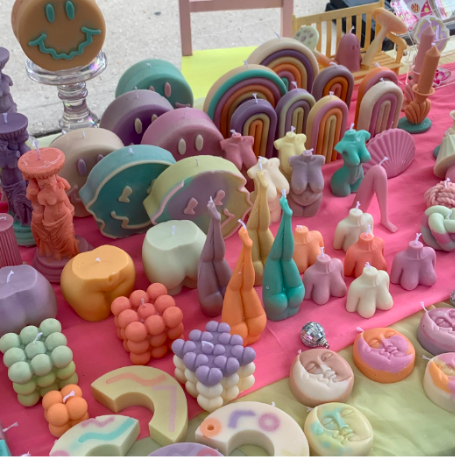 It is an accessible-to-all market! Not only do the pop-ups happen across downtown Toronto, ensuring easy access to public transit and barrier-free shopping, but some of the vendors also prioritize accessibility in other ways. One example is Clementine Vintage, a collection curated for every body. Vintage clothing and thrifting can be notoriously difficult and discouraging for those who don't fit within traditional sizing conventions, but vendors at the market are working to curate collections that can be worn and enjoyed by everyone.
Support local! Toronto is overflowing with creatives, craftspeople, and artists. While this is one of the best aspects of the city, it can often feel overwhelming. Shopping from local businesses and artists is often easier said than done, especially if you aren't sure where to start. Well, this is your starting point. Even if you just spend the afternoon wandering between booths, you will discover incredible Toronto makers excited to share their work with you. I have been able to create relationships with incredible artists, who I can now go to for custom pieces and gifts. The market allows me to confidently support small businesses in a huge city.
If you are a thrifter, a holiday gifter or simply want to see the local Toronto talent, you have to visit the Hippie Market! You can thank me later…