GRAPHIC DESIGNER: Imani Edwards
Season two of Netflix's smash hit Bridgerton premiered at the end of March, sucking viewers back into the world of Regency-era gossip, scandal, romance and extravagant balls.
Bridgerton puts a lot of work into its costumes, averaging about 700 pieces for this season, revealed costume designer Sophie Canale in an article for Harper's Bazaar.
While Bridgerton's style is not historically accurate, playing around with silhouettes, necklines, embroidery and patterns, season two added even more of a spin.
New characters Kate and Edwina Sharma (Simone Ashley and Charithra Chandran) arrive from India in the first episode, hoping to find a husband for Edwina during London's courting season.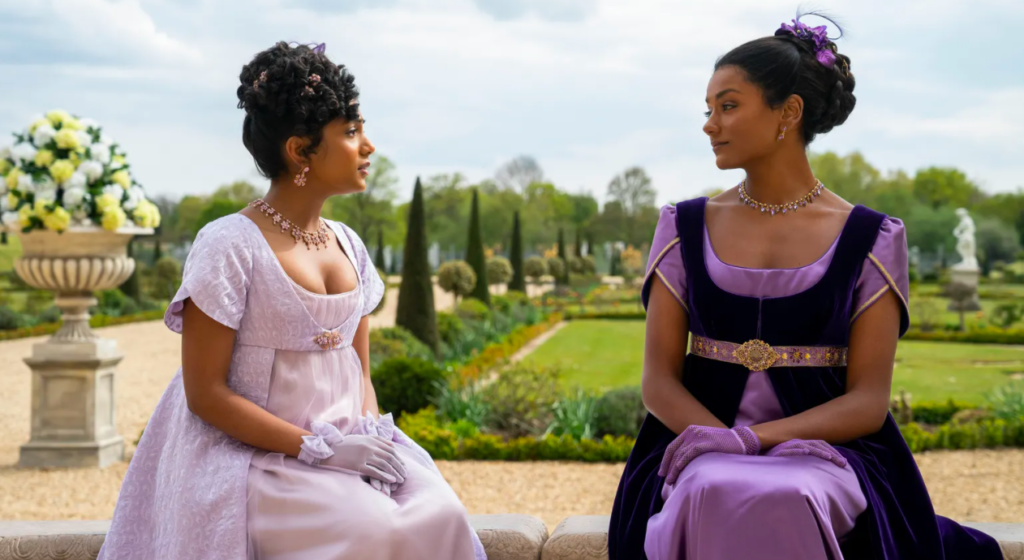 Bridgerton uses costumes to give each family and character a specific aesthetic. For example, the Bridgertons are always in whites and pastels to embody their elegance. The Featheringtons are tackier, which is shown in their wardrobe — each family member donning a floral-printed bright yellow, garish green or fluorescent number.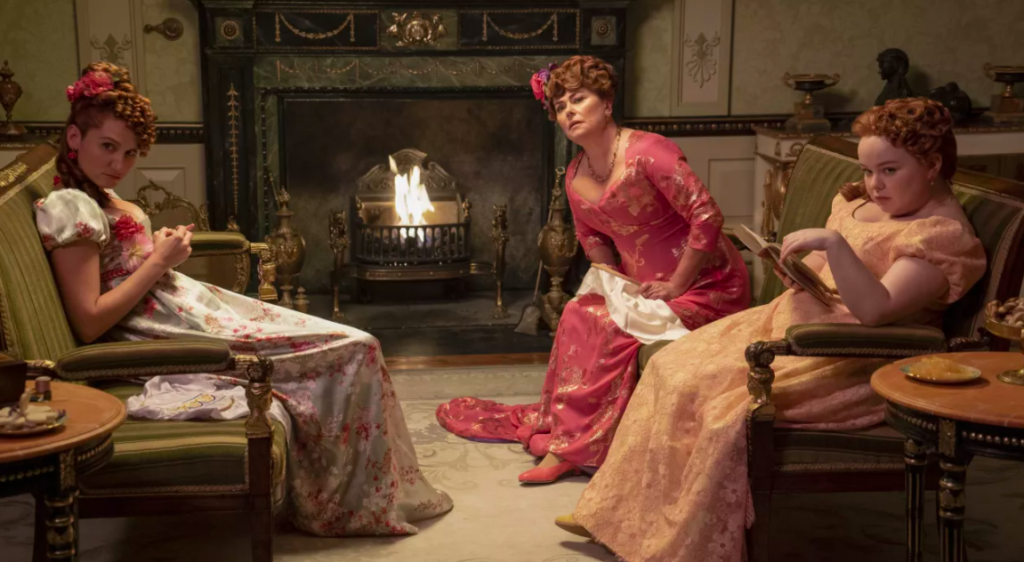 While the Sharma sisters have their signature colours — Edwina in baby pinks and Kate in bold shades of teal and purple, their costumes also pay homage to their Indian roots.
"We had a big discussion with the showrunner and producer about how to represent the Sharma family using Regency dresses," Canale said in the interview for Harper Bazaar.
Rather than using Western fabrics, the Sharma sisters' empire-line dresses (dresses with a fitted bodice that end just below the bust) were made from Indian fabrics, incorporating South Asian embroidery. Many of the fabrics were bought in Southall, a large London suburban district with a significant South Asian population. The jewel-tone palettes that Kate, the eldest sister, usually wears are also a nod to the bright colours often found in traditional Indian fashion.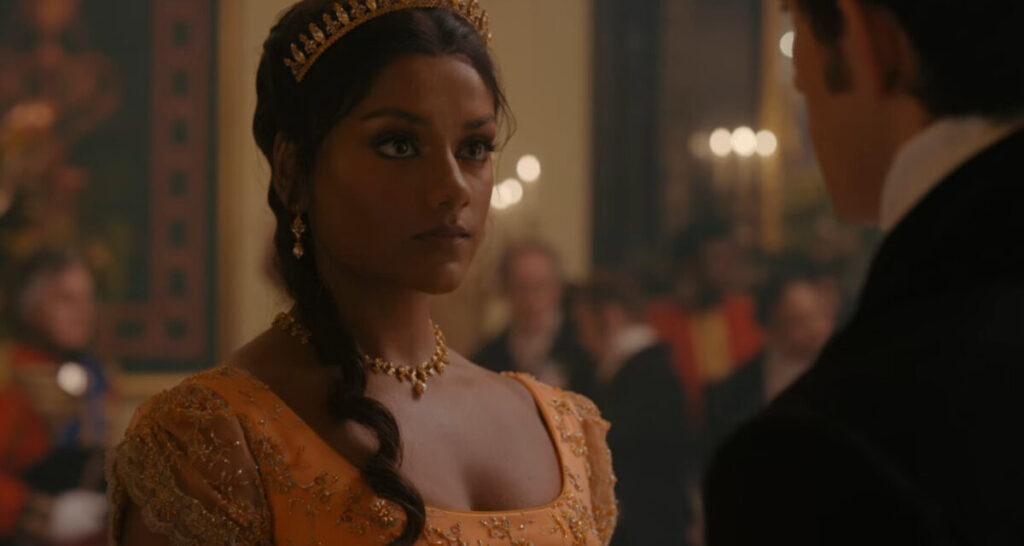 Additionally, while Regency dresses sometimes have a center-front split in the skirt, the split was moved to the side for Kate's bridesmaid dress to add a sari-like influence, Canale revealed in an AV Club article. A sari is a 3.5 to nine yard piece of unstitched fabric, traditionally worn by South Asian women. The fabric is wrapped around the waist, pleated in front, and draped over the left shoulder, partly baring the midriff.
Bridgerton also pays attention to detail, making sure the jewelry worn by the Sharma sisters incorporated South Asian influences.
In the sixth episode, during the disastrous wedding scene, Kate wears emerald green and gold bangles, a classic element of Indian jewelry. Kate mentions that her mother wore the same bangles on her own wedding day.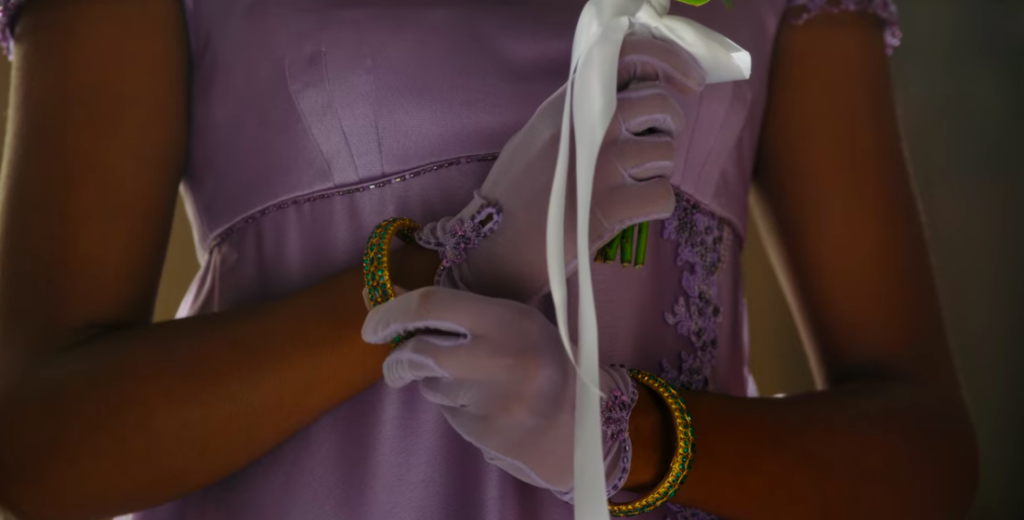 In the second episode, Edwina wears jhumkas, traditional Indian bell-shaped earrings. The word jhumka translates to bowl or bell. The bell-shaped earrings have been part of Indian fashion since ancient temple statues from the Chola dynasty, making them as old as 300 B.C.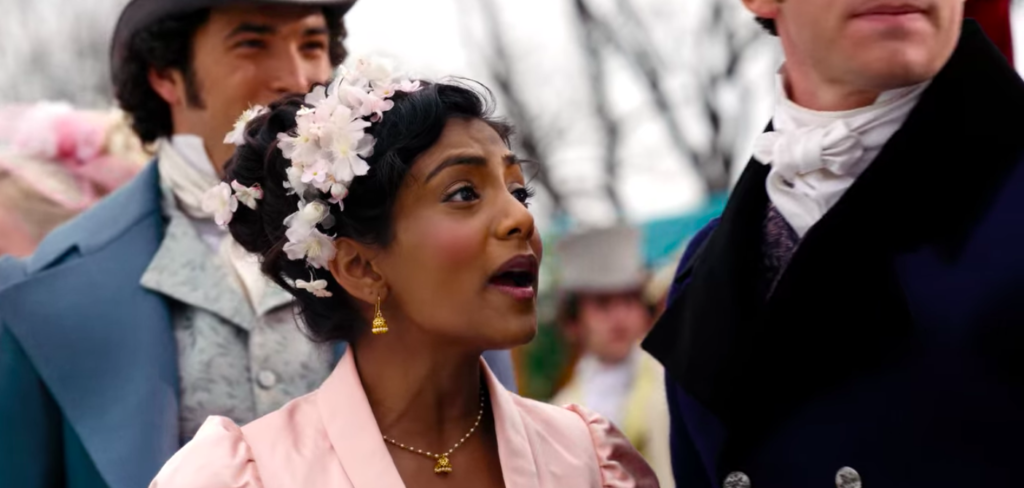 The costumes for the Sharma sisters this season display a true fusion of Indian and British fashion, and the South Asian representation, in general, has been appreciated by many on social media. People are praising this season for its authentic and relatable portrayal of South Asian culture.
Bridgerton's refreshing take on South Asian fashion and traditions throughout the show are the perfect way to display and appreciate the culture.