COPY EDITOR: Eishvinder Gill
GRAPHIC DESIGNER: Ryan MacDonald
And just like that—fashion month is over. Each season, designers bring a new twist to the way they interpret fashion. Debut designers are especially exciting for the industry, with their fresh takes on textiles, draping, colour, and deconstruction—both of identity and clothing. This season is no different, and we're already anticipating what's next for the designers that just made their fashion month debuts!
NEW YORK:
Tanner Fletcher
Quilted blazer dresses, patterned tapestry suits, and a blend of textures like silk, faux leather, corduroy, crochet, and more: all of these are the dreamlike, delicate elements from Tanner Fletcher's debut collection. The gender neutral brand blends inspiration from interior design, luxury fashion, and New York City itself. The brand remains consistent with a neutral, sometimes retro colour palette, giving a nostalgic edge to modern clothing. On the other hand, the silhouettes and textures seek to erase the gap between masculine and feminine clothing.
KGL
Founded in India, KGL went international this season with their debut NYFW runway show. The collection, inspired by a psychedelic state of mind, featured a crisp and bright colour scheme. It reflected elements from '90s gaming culture, baroque, pop-art, and the flower child aesthetic. The blend of traditional Indian design elements—like Mughal-inspired crystals— with a street style aesthetic was especially prominent in their work. Crystals, pearls, sequins, beads, and faux fur added a dramatic flare to a street style-inspired collection. The lineup also featured several pieces made from recycled or upcycled waste. Laser-cut collars, mesh trousers, billowy pockets, oversized silhouettes, and maximalist design were only a few of the many exciting and unique elements seen in this collection.
LONDON:
Claudia Wang
Claudia Wang's collection embodies an upbeat, colourful, and youthful mood. Although Wang had shown her S/S 22 collection at Taipei Fashion Week, this collection was her London debut. It blended a creative, digital-printing approach with references to Chinese mythology. Graphic patterns and illustrations are juxtaposed against each other, and vibrant colours and modern silhouettes established the foundation for Wang's collection. Wang also uses the collection to showcase her work with eco-friendly dyes. These elements all give her pieces a unique, artsy feel.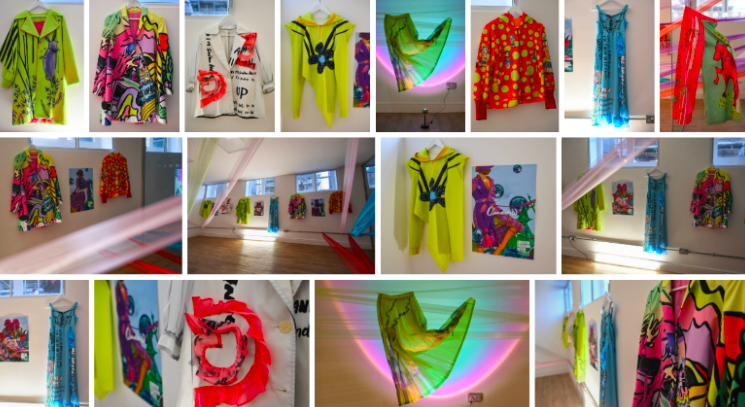 Christopher Ritter
The dizzying prints, unique patchwork, and electric colours of Christopher Ritter's London Fashion Week debut were inspired by modern youth culture. The extravagant clubwear and sleek cutouts radiate boldness and confidence. Apart from this collection, Ritter has previously worked with discarded pieces of fabric to create glamorous clubwear, bringing a new perspective to what sustainable wear can look like.
MILAN:
Ambush
Ambush's runway debut showcased the wide range of their skills in design. The collection was playful, yet sleek. Vests were laced with laser cut letter As, dresses were adorned with beaded fringe, and pieces were crafted with stylish cutouts. The models were accessorized with heart-shaped bags, platform shoes that went up to their knees, and straw hats enveloped in fur. Outerwear—particularly oversized shearling pieces and cropped parkas—was also prominent throughout the show. With this collection, Ambush approached classic design elements and fabrics—like leather—with a fresh perspective, creating an unforgettable debut.
Andreādamo
Andreādamo's sleek, unapologetic collection for this season featured pieces in primarily three shades: black, deep olive green, and bright red. Draped jersey dresses and knit dresses were languidly draped on the models, creating an understated yet alluring charm. Square shoulder boleros, shearlings with cutouts, asymmetric tops, and faux-leather pieces defined the various ensembles. Andreādamo blended understated chic with statement pieces—like bright red thigh-high boots, creating a collection that was captivating, fresh, and chic.
PARIS:
Rui Zhou
Rui Zhou, the 2021 Karl Lagerfeld Prize winner, debuted on the Paris runway with their work this season. Although the designer is known for their work in knitwear, the collection showcased a wide range of their strengths: graphic-bearing tees, outerwear, suits, loungewear, and more. They also experimented with embroidery, crochet, and printing, among other techniques. Sculptural dresses and the brand's signature cutout pieces were also prominently featured throughout the collection.

CFCL
CFCL, or Clothing For Contemporary Life, is curated by Yusuke Takahashi, the former designer of Issey Miyake Men. The sustainable brand brought a fresh perspective to clothing with this collection, and showcased easy-to-wear pieces, computer developed knitwear, and bold, vibrant colours and textures. The collection particularly focused on silhouettes, pop-art like colours, and recycled materials, which created a playful yet stylish mood throughout.