GRAPHIC DESIGN Arushi Chopra
Before the pandemic, I never considered the possibility of loungewear being part of my everyday style. Even Karl Lagerfeld once said, "Sweatpants are a sign of defeat. You lost control over your life, so you bought some sweatpants." Well, isn't that what's happening to the world right now? The global pandemic and its stay-at-home orders have left us no choice but to accept the fact that oversized sweats are now the hottest trend. I knew it was only a matter of time before my "Outfit Inspo" board on Pinterest would become a pastel sea of cotton and silk homewear— and even that Oodie blanket hoodie. The long-running debate about whether loungewear qualifies as fashion just seems silly.
When lockdown was initially instated, my style merely consisted of morning and evening pajamas; now, I can't help but try to up my loungewear game, not only to flex on my classmates on Zoom, but for my own efficiency. Isn't it ironic how loungewear now makes us feel more put together, even though it contradicts the purpose of it?
Isn't it ironic how loungewear now makes us feel more put together, even though it contradicts the purpose of it?
Shoppers around the world are adapting to life in self-isolation, and according to Payflex, the global demand for athleisure increased by 106% this year. There is no question that the rise of loungewear amid the pandemic has created a market opportunity for many brands, and the newly-established company Lil Peace of Heaven is no exception. Founded by sisters Daniella and Emily in March, the former dental hygienists began making and selling loungewear, unaware that it would become the leading trend driving the growth of the market. "We thought that once the lockdown was lifted after two weeks that we would go back to work. But as the pandemic kept going, our sales kept growing; we had no idea that everybody was going to spend day and night in loungewear," they admitted.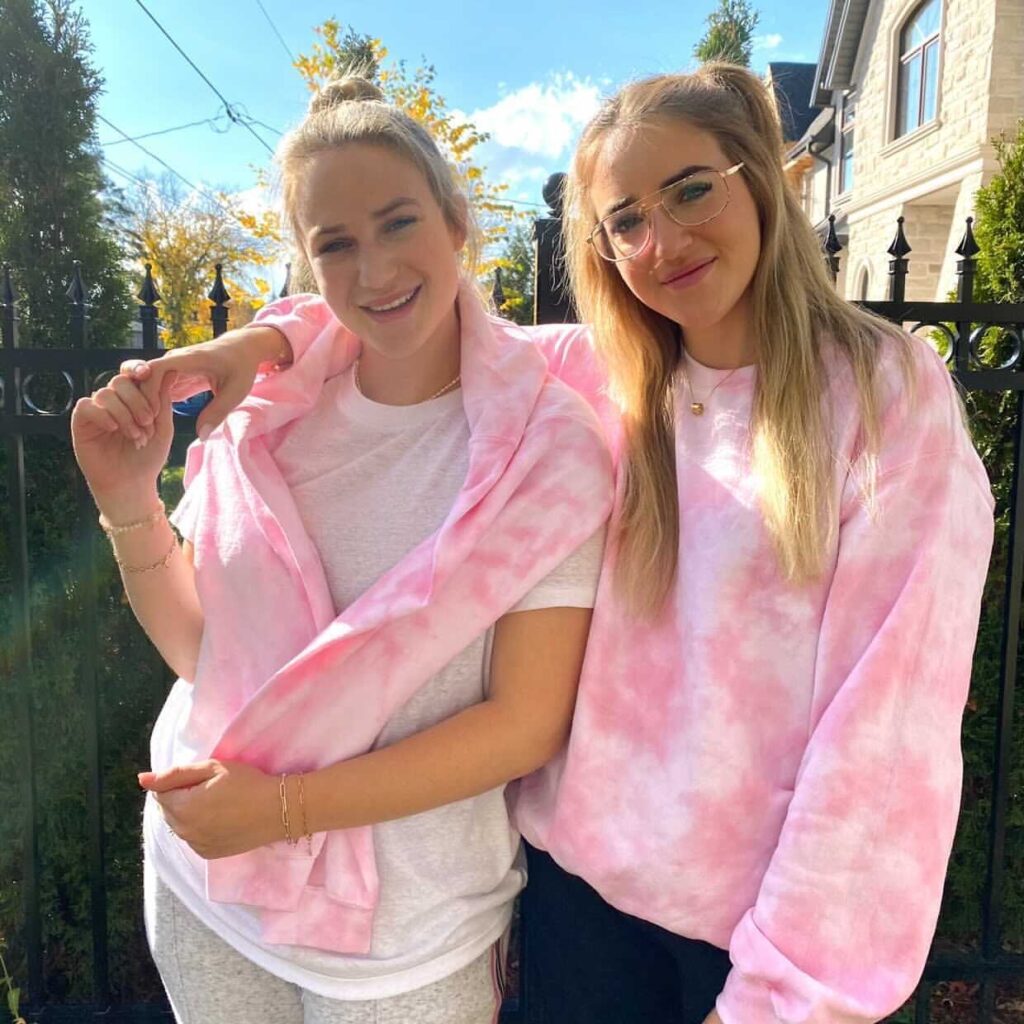 It seems as though there is a clear difference between wearing a hoodie and an outfit— yes, outfit. Something about matching loungewear just hits differently (especially when you've been wearing mismatched PJ's for three months). I mean, there must be a reason why brands like Zara, Aritzia, and Brunette The Label are launching loungewear sets and not individual pieces. LPH confirmed that transitioning from hoodies to matching sets was the underlying factor that enhanced customer demand. 
"We started with just sweaters, and people were begging beyond belief for sweatpants. After networking and researching, we created the set that everybody wanted." 
Can we take a moment to discuss 2020's obsession with tie-dye? I swear, I woke up one day and every brand was replacing neutrals with multi-coloured, camp-inspired prints; we have the celebrity-approved, public appearances of JLo, Gigi Hadid, and Justin Bieber wearing tie-dye to thank. Emily and Daniella admitted that they began making tie-dye after seeing a photo of Kylie Jenner wearing it on a private jet with her friends. Since launching their collection, the girls have not reported any patterns in sales corresponding to the different stages of the pandemic. 
"During the summer when quarantine was lifted, people were going out more, but we didn't notice any changes. Instead, we were thinking, 'when is tie-dye going to be last year's thing?''
Adding that they "get emails from brands about how they are launching tie-dye, so they do the marketing for us. We launched solid-coloured tracksuits, but our tie-dye is still doing better."
In March, the volume of searches for "tie-dye loungewear" began to skyrocket, and by the summer, the demand increased 5000% from last year. Pinterest Experience Researcher Larkin Brown reported that searches for "tie-dye at home" increased by 462% and "tie-dye crafts" grew 13x from last summer. 
According to O, The Oprah Magazine, there is a psychological reason why we are so attracted to tie-dye. Dr. Clay Routledge, professor of psychology at North Dakota State University and author of Nostalgia, a Psychological Resource, reported that embracing nostalgic trends is beneficial to our mental health. He adds that nostalgia makes us feel more connected, energized and motivated, and provides inspiration for the future. 
For anyone who hasn't bought any tie-dye yet, I both respect you and question your self-control.
The pandemic continues to transform the fashion industry, and the loungewear market is expected to grow to 19.5 billion between 2020-2024. Consumer demand is undoubtedly changing the game for many local businesses, and has turned a temporary side hustle into a full-time, profitable company for LPH. I guess this means that we can forget about power suits, haute couture, and gowns for the next little while!