GRAPHIC DESIGN Arushi Chopra
As fashion academics, MA Fashion students at Ryerson University spend much of their time thinking about the production, distribution, and consumption of clothing. The practice of dressing, and all that comes with it, can be an overwhelming endeavour that encompasses our minds as much as our bodies. 
What began as a series of interviews with four MA students about fall and winter fashion, evolved into conversations about dressing for the self, forming and performing identity, and the complex impact of studying fashion while learning remotely.
Research Interests
Modest fashion, consumerism and identity, racism and fashion.
Fashion Inspiration
Reyhab gets her inspiration from a variety of places, and consults everything from her Instagram explore page, to what's trending on her favorite websites, and even people-watching. She notes that her religious and gender identity are why she takes a customizable approach to fashion. "Mainstream fashion always involves readjusting and customizing as a Muslim woman. Fall for me is the perfect season to take mainstream fashion inspiration on social media to customize it."
Go-To Look This Season
For Reyhab, nothing says 'fall fashion' more than a good jacket. "I absolutely love adding a faux leather jacket to any look. I personally like wearing a dress, and adding a leather jacket makes it the perfect fall outfit but adds a sporty/posh vibe to it too."
Impact of Remote Learning on Shopping and Dressing 
Remote learning offered Reyhab a new hobby: styling. Her shopping also increased despite going out less, but she approaches her outfits with more intention. "I personally started to take more interest in how I style my outfits. Before it was just hoodies and jackets when I started the fall semester. But with remote learning I feel like every chance I get to go out, I make it memorable by putting on a good outfit. So I ended up buying more clothes this year than ever!"
Research Interests
Diversity in fashion, and the critical study of luxury fashion. 
Fashion Inspiration
Jennifer turns to social media for much of her inspiration. "A lot of it is coming from Instagram and Pinterest because of who I am as a person."
Go-To Look This Season
For fall, Jennifer keeps a classic uniform. "My go-to look is a brown trenchcoat, some sort of dress, a turtleneck, and Stan Smiths or these patten booties that I have."
Impact of Remote Learning on Shopping and Dressing 
Jennifer feels like remote learning has alleviated the pressure to dress a certain way and uphold an expectation of what a fashion student should dress like. "If I was in class I would want to wear something that no one had seen me in before." Instead of dressing to the nines on a regular basis, Jennifer has "got sweats on, that's it." 
As for shopping, remote learning has helped Jennifer shop less. "[Before the pandemic] I would shop more often whereas now I would be a bit more cautious of what I'm consuming, and there's not really a need to perform, since we're mostly stuck inside." Remote learning has also helped Jennifer be more conscious of what she does buy, and helps her avoid fast fashion. 
Research Interests
Ethics of the fashion system (including privilege in consumption, labour rights, sustainability) and the psychology of consumers. 
Fashion Inspiration
While Danté used to follow social media influencers closely, she finds now that she can't support an influencer that doesn't align with her values. Even so, she does occasionally look to celebrities like Hailey Bieber or consults Pinterest to see the way certain pieces can be styled. Danté also looks to the people around her for style inspiration. "My friends are my greatest inspiration, and just [the MA cohort]. If we all had one piece, the exact same piece, and our own wardrobes, we would all wear it in such different ways." 
Danté also credits her environment to be a source of inspiration. "I think just being in Toronto is really changing my style, and Edmonton is not a fashionable city and it's hard to draw inspiration from rural Alberta which is where I grew up. It's very refreshing to be in a city where I definitely see fashion being utilized more." 
Go-To Look This Season
Danté loves graphic tees but hates to be cold. In the colder months, she gets creative with layering to wear her favourite pieces while still keeping warm. "Putting a bodysuit over a turtleneck, or wearing a graphic tee over a hoodie. And I'm not saying that I'm making these ideas up, but I am definitely utilizing pieces in ways I never would have if I was still just buying new stuff all the time." 
She often starts with a turtleneck and builds her outfit around that warmer piece. Her style does have a skater boy influence but Danté often incorporates a button-down or fleece in order to keep it chic (and still warm). She also keeps a bit of a uniform and likes her pieces to be versatile. "I have this crisp pair of black dress pants and I just love them, I could wear those pants with every single piece of clothing I have in my wardrobe."
Impact of Remote Learning on Shopping and Dressing 
Remote learning makes Danté feel like she's missing the fun of participating in the fashion culture at Ryerson, and interacting with others in the program to gain inspiration from each other. She remarks that for fashion academics, "fashion is an identity, even more for us because… we eat, sleep, and breathe fashion, and we understand it at so many different points." 
Danté notes how much studying fashion has increased her desire to shop. "I'm also being introduced to hundreds of designers and houses of fashion that I've never heard of in my life." In a way, being immersed in the study of fashion has only heightened Danté's awareness of it, and participation in it.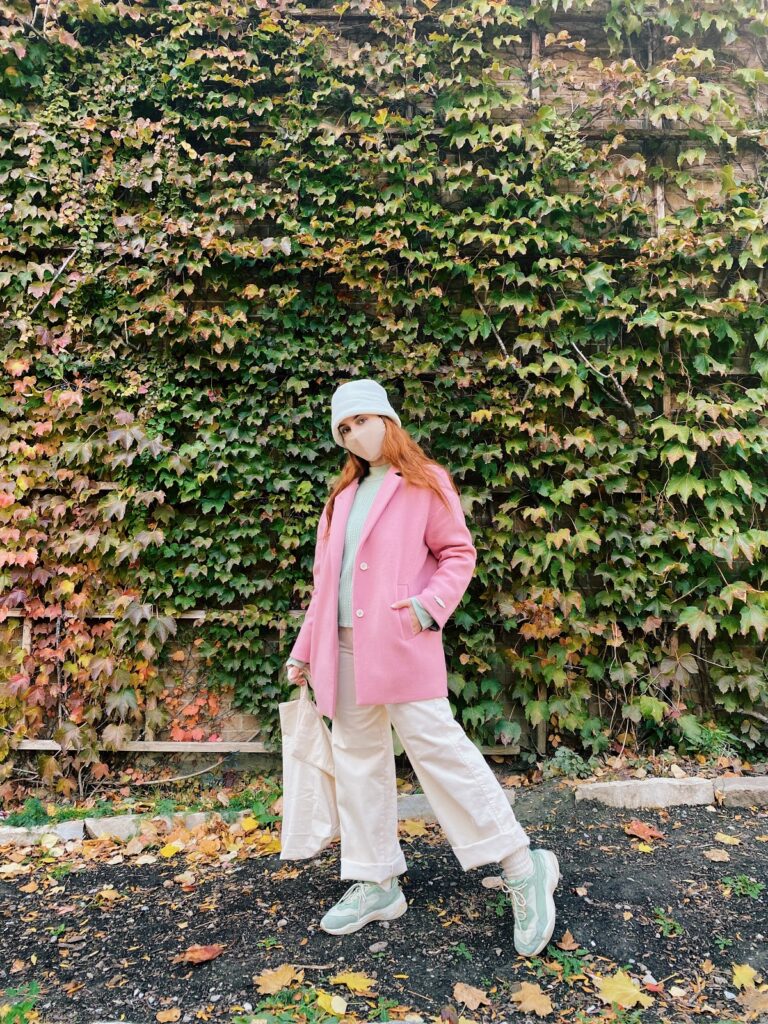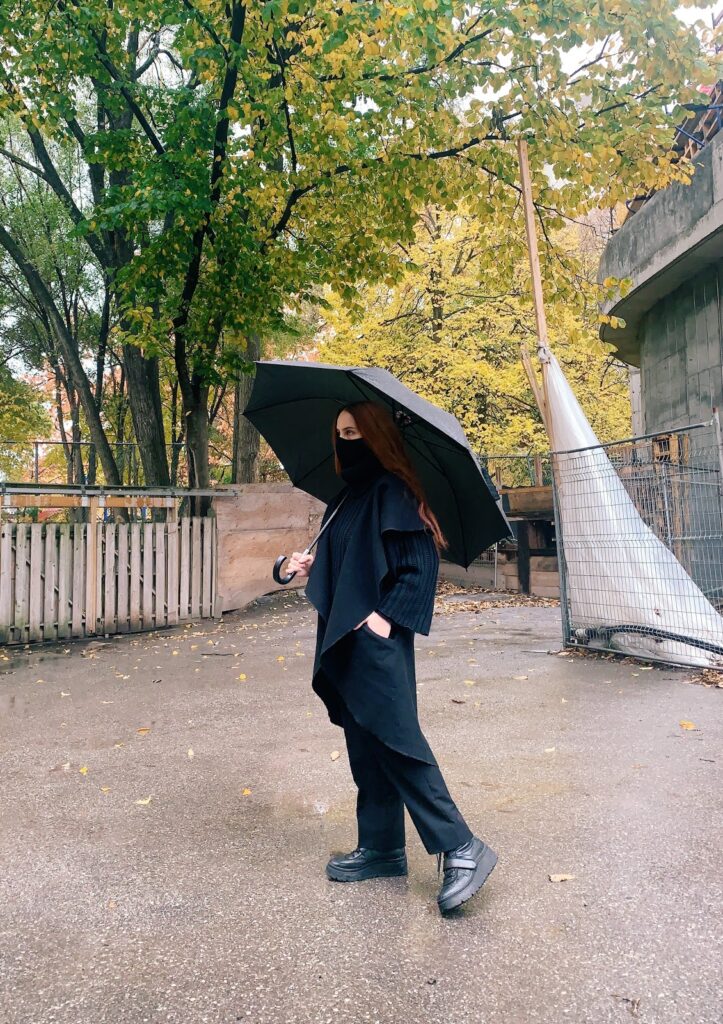 Research Interests
Identity politics, anti-fashion, fashion exhibitions. "My honours advisor [said] I'm always interested in unwritten things, so I guess my research interests can be summed up by that."
Fashion Inspiration
Denisa draws inspiration from a wide range of places, including runway shows, social media, blogs, and reluctantly, fashion ads. But for her, it's all about the colour palette. "My background is in painting so everything I do is in colour, every few months I become obsessed with a certain colour palette so I always coordinate things that make the little painter that lives inside of me happy within that season." 
Although she gets inspiration from a variety of sources, she doesn't let external influences dictate how she dresses. "For the longest time, I didn't think I could wear what I wanted, [with] either monetary value or sizing stopping me, but I really don't care anymore. I just wake up and put on the character of the day and carry on."
Go-To Look This Season
Denisa prioritizes warmth and being able to easily get around Toronto on her new bike. 
"Everyone used to say I was very eccentric while I was growing up but in reality I just didn't care for wearing a simple t-shirt and jeans… What I wear is fairly basic even now, a nice blouse or knit, a pair of structured and wide-leg trousers, a warm oversized coat, and sneakers." 
Impact of Remote Learning on Shopping and Dressing
Having a reason to get dressed and look nice everyday has a profound influence on Denisa's mental health and happiness. 
"Getting dressed in the morning has always been my favourite part of the day. The only thing that can get me out of bed is to think about putting on my favourite knit. When lockdown first happened, I only wore pyjamas for months, I became so depressed that my friends and I started doing weekly zoom parties where we'd come up with a theme and wear an outfit based on it. That woke me up. Ever since I started getting dressed every day, my entire mental state shifted. Maybe the fashion student in me really needed to reconnect with that part of me. I feel like that's a reality of all of us too."
The responses have been edited for clarity.