GRAPHIC DESIGN Cindy Phung
It's that time of year again, and there's nowhere better to spend the season than on the Hallmark Channel.
A businesswoman from New York, who doesn't have any time for the holidays, finds herself back in her hometown of CandyCane, Utah for a work trip. She hasn't been back there for years –– not since her mom died on Christmas Day, two years ago. Since then, she's spent the holidays with her big-city boyfriend, who is conceited and hates Christmas. All of this changes when, distracted by her phone, she accidentally walks into a single father, who is also a struggling baker in charge of the town's annual gingerbread decorating competition, and shows her the true meaning of love and Christmas. She discovers that she loves him when she loses her balance hanging an ornament on the tree and falls into his arms. She quits her high-paying corporate job and manages the bakery with him. 
 If you've never seen a Hallmark Christmas movie –– you just did. 
In fact, you've probably seen about every one of their Countdown to Christmas films that air every day from the end of October to January. This year alone, Hallmark is releasing 40 new holiday films (23 Countdown to Christmas and 17 Miracles of Christmas movies), and even though their plots are all going to be about career women who are too busy for love, but find it anyway in a small town with a handsome bachelor–– I am here for every single one of them,  and so are the 85 million people who tune into the channel. 
You would think that the long-established and diverse greeting card company would have more distinct plotlines, but it seems like their main priority is to make sure we don't forget that it's Christmas. I mean, how could we? All of their movie titles have the word "Christmas," and their posters are just of couples romantically surrounded by lights and evergreen. Can somebody also tell me why all of their posters look like they are from the same movie?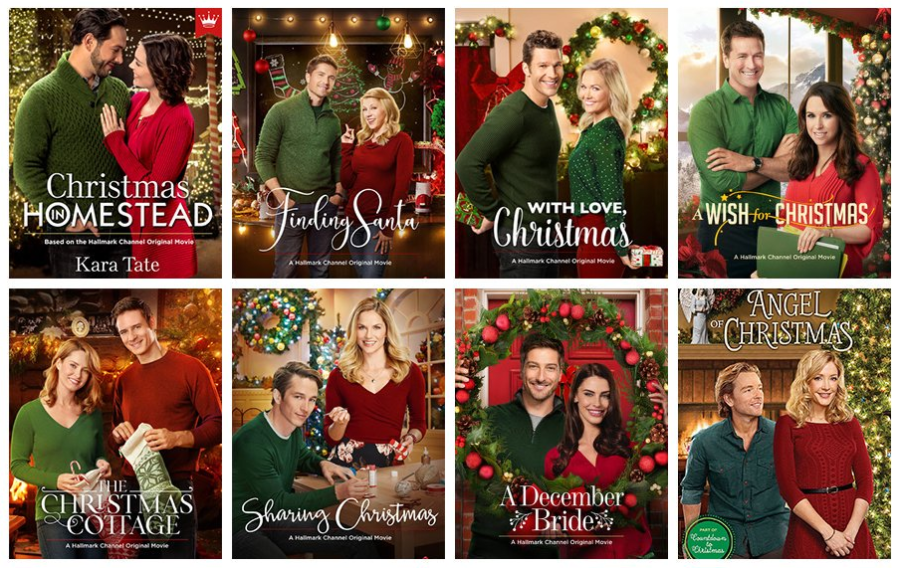 I have no idea why, but I get this unexplainable feeling of excitement whenever November rolls around because I know that I'll be able to watch two months' worth of Hallmark movies. I mean, I can't be the only one, right? There is something so fun about predicting every plotline before they occur (and saying, "I knew it" whenever it does, even though everybody else knew it too). 
Next time somebody roasts me for watching Hallmark movies, I'm going to tell them that I do it for science.
Funny enough, science has actually proven that that is the main reason why people love watching them. According to behavioural scientist Pamela Rutledge, "The human brain loves patterns, and the predictability is cognitively rewarding." Next time somebody roasts me for watching Hallmark movies, I'm going to tell them that I do it for science. 
Hallmark movies have become so predictable that "Hallmark Movie Bingo" has now become a cultural phenomenon. I played for the first time last year with my cousins. It got more competitive than I would like to admit, but it is undoubtedly the best Christmas party idea. 
You become wiser after watching a certain amount of Hallmark Christmas movies, and I am generously donating the well earned wisdom I have learned from all of their plots:
Christmas is the one time a year when people remember they have a dead parent.

You're always going to end up spending Christmas with the first person you bump into in that small town you'll visit.

It's impossible to find true love in the city –– only in small towns.

A lot of locals are actually princes about to be crowned as kings of foreign countries.

The jerk you had a crush on in high school now has his life together, is ready to settle down and cares more about helping kids than making money.

Everyone who has a corporate job doesn't understand the true meaning of Christmas. 

People only realize how toxic their big-city relationships are in December. 

People get really clumsy this time of year, but it doesn't matter because there is always someone in the area who has amazing reflexes and will catch you.

Everyone has a professionally decorated tree in their house.

Gingerbread decorating competitions are a thing. 

Every problem you've ever had (ever) is resolved by Christmas
Although Hallmark movies are extremely repetitive and sometimes cringy, there is always something magical about the channel this time of year, as though all the troubles in the world subside in the flurries of a beautiful snowstorm.