GRAPHIC DESIGN Natalie Welsh
It's that time of year again! Taylor Doose sets the town up for the annual Autumn Festival; the locals decorate the gazebo and town square with pumpkins, leaves, and horns of plenty. Luke, as usual, is annoyed seeing the perkiness of the town as they celebrate the  change of season once again. Rory and Lorelai, absorbing the vibrant scenery, welcome the chilled Connecticut air with a hot cup of coffee from Luke's diner. 
It's officially fall in Stars Hollow.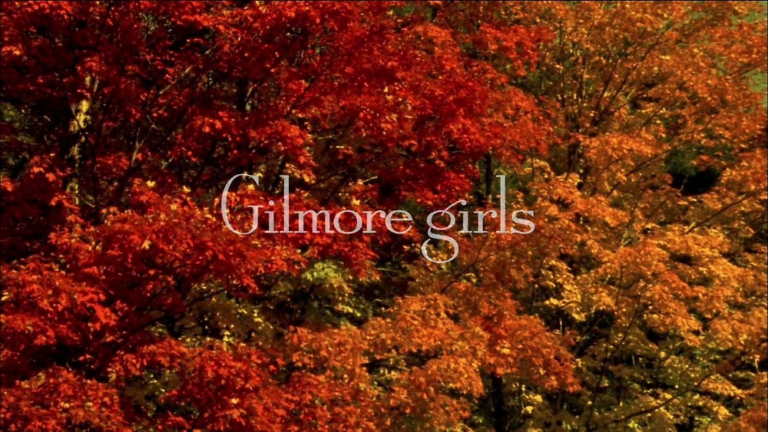 If I had to pick an anthem for fall, it would have to be the Gilmore Girls' opening credits. Everything about it is a cozy escape – the shot overlooking the small town of Stars Hollow, the ambient backdrop of colourful trees, and the red and brown tint that make up the sequence. More than that, the heartwarming interactions between Rory and Lorelai, along with the famous lyrics, "Where you lead, I will follow" representing a bond between a mother and daughter, are about as snug as it gets. 
I'm sure anybody would love to spend this cozy season in Stars Hollow, whether it's nestling up to re-watch old movies and ordering an abundance of Chinese food from Al's Pancake World, or attending close-knit town events that always end up more entertaining than one bargained for. 
The Gilmore's always have their own way of doing fall, and to prove it, here are some of my favourite episodes that will instantly make you crave a pumpkin spice latte! 
"A Deep Fried Korean Thanksgiving" S03, E09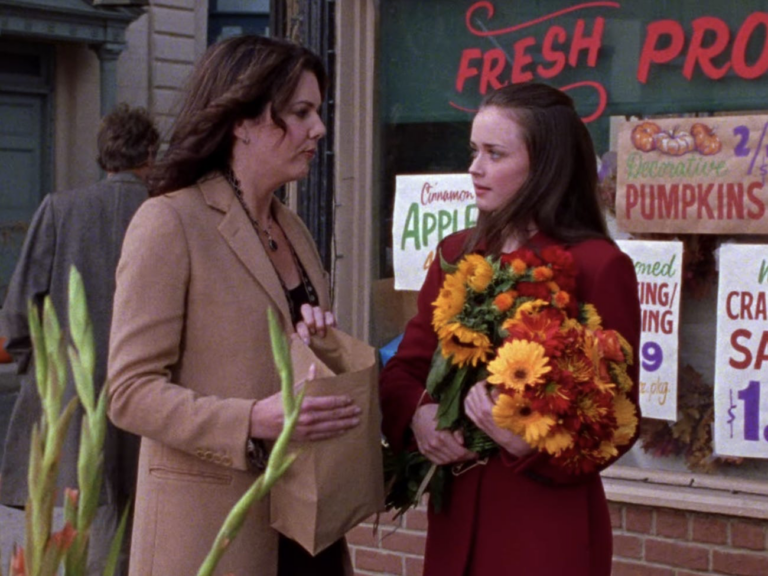 The Gilmore's attend not one, not two or three, but four Thanksgiving dinners – first visiting the Kim's, eating a tofurkey, and then making their way to Sookie's for a deep-fried, organic turkey. They stop by Luke's after for another turkey dinner with Jess, and finally, a formal Thanksgiving celebration at Richard and Emily's house.
Doesn't this make you want to reconsider doing Thanksgiving Gilmore style?
In this image, Rory makes a statement at all four Thanksgiving dinners with her red overcoat. The coat makes her look sharp and sophisticated, and the red aligns with the colours of the season.
"Ted Koppel's Big Night Out" S04, E09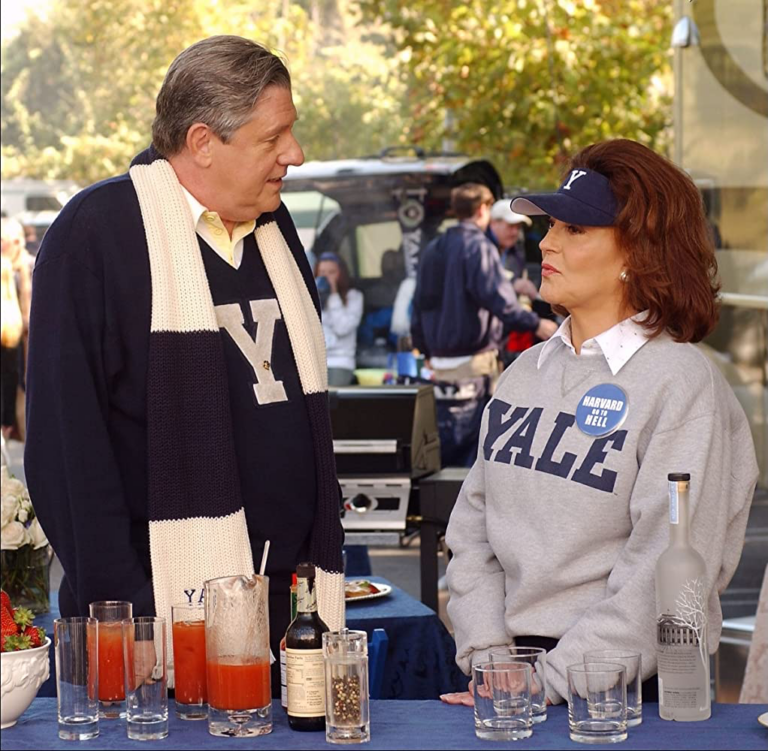 The Gilmore's tailgate the Yale football game with Richard and Emily on a Saturday afternoon.  They enjoy the perfect fall family weekend filled with fun food, college sweatshirts, Yale fight songs, (and an unlimited supply of Bloody Mary). 
While the Gilmore's were mastering fall festivities, they always knew how to look the part. Let's review some of my favourite fall looks throughout the series!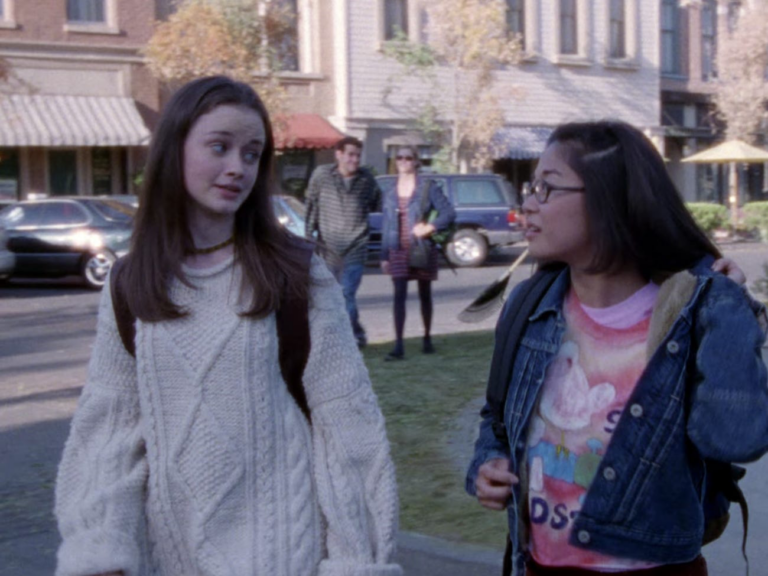 In the first episode of Gilmore Girls, Rory wears an oversized, cream cable-knit sweater. Baggy sweaters are always a must-have in the fall; I feel cozy just looking at it.
Dean kisses Rory at Doose's Market. She thanks him and accidentally steals cornstarch. Rory and Lane talk about the kiss at the Autumn Festival while dressed in pilgrim costumes. Lorelai invites Dean over for a cozy Gilmore movie night. 
In this image, can we just appreciate the fall decor and Lorelai's colour pallet? In my opinion, this was her best combo; her long leather jacket, brown turtleneck, and rustic orange skirt, scream fall.
"A-Tisket, A-Tasket" S02, E13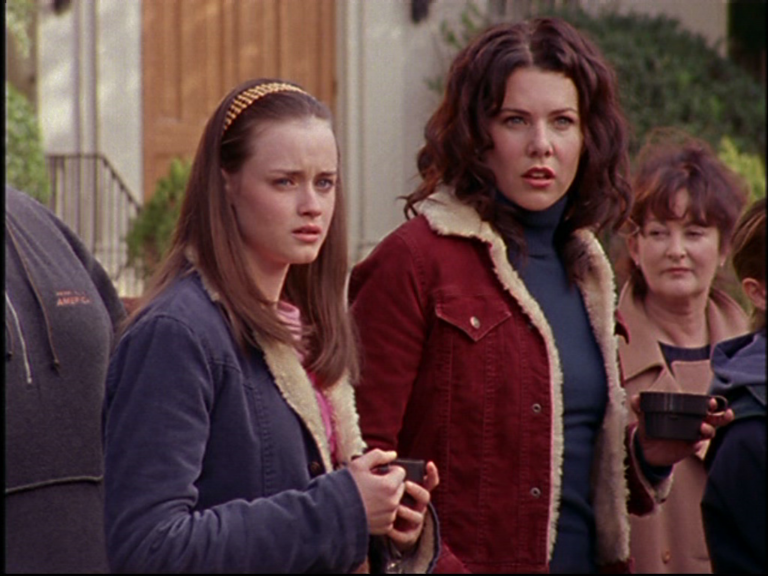 Lorelai wears a red corduroy jacket with shearling on the inside. With corduroy making a comeback this season, this jacket is not only trendy, but cozy for the fall.
"Dead Uncles and Vegetables" S02, E17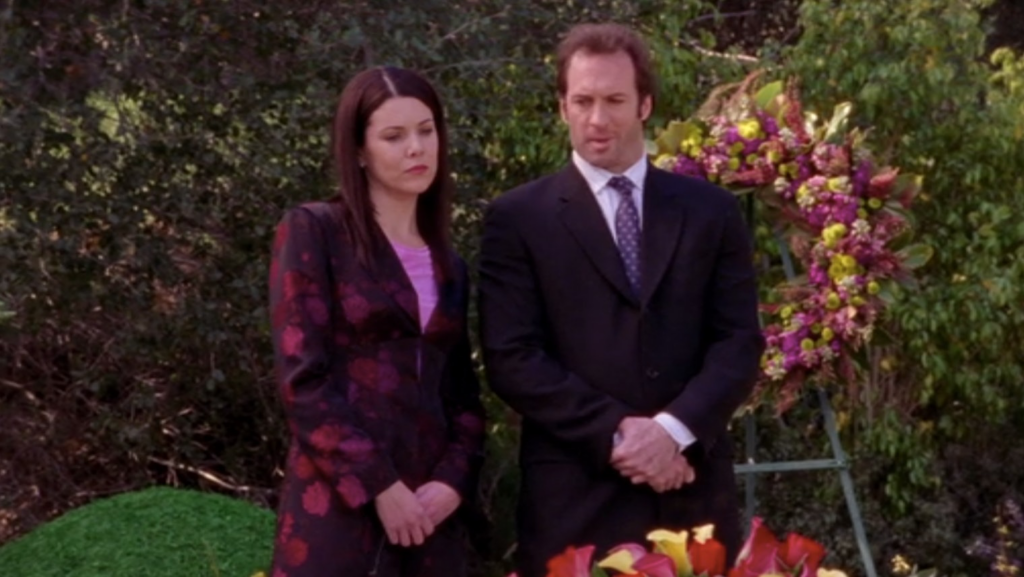 Of all the coats that Lorelai wears on the show, her floral one has to be my favourite. While still being subtle, it's feminine, and the dark shades make it perfect for autumn rather than spring.
"Norman Mailer, I'm Pregnant!" S05, E06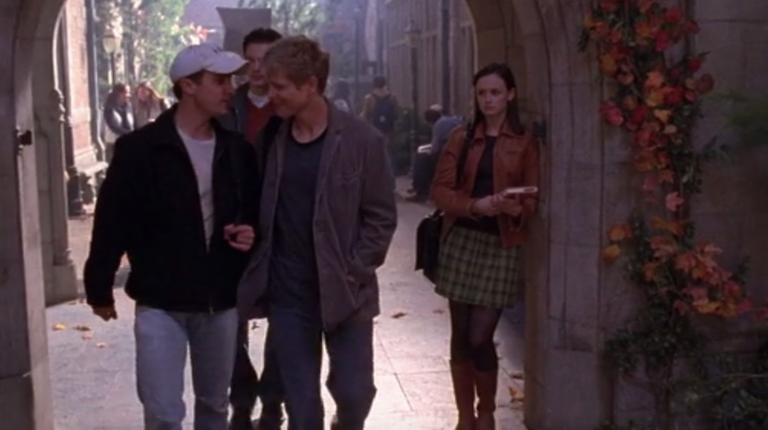 Rory masters the perfect preppy college look and fall ensemble with her tan leather jacket, plaid skirt, and brown boots. Her combination of simple patterns and warm colours makes her look fashionable without trying too hard. 
To pay tribute to the iconic series, jewelry company Alex and Ani, released a Gilmore Girls collection in September consisting of five bracelets, each highlighting different elements from the show. For anyone wishing they could spend a weekend at the Dragonfly Inn, grab a coffee from Luke's diner, walk the halls of Chilton, or even adventure with The Life and Death Brigade, this collection was made especially for you.
Gilmore Girls is a comfort food type of series; it's quick-witted humour, close-knit community, heart-to-heart mother-daughter scenes, and fall festivities are enough to make anyone wish they were a local in the quaint town.
Sadly, fall will eventually come to an end, but we will always have Gilmore Girls to be transported back to. Grab a sweater, a cup of coffee, and watch the leaves change in Stars Hollow!