Graphic by Alicia Churilla
Is it just me or can no one stop talking about Meghan Markle? Every social media and news outlet lately is filled with new posts or articles about how stunning Meghan looked at her most recent event or how inspiring her speech was. Recently, I find myself taking more than a passing interest in Canada's surrogate sweetheart and have found that I too have in fact hopped on the Meghan Markle bandwagon. It doesn't really come as much of a surprise as the new Duchess truly has become the poster girl for elegance, class and beauty. With her dazzling smile, perfect stance and equally desirable wardrobe, I for one can't stop trolling the internet to gawk at her latest looks. If she didn't have me sold with her wedding dress, then the chic blazer dress she wore in August definitely did. The flattering rigidity of the fabric paired with the simple black stiletto framed her in such a way that you couldn't help but stare, my inner minimalist fiend was bursting at the sight of the ensemble. Never before have I seen a member of the royal family wear such a modern and, dare I say, revealing dress, nor had I ever really cared up until now. Meghan's recent trip to Australia has me obsessively looking up all kinds of images on social media to get a glimpse of every look. I'll be the first to say she did not disappoint while donning youthful brands like Zimmermann, Reformation, Self Portrait and even ASOS.
We all seem to be much more enamoured with Meghan than we ever were with Kate Middleton when she first emerged onto the royal scene, so the question must be asked as to why that is? Meghan Markle isn't any younger than Kate Middleton, nor are her parents millionaires, crossing off youthfulness and wealth as obvious links to her popularity. The new Duchess comes from a background unlike any British royal that has come before her……the silver screen *gasp*. As an ex-actress, Meghan immediately comes across as much more relatable to us 'commoners' and has a real influence in changing how we view the royal family. For the first time in British history, a celebrity who has lived life in the public eye has joined one of the most elite and intriguing families in the world. The new Duchess is bringing modernism to light for the monarchy in 2018 and we see this taking shape through the clothes she wears and the rules she breaks.
[carousel_slide id='7579′]
Meghan is a divorcee, bi-racial, non-Anglican and American, all attributes of which would have been frowned upon by the Queen, courtiers and her advisers, not to mention many years of tradition. The royal family is known to have many strict rules tied closely to tradition in particular and Meghan Markle breaks many key ones which in itself is momentous and historic for the royal family. In the past, no member of the royal family has ever been allowed to marry a divorcee (McKenna, 2018). When looking back at history Princess Margaret had to call off her impending marriage to divorcee Peter Townsend and Edward VIII, Queen Elizabeth II's uncle, abdicated due to his wish to marry divorcee Wallis Simpson (McKenna, 2018). Fortunately things have become more progressive as of 2002 when the Church of England declared that divorced people could remarry in church, making Prince Harry the first royal family member to have a church wedding with a divorcee (McKenna, 2018). Religion is also held in the utmost regard within the royal family as the Queen is the head of the Church of England and members of the family share the same faith. Meghan doesn't fall under the 'ideal' as she isn't Anglican. Once again amendments were made, specifically in 2015, with regards to the Act of Settlement of 170, allowing British royals to have an interfaith marriage (McKenna, 2018).
Not only does Meghan Markle represent modernity within the royal family in terms of her personal history but she also breaks the rules through the power of dress. For example, on Queen Elizabeth's birthday back in June, she wore a pale pink off the shoulder dress, breaking unspoken protocol where royal women are not to wear off the shoulder styles, as Kate Middleton and Princess Diana before her (McKenna, 2018). Carrying handbags with straps and wearing cross body bags, which Meghan Markle is often spotted doing, is against protocol as well because women are encouraged to carry clutches so people aren't inclined to shake their hands (McKenna, 2018). Meghan also isn't often seen wearing pantyhose, especially on the ceremonial day in which she announced her engagement alongside Prince Harry. This is breaking an age old tradition followed today by both Queen Elizabeth and Kate Middleton (McKenna, 2018). Most importantly, Meghan Markle tends to wear a lot of non-British, specifically Canadian, brands which also goes against the expectation that royal family members wear and support mainly British designers (Pham, 2018).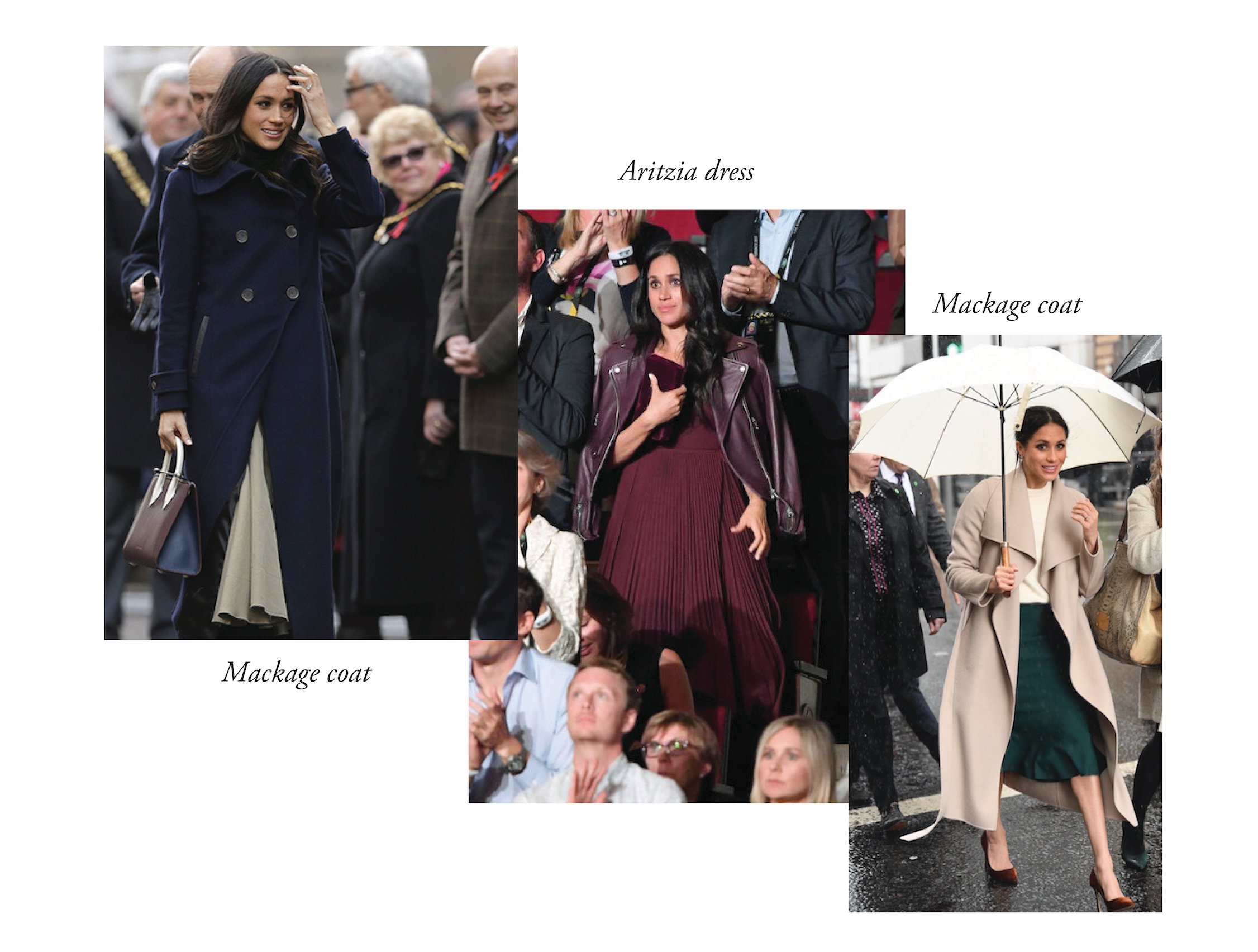 This connection to Canadian fashion dates back to when Meghan took up residence in Toronto for several years while on the TV show Suits. During the filming period she generated a connection  not only to the city but Canada as a whole while amassing many fans in the process. This comes across in her clothing choices as she wears and works closely with a lot of Canadian designers like Mackage, Birks, Sentaler, Smythe and most frequently, Aritzia, to name a few. As an international influencer, and newly found style icon, Meghan's support of Canadian fashion is huge for our industry. As Canadians, it's exciting to see someone finally promoting Canadian fashion on the global stage so it can get the exposure it deserves. Evidently many other Canadians in the industry agree especially those designers whose brands are getting this global recognition. According to a Business of Fashion article from July of this year, Artizia's shares had reached an all time high with first-quarter sales growth reaching 10.9% as opposed to the 9.3% in 2017 (Bloomberg, 2018). Mackage, another one of Meghan's favourite brands, has also seen an increase in sales due to this exposure, mentioning that Meghan has put them on the map in terms of solidifying their brand awareness and making consumers more aware of what they are capable of producing (O'Connor, 2018).
In an interview from April 2018, Ben Barry, Ryerson University's School of Fashion Chair, explained that Meghan Markle represents a new lifestyle that will appeal to certain consumers and will encourage them to follow her choices in fashion (Deschamps, 2018). He also mentioned that, as a new member of the royal family and a predominant influence in the UK, Meghan is presenting Canadian brands with an entrance into the influential market that is the UK fashion scene (Deschamps, 2018). This is huge in terms of coverage for Canadian brands and a modernist take on fashion by choosing brands that aren't as internationally recognized as British household names like Burberry. She is shedding new light on Canadian fashion which can only be positive for Canada's expansive but relatively untapped fashion industry. Royals have a different impact because they embody ideas of elitism and mystery as opposed to celebrities, who are more accessible, relatively speaking. This has been significantly evident as Meghan has created a jumping off point for Canadian fashion with clothing she wears selling out almost instantaneously, which has rarely been the outcome of a celebrity's influence. With the Canadian brands she has chosen to wear, Meghan Markle is becoming relatable to the average person who might actually wear or purchase the same clothing. This is doing wonders to strengthen people's affection for the Duchess as well as for the credibility of the brands themselves. Seeing an influential and well dressed woman, such as Meghan Markle, wearing garments from accessible brands like Aritzia, alongside others, is a refreshing notion many can get behind!
It's clear that Meghan Markle doesn't necessarily fit the traditional mould and whilst some might see that as a bad thing, from a progressive point of view it's very positive. The new Duchess isn't the sweet English rose like Kate Middleton and most royals that came before her, she's an outspoken ex-Hollywood starlet who exudes both charisma and elegance. Although she closes her own car door and does indeed, god forbid, have an opinion on politics, I believe that this overwhelming admiration the majority of us share for her is linked to the understanding that she comes from 'our world'. For the first time, an outsider that the general public connects with is joining a world that we could never usually break into. Meghan Markle represents a huge step in the way of modernity for the royal family as she is propelling what was traditionally a closed institution, steeped in history, into the 21st century.
[carousel_slide id='7589′]