Graphic Designer: Kamesha Abraham
Copy editors: Samira Balsara, Eishvinder Gill
"WE'RE TOTALLY SPIES, so we'll get on with the show!" —so goes the theme song of Totally Spies!, the iconic fashion-centric animated spy show from the early 2000s. And get on with the show they did. The animated series follows a trio of best friends Sam, Clover, and Alex, who are crime-fighting spies—and high school students.
When they're not saving the world from corrupt agencies, or time-travelling from Los Angeles to fight a villain in the Middle Ages, they're obsessing over their handbag closets—which Clover recently reorganized, thank you very much—and their social lives. And they do all of it in style.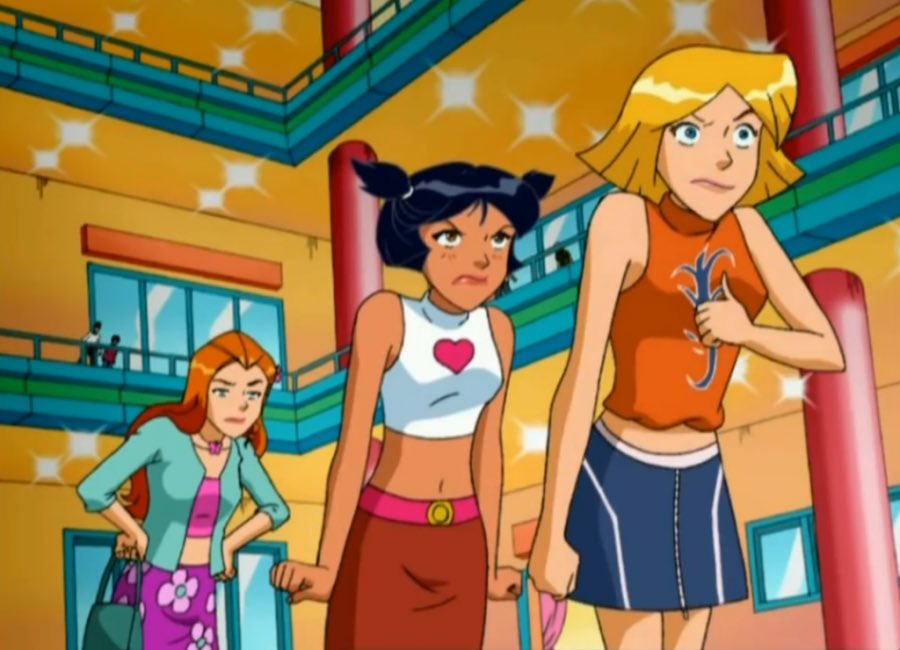 Unlike most other animated shows from the early 2000s, Totally Spies! gives the girls new outfits every episode. Oftentimes, the trio even gets outfit changes from scene to scene. Their 'we're-going-shopping' outfit is different from their 'let's-discuss-how-to-stop-this-villain' dinner meeting outfit. And of course, time-travelling comes with its own outfit changes.
The Totally Spies! wardrobe uses a bright, energizing colour palette and youthful graphics like flower and heart prints. Plus, the creators worked with a chic Y2K-meets-1960s silhouette, with pleated minis, baby tees, halter tops, and stylish denim. Each episode is a visual feast, with mini skirts, cargo pants, arm warmers, cute graphics, chokers, and go-go boots, among many other pieces. Colour blocking is another spy-favourite, which adds to the dreamy, cartoonish, and bubbly feeling of the show.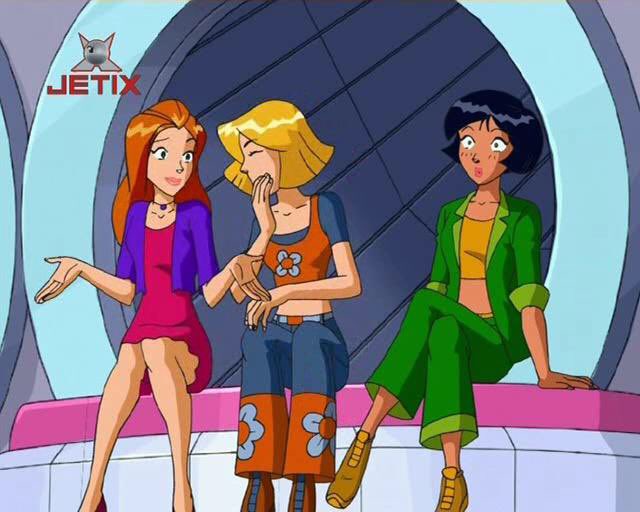 Totally Spies! represents all the "good" parts of the early aughts, and doesn't include anything we'd deem "tacky". It's a timeless version of the early aesthetic, allowing it to stay fresh even today, more than two decades after it first aired in 2001.
This is what makes the show so exciting to watch; they're Totally Spies, but they're also totally stylish. Each spy has their own distinct sense of style:
ALEX
Alex, who's a mix between a classic 'tomboy' and 'girly girl', is often seen in loose silhouettes, with graphic elements like flowers, hearts, or butterflies attached to her clothes. Her sporty-yet-traditionally-girly wardrobe reflects her personality perfectly.

CLOVER
Clover is easily the most invested in fashion. She's a shopaholic, flirty, and tired of being summoned to missions when she's trying to talk to a boy. Clover experiments with fashion a lot; she's the first person to discover a trend, or to wear a bold colour or silhouette.
SAM
Sam is chic, sensible, smart, and resourceful. She often wears more of a preppy style, with skirts of various lengths, flowing tops, cardigans, vests, buttoned shirts, wedges, and thin heels. In Totally Spies!, the "nerdy" girl isn't the worst-dressed; in fact, none of them are.
The Totally Spies! trio is as frivolous as they are badass; the ideas here aren't contradictory, but rather, complimentary. And, of course, it also means they're free to go shopping right after defeating a villain.