GRAPHIC DESIGNER: Imani Edwards
COPY EDITOR: Madeline Liao
Wong Kar-Wai's depiction of Hong Kong is like no other. The city, as he illustrates it, is steeped in mystery, grit, and history. The shaky, hand-held camera shots and the dreamlike time-lapses remind us that Hong Kong stops for no one, not even the characters in his films. There are never any resolutions or endings, making each film linger long after the last scene.
Wong's characters are lonely, yet unapologetic; broken, yet tenacious. They long for love—even if the city has distorted its meaning. Themes of betrayal, heartbreak, alienation, and longing are woven throughout his films and are especially showcased through the characters' artfully curated wardrobes. Fashion—from '90s casual-chic to patterned cheongsams—is so intertwined with the narrative that it's impossible to detach the clothing from the story. In Wong's films, clothing encapsulates the very essence of the story.
Apart from acting as a perfect basis for film analysis, the Wong Kar-Wai wardrobe also creates a number of memorable style moments. So, we've created a list of our favourites from his most popular films: Chungking Express, Fallen Angels, and In The Mood For Love.
Chungking Express (1994)
Chungking Express is an exploration of the melancholy of love and the exhilarating, restless nature of youth. It follows two cops who, while pining after their ex-girlfriends, find love in the city.
The first cop, He Zhiwu, played by Takeshi Kaneshiro, has an almost bizarre mash of casual and formal style. He mixes colours, patterns and selects ties that usually wouldn't go with his shirt. He often wears striped button-ups (buttoned all the way to the top) with relaxed, waterproof jackets, or casual half-sleeved patterned button-up shirts. Kaneshiro's character is innocent, naive and closed off, but he wears his heart on his sleeve. Throughout the film he slowly falls for a woman, unaware she is a drug dealer.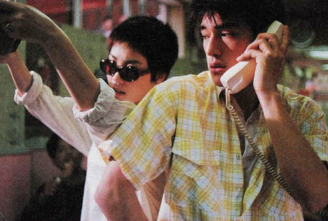 Played by Brigitte Lin, woman in blonde wig is a homage to the classic femme fatale. She wears a tan trench coat, sunglasses, a blonde wig, white shoes and is rarely seen without a cigarette or a gun. It's nearly impossible to imagine Lin's character in casual clothing. The trench coat ensemble showcases both sides of her: the unapologetic and fearless side she shows to the world, and the afraid and lonely side that's buried underneath her facade.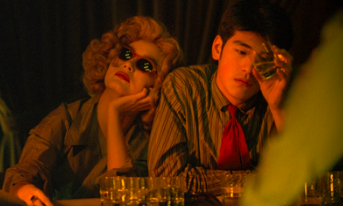 The second cop, Cop 663, played by Tony Leung Chiu-Wai, wears relaxed, patterned button-up shirts with the sleeves folded up to his elbows. Leung's character has a composed demeanour, as opposed to his counterpart, who is rather closed off.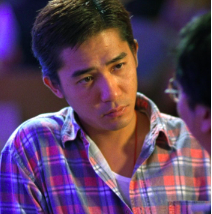 Cop 663's love interest, played by Faye Wong, has a classic '90s style. Her wardrobe is comprised of colourful polo shirts, patterned half-sleeved button-ups, racer-back tank tops, baby tees and baggy denim. Her style perfectly encapsulates her cheerful and relaxed personality.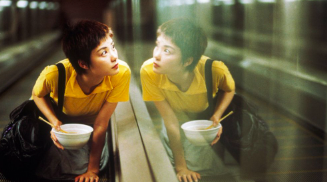 In The Mood For Love (2000)
In The Mood For Love is, perhaps, Wong's most celebrated film in terms of style. The film follows two characters, Su Li-Zhen and Chow Mo-Wan, as they learn that their respective partners are having an affair with each other. As a result, Su and Chow, out of curiosity, desire and heartbreak, strike up an affair of their own.
Su Li-Zhen, the main character (played by Maggie Cheung), is designed to stand out. She wears her finest attire for a simple run to the corner store. Her style features electric colours and remarkable patterns while the world around her dulls to a monochrome. At times, her dresses match her surroundings: her debut dress, a pale blue cheongsam adorned with floral motifs, complements the curtains of her new home. In another scene, she wears a pale green dress with geometric patterns that matches the wallpaper. This creates a sense of intimacy and isolation—ideas that are woven together yet fundamentally distinct. Beyond that, this styling ties her to her home, the place she feels most trapped within. It reminds us, the audience, of how lonely Su feels. The illicit affair is most overtly depicted through colours: red for desire, green for jealousy and white for innocence and sweetness.
On the other hand, Chow Mo-Wan (played by Tony Leung) perfectly embodies Hong Kong's old-world elegance, providing a stark contrast to the city's grit and chaos. Chow's tailored suits and skinny ties were perfectly curated to match his character and social status.
Chow and Su's love affair is told almost entirely through their clothing. For instance, Chow learns about his partner's affair after discovering that his tie matches Su's husband's tie. Later, as he falls for Su, Chow's ties begin to match the colours in her dresses.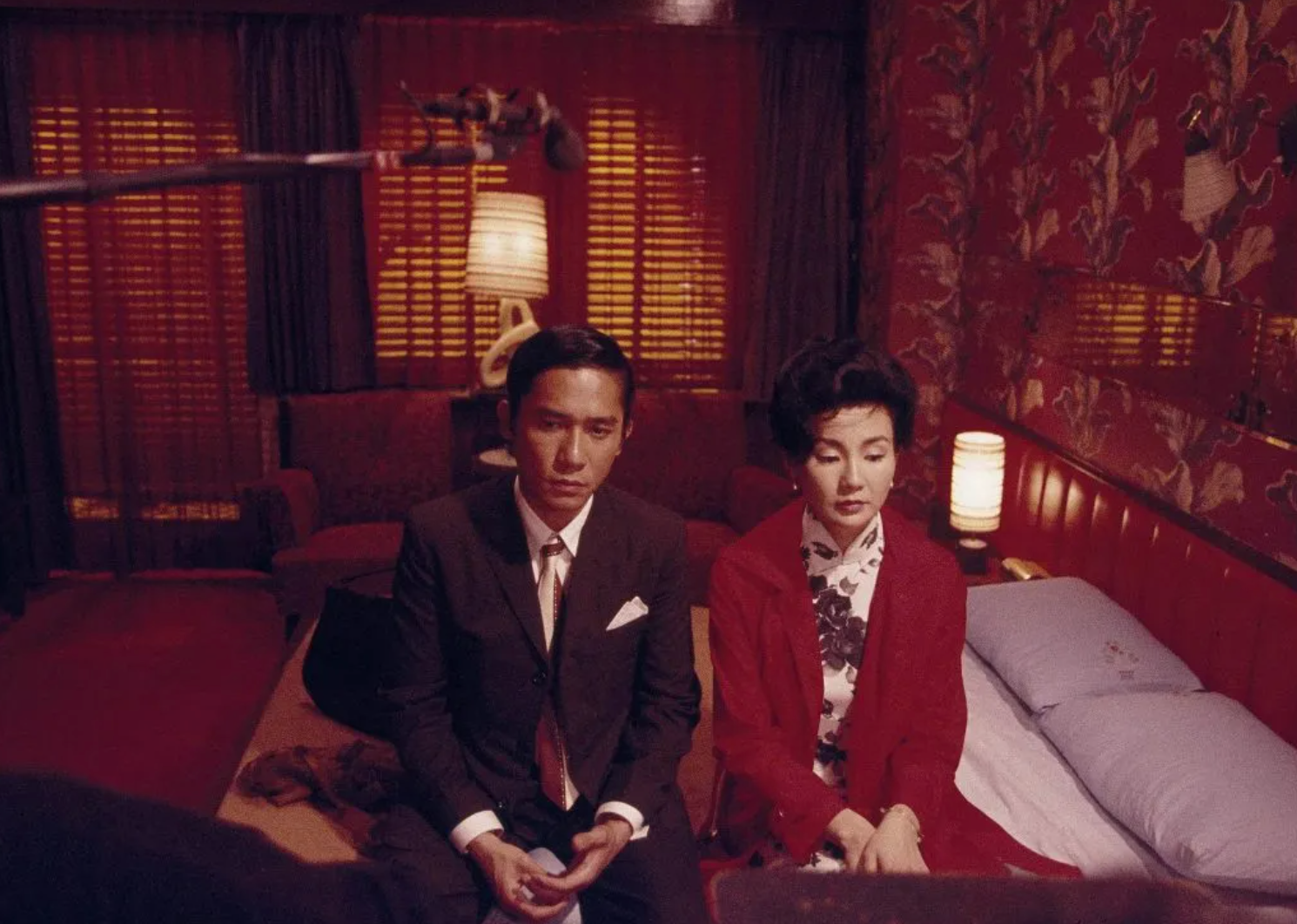 Without its styling, the film would merely be about a frustrating love affair. But the characters' clothing creates a sense of intimacy and conveys new messages within the story. Their neon cheongsams and formal suits tell us about the desires, hopes and fears that simmer beneath their skin. Clothing establishes a dialogue of its own between the audience and the characters and among the characters themselves.
Fallen Angels (1995)
Fallen Angels is a dizzying exploration of isolation, longing and youth. Themes of crime, obsession, repetition, devotion, and claustrophobia also linger throughout the narrative.
While Chungking Express and In The Mood For Love follow ordinary people, Fallen Angels follows a cast of distinct, 'extraordinary' characters: Wong Chi-Ming (played by ​​Leon Lai), an assassin; his agent (played by Michelle Reis); He Zhiwu (played by Takeshi Kaneshiro), a mute boy who hassles people into giving him work; Charlie (played by Charlie Yeung), a girl who becomes obsessed with her ex-boyfriend's new girlfriend; and Blondie (played by Karen Mok), a blonde woman who longs for love. For his take on the dark side of Hong Kong, Wong created characters that are akin to fallen angels drifting through its streets at night.
Wong Chi-Ming, the assassin, is afraid of making decisions, or more likely, is afraid of being held responsible for his decisions. As a result, he carries out his job nonchalantly and his styling reflects the very essence of his character.
Often clad in a pinstripe jacket, a white mesh tank, black linen pants and a silver chain link necklace, the assassin sticks to classic business pieces while adding elements of alienation and isolation. His wardrobe is curated to showcase only glimpses of personality, as seen in the silver chain link necklace or the mesh top. However, even these elements reflect his occupation as an assassin rather than his personality. The classic attire of his clothing reflects his detachment from—and acceptance of—himself, his occupation and the city.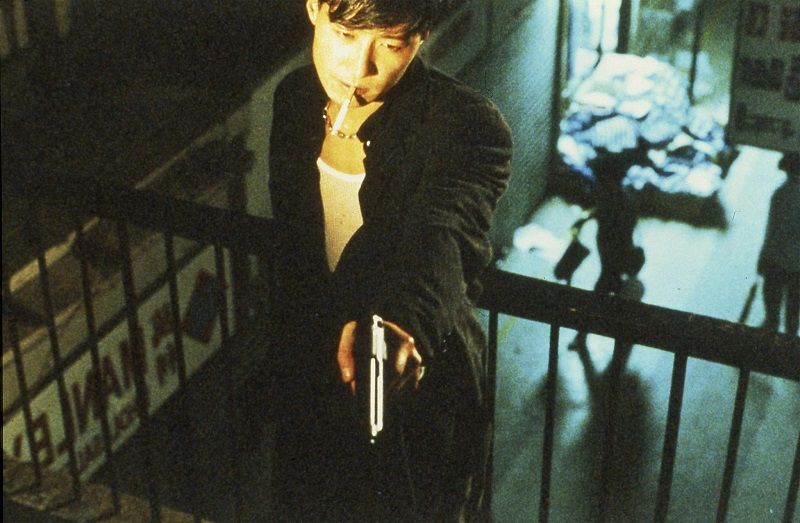 Chi-Ming's agent is arguably the most stylish of the group. She embodies the film's themes of romance, deception and being unapologetic, yet greed, selfishness and obsession swallow her character. This juxtaposition is shown perfectly through her style, composed of sleek '90s pieces with a provocative, alluring edge. She wears a series of silk and leather dresses, mismatched patterns, skin-tight mesh tops, fishnet stockings and black stiletto heels. Her bangs cover up her eyes and her classic makeup showcases her confidence.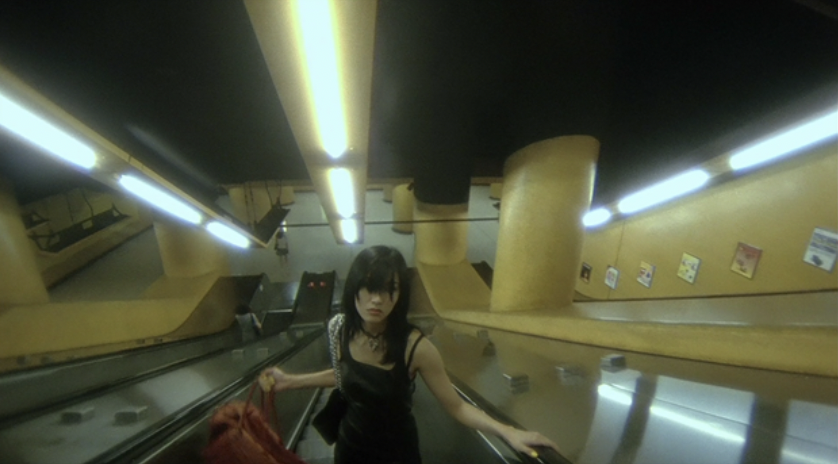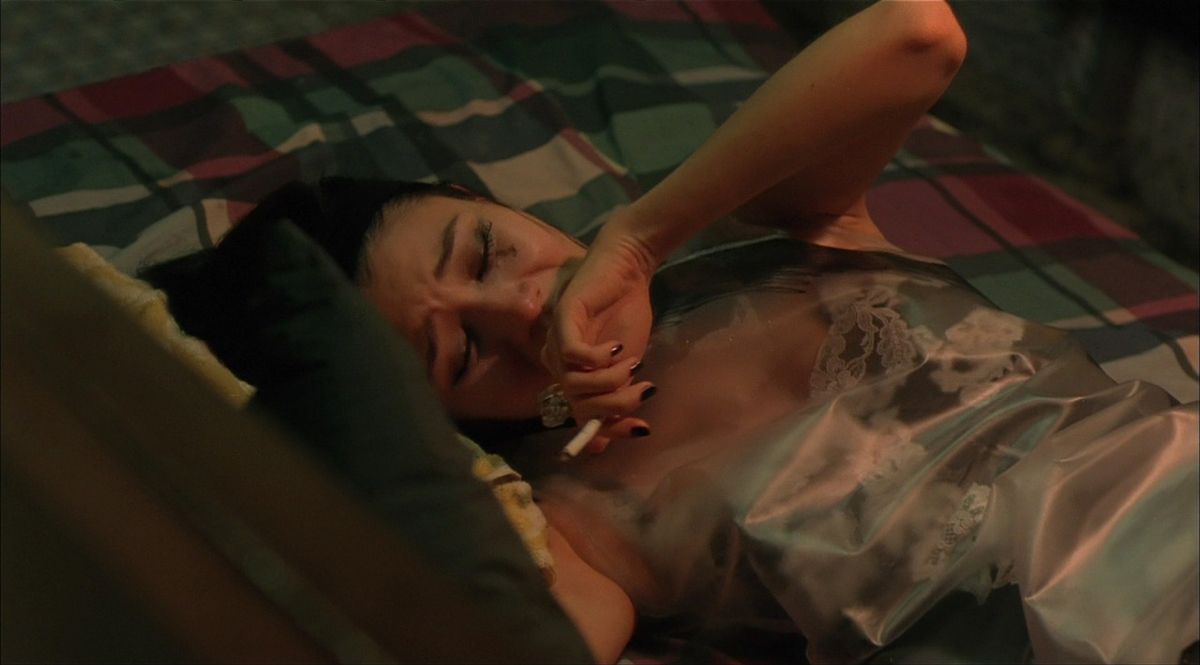 He Zhiwu, the eccentric boy who cannot speak, undergoes a drastic shift in tone and personality throughout the film. When the film starts, he is a boy who was forced to grow up too fast. As a result, he clings to the remains of his childhood, and often ends up in equally sad and amusing situations. This narrative is perfectly represented through his clothing: a series of tight-fitting tees, baggy denim and pops of colour sprinkled throughout his wardrobe. He also styles half-sleeved patterned shirts as jackets over a white shirt.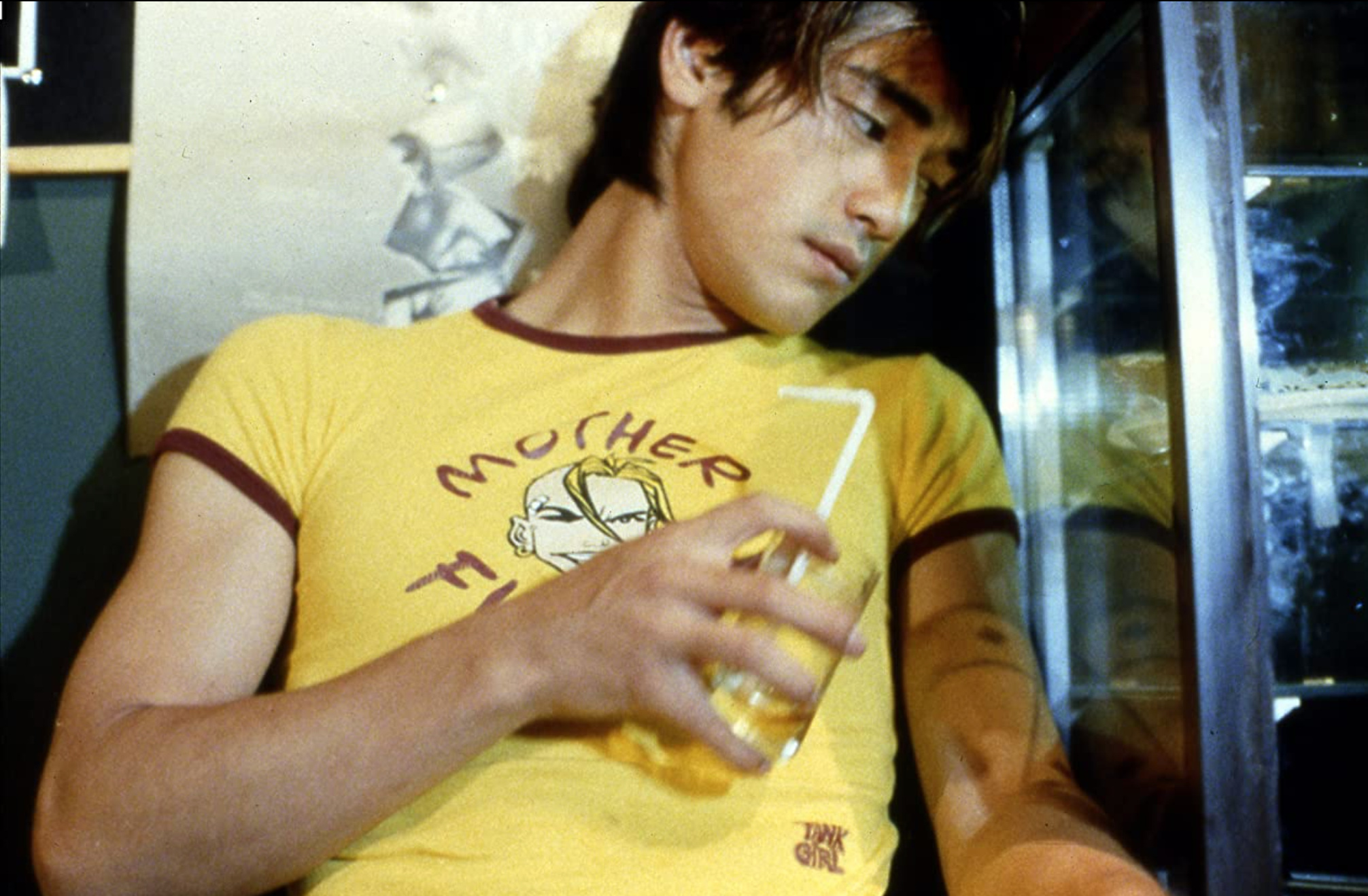 Wong Kar-Wai later uses He Zhiwu to paint love as devotion. To Zhiwu, love has always been a soliloquy. His childlike, innocent nature causes him to fall in love with Charlie, who ends up breaking his heart. As a result, his colour palette turns darker. He starts wearing deep blues and grays in place of his usual colours. His shirts also become more loosely fitted, and he begins to wear jackets over his tees. It reflects the shift of his character, how he has grown to fit into the city's darkness.
Blondie and Charlie, though minor characters also have a curated wardrobe of their own. Blondie, who dyed her hair blonde to stand out, wears bright coloured dresses and heels. In contrast, Charlie wears pieces like linen shirts, baggy pants, and oversized tees.
Hong Kong destroys Wong's characters in subtle ways. It mocks their hopes for love and reminds them of their loneliness. Their clothing, on the other hand, acts as artifice, protecting them from the world. Other times, it acts as a dialogue between the characters and is a direct reflection of their moods and their personalities.
Wong's films are masterful explorations of cynicism, romance and melancholy and the mindfully curated wardrobes of his characters embody and amplify these themes.