GRAPHIC DESIGN Safa Kubti
From his turbulent and highly reported on personal life, to the worldwide success of his band Nirvana, Kurt Cobain truly was the epitome of early '90s pop culture. Since his rise to stardom following the release of their highly acclaimed album titled Nevermind, he was known for more than just his contributions to the entertainment industry. Whether it was intentional or not, he was a trendsetter in his time; many of his looks have become iconic, and still influential to this day. Take, for example, the resurgence of Marc Jacobs' 1992 grunge collection, inspired by the specific look Kurt Cobain was so well known for. Although Kurt and Nirvana's heyday has long passed, he remains to be a sizable figure that continues to inspire fashion today.
Through his sartorial carelessness, he brought the "shabby chic" look into the mainstream, leading teens and young-adults all over the world to follow suit
Throughout the early 1990s, Kurt Cobain led by example by displaying an array of seemingly thrown together outfits containing distressed denim, flannels, cardigans, and graphic t-shirts of obscure origin which worked to piece together his distinct look. He was clearly a seasoned pro at layering. Through his sartorial carelessness, he brought the "shabby chic" look into the mainstream, leading teens and young-adults all over the world to follow suit, mimicking his look. Along with the shift towards alternative music infiltrating the mainstream, the Grunge era was also defined by vintage and thrifted finds to construct an outfit. In this way, the early 90s effectively parallels our era; which so heavily emphasizes similar ethics.
 Apart from Kurt Cobain's now iconic attire, he was known for challenging gendered norms by experimenting with hair colour and makeup; he sometimes performed in vintage dresses, or added lipstick or eyeliner for another layer of intrigue to his outfits. Essentially, Kurt Cobain is still relevant to our current fashion moment of normcore, androgyny, and vintage finds. The great thing about his style was his clear indifference to the opinions of others; he wore whatever he wanted (including pajamas to his wedding), and looked stylish and cool doing it. Some of his most famous photoshoots and performances reflect the staying power of his style, and its ability to make a comeback and influence yet another generation.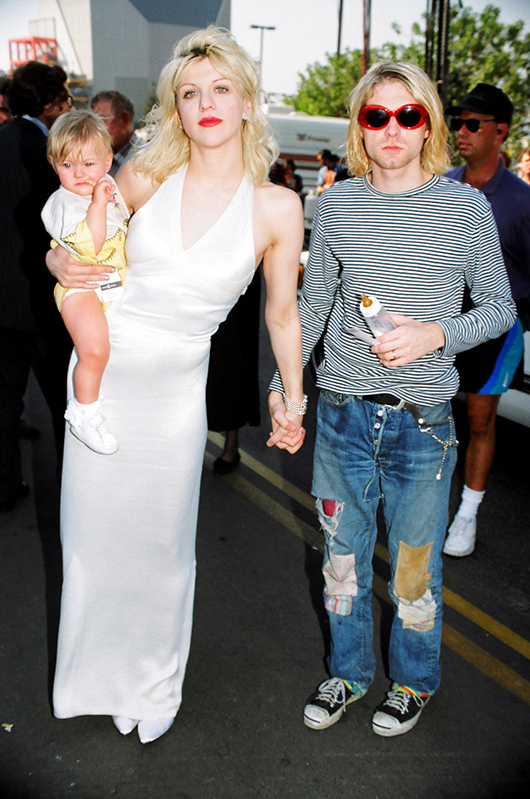 Kurt's appearance at the MTV Video Music Awards, September 2, 1993.
Kurt Cobain arrived at the 1993 MTV Video Music Awards wearing a simple striped long sleeved shirt with distressed jeans and black Converse, accessorized with his now famous Jackie Kennedy-esque sunglasses.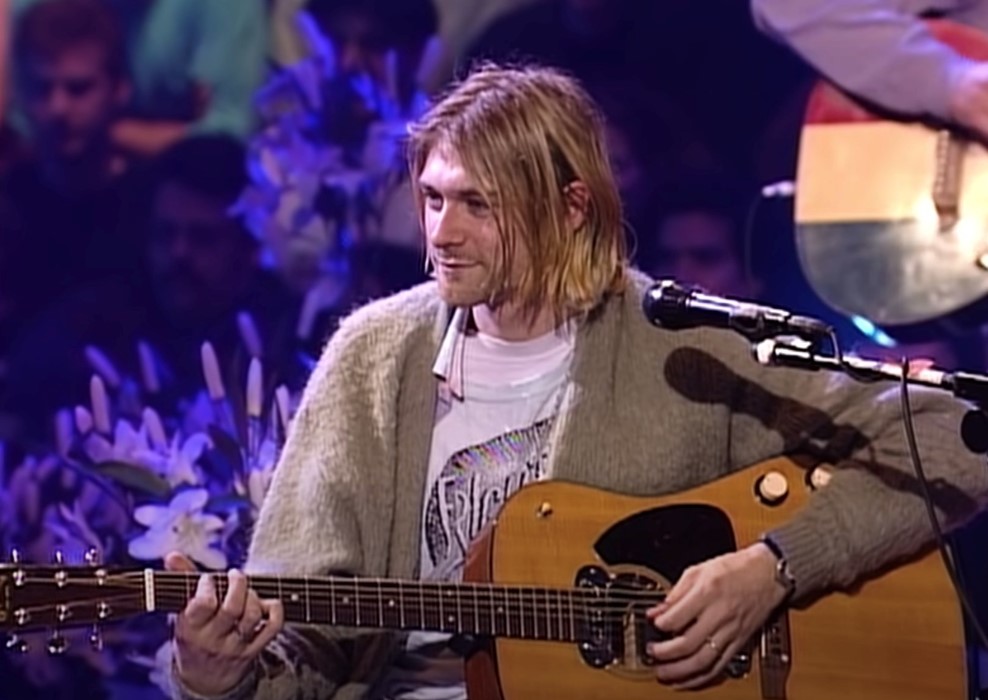 Nirvana's MTV "Unplugged" performance, November 18, 1993.
Here he can be seen wearing an incredibly layered outfit; a fuzzy green cardigan over top of an open button up shirt, with a Frightwig band t-shirt peeking out, and more light wash jeans.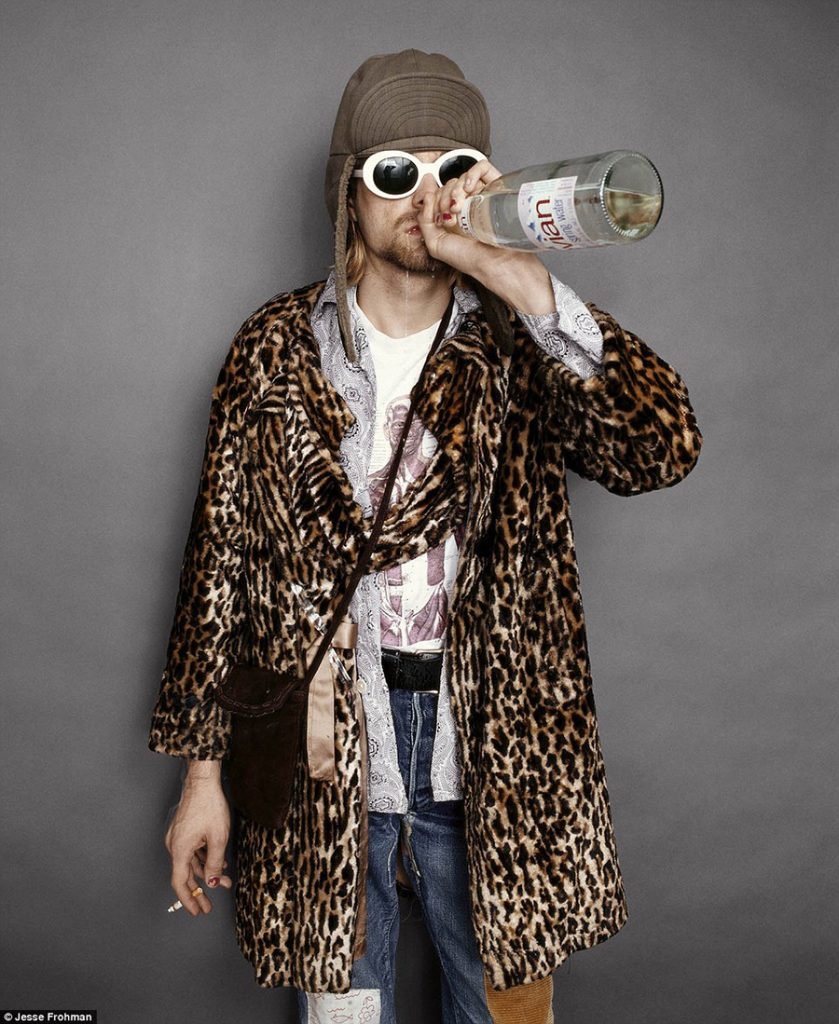 The sunglasses photoshoot 1993.
In this legendary shot, Kurt layers up once again, this time with a leopard print cardigan, a winter hat, and a white pair of sunglasses.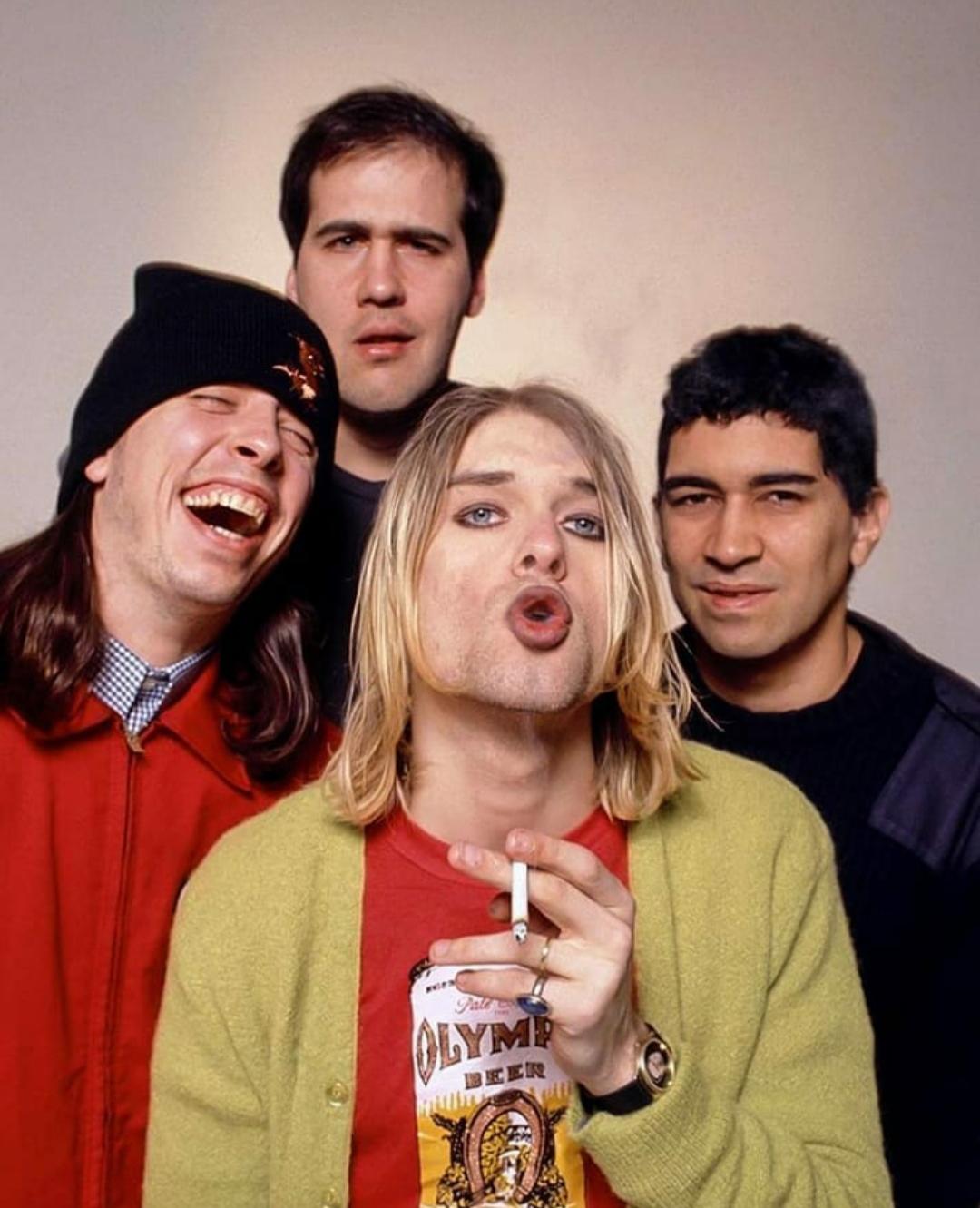 Nirvana's last photoshoot, Paris, February 14, 1994.
In their last photoshoot, he poses with his bandmates wearing another green cardigan with a graphic t-shirt, this time with some eyeliner and lipstick.