GRAPHIC DESIGN Natalie Welsh
It's Feb. 9, 1964 and over 70 million people are tuned into The Ed Sullivan Show on this particular night. Before long, "I Want to Hold Your Hand" begins playing as four young heartthrobs with mop-top haircuts and black tailored suits take the show away. As the audience struggles to catch their breath, it becomes clear that "Beatlemania" has taken the United States by storm. Flash forward five years and the same four men who continued to revolutionize rock and roll are now performing their last, ending their career with "Don't Let Me Down", this time abandoning their synchronized, clean-cut looks for overgrown hair and fur coats. The Beatles' change of wardrobe throughout their career, including a few daring fashion experiments in between, had nothing to do with their personal taste and everything to do with the evolution of their music. Just as they did with musical innovation, once the Beatles mastered a trend, they were on to the next, making their clothing a huge part of their DNA. You could look at the Beatles and know exactly where they were in their careers just from their style: their early stages, their transition to a more serious sound, their experimentation with drugs, and their parting as a band.
She Loves You, Yeah, Yeah, Yeah!
One glance was all it took for the world to fall in love with the uniform and polished look of the Beatles. In 1963 when the audience was swooning over "She Loves You", "Please Please Me", and "Twist and Shout", the Beatles wore matching three- buttoned, skinny suits that were neutral coloured and often collarless. Each suit, paired with penny-collared dress shirts, skinny ties, and cuban- heeled booties, known as "Beatle boots," became one of their most memorable ensembles. By the time they stepped onto American soil in 1964 with "A Hard Day's Night", "Can't Buy Me Love", and "You Can't Do That", the Beatles exchanged their collarless blazers for sharp, grey and black suits, which were complete with their famous haircut, sparking a worldwide sensation: the "mop-top". Although seeming like a straight-laced choice for rock and roll revolutionaries, the Beatles weren't always so sharp with their "rough-around-the-edges" leather outfits, and were told to clean up their image– unaware they were going to inspire the clothing and hairstyles for the younger generation.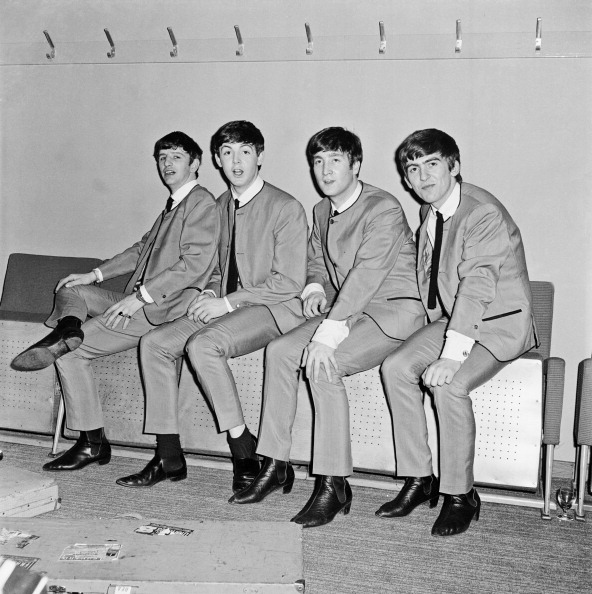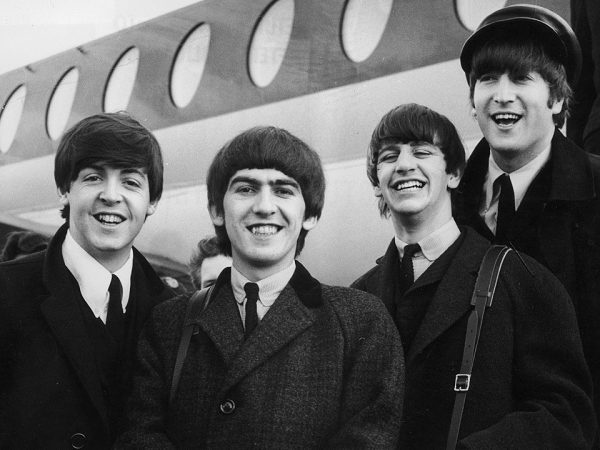 (Help!) I Need Somebody
As the Beatles' music became more personal between 1964-1966, they moved away from their matching suits in favour of a more relaxed and casual fit. There was "Help!", a song about John's emotional struggles, "Eight Days a Week", a sour take on the Beatles's work schedule, and "We Can Work it Out", about Paul's relationship with his girlfriend. In 1965 when the Beatles transitioned to a more serious sound with their sixth album- Rubber Soul, they were commonly seen in jeans and suede jackets. This album was a major step in their individual artistic growth; McCartney leaned into his songs more: "I'm Looking Through You" and "You Won't See Me" were resentful and angry, while "Drive My Car" was witty and spirited. Lennon's songs, on the other hand, were more intense: "Girl" and "Nowhere Man" were vulnerable; "Norwegian Wood (This Bird Has Flown)" was vengeful and musically unconventional, incorporating a sitar for the first time on a Western pop record. The Beatles were conveying less of that fresh boy-band image and focusing more of their energy into their music; they were slowly transitioning into psychedelia with their album, Revolver. "Tomorrow Never Knows", a track written during a hallucination, broke many musical barriers.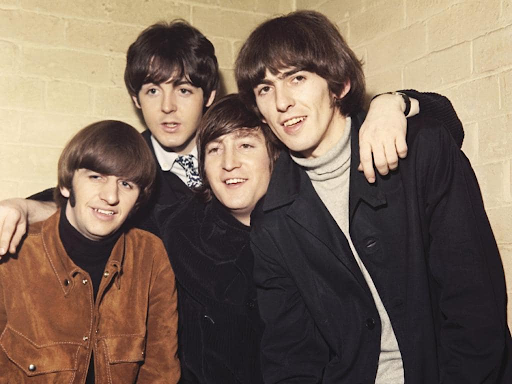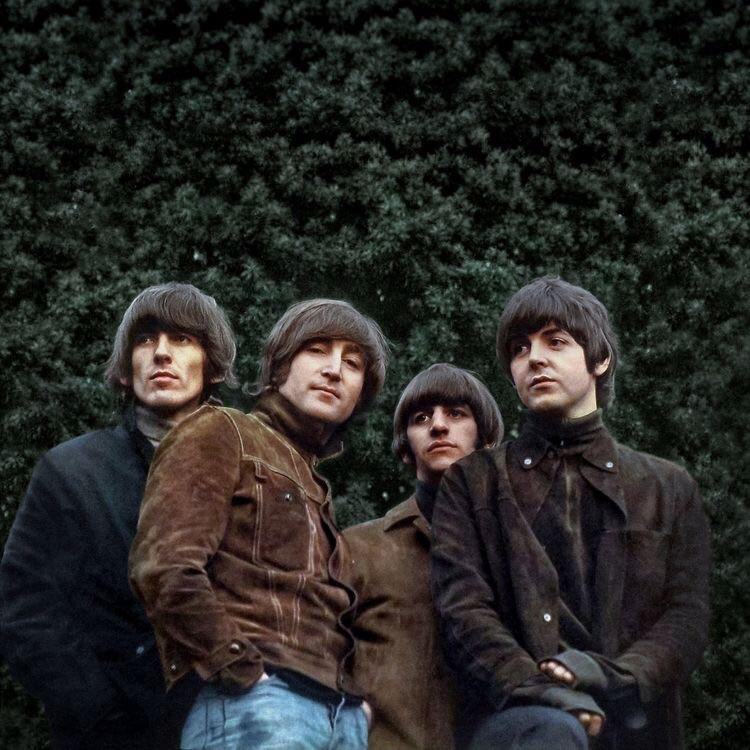 I Get High With A Little Help With My Friends 
The Beatles' transition from love songs to psychedelic rock resulted in their most dramatic fashion transformation inspired by drug consumption and Indian culture. By 1966, the Beatles were fed up with their image and wanted a new identity; with Sgt. Pepper's Lonely Hearts Club Band, they wore colourful, embroidered military suits. It became the name of their best selling album in 1967, as they embraced their musical freedom, combining British psychedelia and Indian philosophy together. Their drastic change of appearance became the subject of a conspiracy theory that the Beatles were killed in a helicopter crash in 1966 and replaced by four impersonators. Between 1966-1968, the Beatles wore paisley patterns, velvet suits and acid bright colours, and after a spiritual retreat to India – Indian-inspired tunics, vests, sandals and jewellery. Magical Mystery Tour, another renowned psychedelic album, portrayed the Beatles' flamboyance with tracks like, "Strawberry Fields Forever", "I Am The Walrus", "Hello, Goodbye" and "Penny Lane."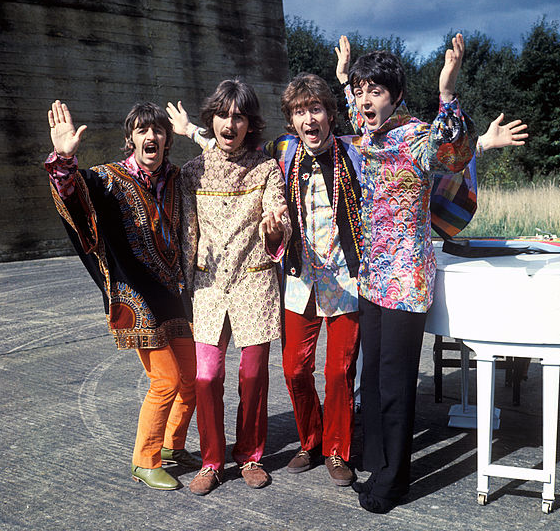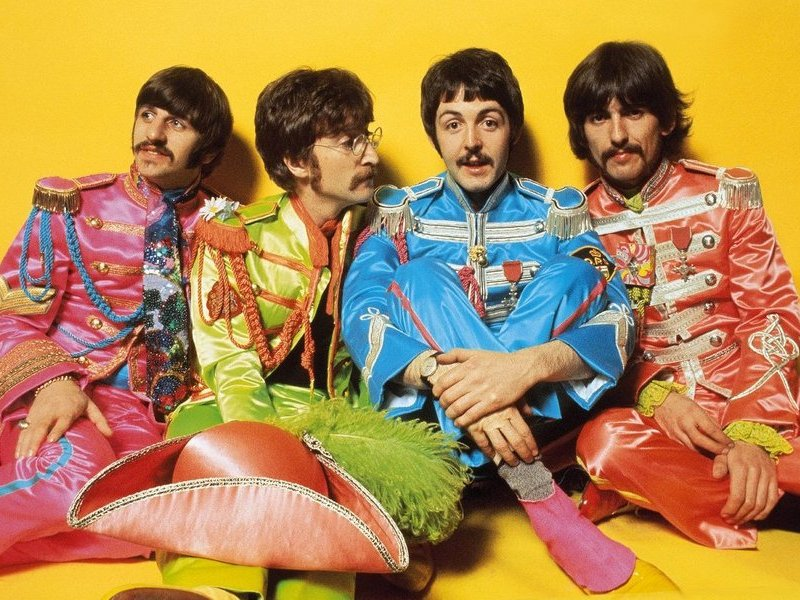 Get Back To Where You Once Belonged 
Towards the end of the decade, the Beatles' look was tame once again, but unfortunately, insinuated their parting ways. The final years, between 1968-1970, were well-documented through their wardrobe as each of their styles highlighted who they were as individuals, no longer as a band; they were often seen wearing bell bottoms, fur coats and hats, but made no effort to look cohesive. Their friendship began deteriorating and by 1968, the Beatles didn't feel like a band anymore; they were a disjointed masterpiece and admitted the reason for their breakup was their desire to pursue different lifestyles. These choices were exemplified through their clothing in Abbey Road, their last studio album, specifically in "Something" and "Hey Jude." The iconic album cover also portrayed their dissimilarities, with Lennon in white, Starr in black, Mccartney in navy, and Harrison-abandoning the whole suit look- in denim.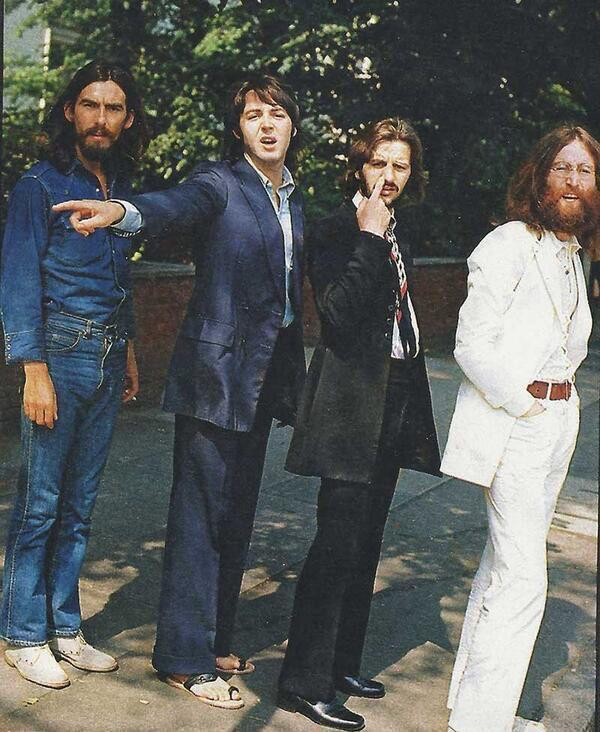 You Say You Want a Revolution?
The Beatles understood the inherent power of their clothing: its ability to reflect ideas, philosophies and worldviews; and knew how to align it with their music. From mop-top heartthrobs in skinny suits, to shaggy-haired pioneers in bell bottoms, their wardrobes reflected their experiences and stages of their lives, both as a band and individuals. They instigated their own revolution through their music and fashion, and spread it across the universe.