GRAPHIC DESIGN Zoe Statiris
PHOTOGRAPHY Taite Krueger
MODEL Kyla Mastersmith
I believe that finding your own personal style is a lifelong journey, starting the moment you're first asked, "what do you want to wear?" At fourteen, I began to wonder if my American Eagle light-wash jeans and Garage t-shirts were really the ultimate means for self-expression. While I wanted to be unique, yearned for it actually, the familiarity and comfort of the mall convinced me not to worry.  It was on a whim that I first went to the Ottawa Vintage Clothing Show with my mother.
The Ottawa Vintage Clothing Show is a not-for-profit marketplace where antique dealers and vintage clothing vendors create an ever-changing inventory of eclectic goods, vintage finds and one-of-a-kinds. Having never been before, I didn't know how much I would enjoy it and how it would become a part of my annual shopping experience. I wasn't sure what I was looking for, so I enjoyed wandering. 
I spent hours rifling through piles of distressed denim, pushing through racks of delicate lace and tulle that clung to my arms like spiderwebs, while the clank of metal hangers created discordant music in the background. It wasn't until the day began to draw to a close that I found the piece… My piece. 
At first it seemed to just be a cloud of creamy tulle, but as I excavated it from its spot 'behind bars' I saw it was a 1950s swing dress. The swing style dress was the most popular of its time; with a fitted bodice and a full-skirted, tea length bottom. The dress I found had puffed sleeves and hand-sewn embroidery of tiny pink roses and trailing green leaves. It was a beautiful dress in and of itself. 
It was the story behind it that drew me to the dress and ultimately compelled me to buy it. It was actually a young woman's wedding dress, she was married in May of 1952. As I held this dress – this dress which she bought to feel her most beautiful in, this dress she wore as a symbol of hope and joy and wishes for her future, – I knew I wanted to hold onto it and preserve those effervescent feelings in fabric.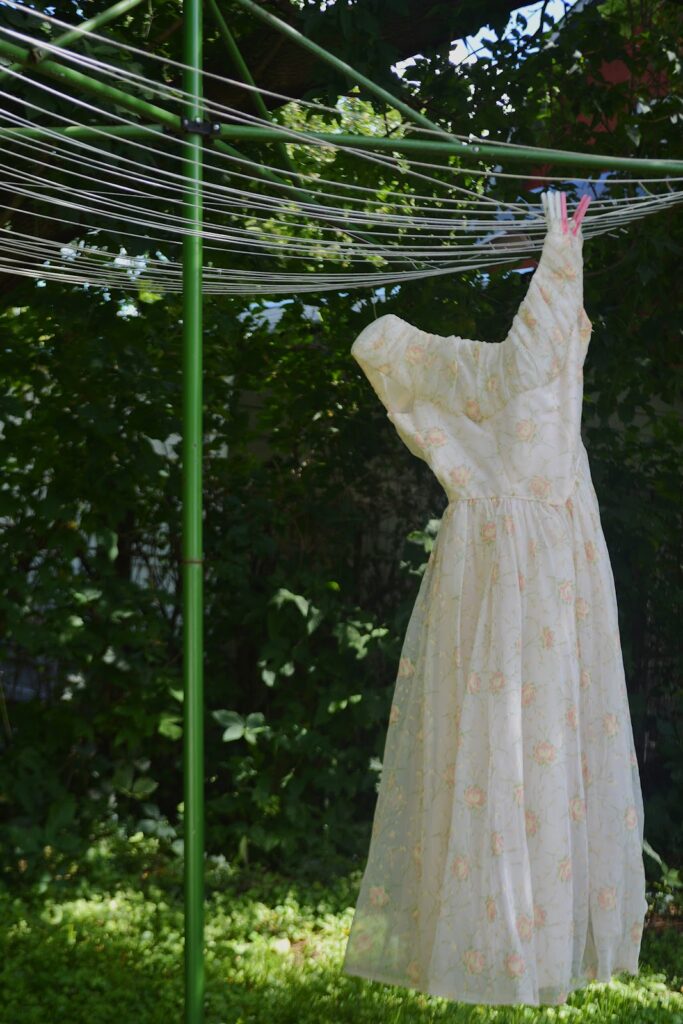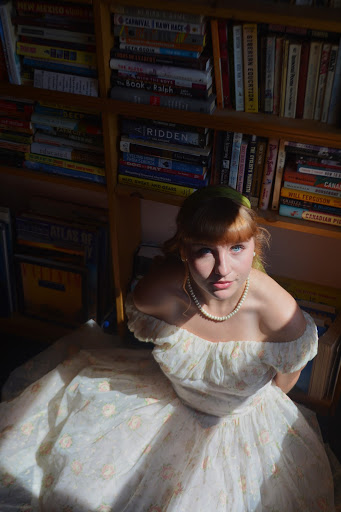 The Ottawa Vintage Clothing Show was when I realized why people love shopping vintage and go out of their way to do so. The pieces are not only beautiful conversation starters but they come with stories, tangled in zippers and tucked into pockets. Every vintage piece you find comes with remnants of the previous owner clinging to its hem. I realized that shopping vintage made me feel connected to others I'd never even met; it gave me a peek into someone else's life, a different life in a different time. Vintage pieces are intimate and promote a connectivity that I believe other forms of fashion cannot mimic. So I bought that dress. That dress that had meant so much to a young woman decades before I was even born, because I wanted to ensure that unlike other wedding dresses, this one would not simply be worn once. 
Shopping vintage can oftentimes seem daunting and overwhelming. The first resource I turned to in the months after the Vintage Clothing Show was a book called "Minxy Vintage: How to Customize and Wear Vintage Clothing". This was how I began to realize the scope and opportunity for creativity that inherently comes with buying vintage clothing. Many pieces I found had to be altered, as sizing was much different through the 1950s- 80s. Oftentimes, I found myself tearing into a garment myself with a seam ripper and a pair of scissors. I believe that pieces can be altered and remade while still keeping their integrity as vintage pieces. It was weeks after I first purchased the wedding dress that I found the opportunity to involve a fellow creative. Having encountered Bombshell Revival at the Ottawa Vintage Clothing Show I reached out to her first when looking for alterations to be made on the dress. Bombshell Revival is a business that upcycles vintage pieces and turns them into unique and delightful pieces of wearable art. With so much experience working with vintage, my dress was altered to perfection. 
The pieces are not only beautiful conversation starters but they come with stories, tangled in zippers and tucked into pockets.
The entire experience, from finding the perfect piece to collaborating with a fellow artist to creating a wearable garment is one that I would absolutely never trade for a quick trip to the mall. Not only does shopping vintage allow me to feel connected to the women of the past, it also allows me to provide creative opportunities to other artists in my life; it is a form of collaboration across eras that allow people to whisper through time.