GRAPHIC DESIGNER Brennan March
*Cue funky bass* 
For a show about nothing, fashion sure played a monumental role in Seinfeld. The sitcom, after all, opened with a dialogue between Jerry and George discussing how the placement of the second button makes or breaks a dress shirt. Throughout its 9 seasons, Seinfeld definitely had its fair share of mocking fashion forward designs (and pretty much everything George wore), so much so they would find their current influence on fashion laughable. When you think about it, Seinfeld was basically one major time capsule for '90s fashion; there was Jerry's candy-cane striped suede jacket, Sue Ellen Mischke's bra top, George's velvet tracksuit -I could go all day. It's no question that the '90s are back in style and runway shows are merely just walking sitcoms from the 20th century, but Seinfeld was about way more than that. It was about being exceedingly unaware of how things were supposed to fit and looking overwhelmingly normal. Just think about it, Jerry's look was not exactly aspirational and the idea of loose fitted jeans and oversized sweatshirts almost seemed like a deliberate rejection to look fashionable. Then something drastically changed within the last 10 years and a show that went off air in 1998 edged into the fashion landscape, laying the foundation for numerous trends. If you ask me, Jerry, Elaine, George and Kramer are more relevant right now than any of your favourite celebrity stylists.
Jerry Seinfeld- Original Sneakerhead, Patron Saint of the 'dad style'… Yada, Yada, Yada
Jerry Seinfeld and "fashion trailblazer" are words you probably would not associate together. But as it turns out, Jerry is not only one of the most successful sitcom actors because of his comedic success, but his influence on fashion and what would be the revival of the 'dad style.' I could easily just end this section by saying "buttoned up shirts tucked into stonewashed denim with white Nike Airs," and you would know exactly what I'm talking about, but for the sake of the article- I will elaborate. Jerry was the master of normcore; self aware, stylized blandness. Although this term was coined more recently in 2013, the cast of Seinfeld are credited as being the first characters to exemplify the aesthetics of this trend. Jerry's unconventional and casual way of dressing became a staple throughout the show that he is now widely considered the patron saint of the 'dad style.'   
Let's take a moment to reflect on Jerry's iconic sneaker game which has been highly documented throughout sitcom history. By the 9th season of Seinfeld, Jerry had developed such an extensive sneaker collection that he was esteemed "The most important celebrity in sneaker culture" in 2015. Let's take a trip down memory lane and revisit some of his best sneaker appearances that became the inspiration for many future models. In the episode, "The Library" (S03,E05) and "The Parking Garage" (S03,E06), Jerry wore the Nike Air Mowabb ACG OG, which was released in 1989. He was one of the first people to model the Nike Airs on television, resulting in the major following the shoe has today. Interestingly enough, his outfit in "The Parking Garage" was also the inspiration behind the Patta's Adidas ZX 7000. In the episode "The Subway" (S03,E13), Jerry wore the Nike Huarache "purple punch" sneakers which was released in 1991. This shoe introduced a brand new silhouette, and its appearance on the episode successfully popularized the new shape, becoming the inspiration for numerous retro huaraches and even Virgil Abloh's Louis Vuitton LV sneaker boot. Jerry Seinfeld's sneaker game was so influential that in celebration of the 100th episode, Nike released a rare sneaker called "Air Seinfeld" in 1995, which was an extension of the Air Jordans.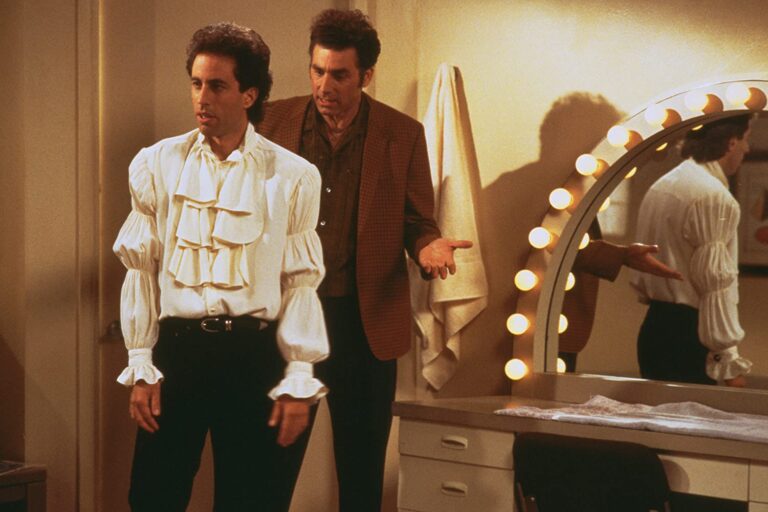 "But I Don't Want To Be a Pirate!"
If you really thought I was going to discuss Jerry's influence on fashion and not address the pirate shirt- guess again. In the episode, "The Puffy Shirt" (S05,E02), Jerry accidentally agreed to wear a "fashion-forward" top to the Today Show as a result of misunderstanding Kramer's fashion designing "low-talker" girlfriend. Assuring him that it did not look ridiculous, Kramer went on to say, "The pirate trend is going to be the new look for the '90s, you're going to be the first pirate." Kramer was the first to predict the revival of this trend, and although not a big staple in the '90s, definitely made a comeback in recent years with luxury brands like Monse, imitating romantic pirate-esque looks as seen at the 2017 Met Gala.
The puffy shirt was so unique that it was donated by Jerry Seinfeld in 2004 to the National Museum of American History due to its historical relevance. Dwight Bowers, curator for the museum, wanted to showcase this garment specifically as it highlighted the comedian's contribution to history and contradicted the norms of counterculture fashion. Nancy Davis, another curator, believed that the shirt was significant in the context of costume history and men's fashion. The garment was so monumental that in 2014, the Bakersfield Condors, a minor league hockey team, transformed their jerseys into "the puffy shirt" to commemorate the 25th anniversary of Seinfeld.
Elaine Benes- The Androgenous Style of a Working Woman 
Elaine Benes had a significant amount of fashion influence on the show as her style really embodied what it meant to be a working girl and relatable everywoman, while incorporating trends of the early '90s. Elaine's fashion sense was typically separated from her femininity as she gravitated towards boxy and conservative outfits that were fairly androgenous and more commonly assigned to male characters. Elaine had the ability to look attractive, but not in an alluring way; she never missed an opportunity to embellish herself in menswear- inspired layers and even considered herself, "one of the guys." Julia Louis-Dreyfus, actress who plays Elaine on Seinfeld, told The New York Times in 2010 that looking sexy was never her priority. After all, her choice of shoulder- padded blazers and long flowy dresses pointed against her desire of wanting a delicate silhouette. Dreyfus claims that her aim was "looking like a girl who pushes people around," and it was obvious that her career- driven, go- getting personality allowed her to do exactly that. Charmaine Simmons, costume designer for Seinfeld, worked with Elaine to create her wardrobe, making her long flowy dresses, oxford loafers, and exposed socks her staple look. Benes undoubtedly knew how to appear modest and stylish at the same time and was credited as being the driving force in the resurgence of this trend. The art director of British Vogue even recognizes long floral dresses today as "Elaine dresses". Rihanna, being another fan of this style, was seen dressing like Elaine in 2015 resurrecting her signature shoulder-slung backpack which made appearances throughout the show. Furthermore, Michael Kors revived her iconic silhouette by using Benes inspired cuts in his Fall 2014 runway show, celebrating the 25th anniversary of Seinfeld.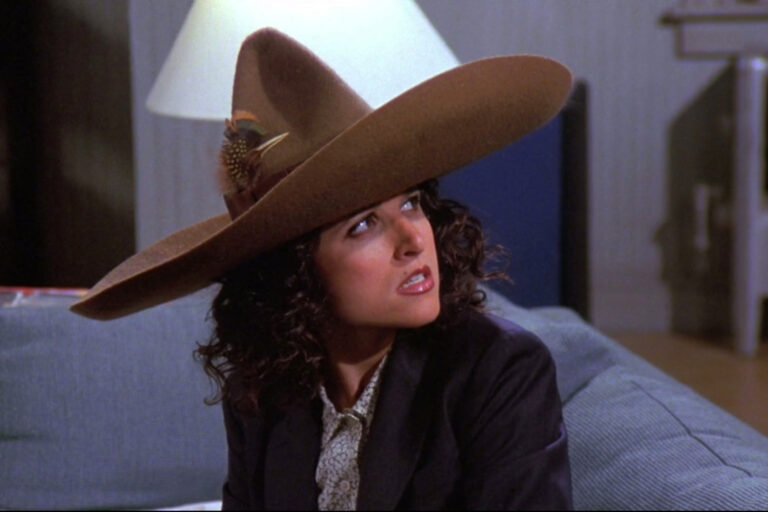 The Urban Sombrero
Without further ado, let's discuss Elaine's biggest faux pas, the Urban Sombrero. When Elaine worked for American retail company, J. Peterman, and was responsible for taking over his catalogue, she created the "Urban Sombrero;" a hat which combined the spirit of Old Mexico with the big city panache. The hat was not successful on the show and did not go over well with Peterman either, who muttered "The horror. The horror." 
Funny enough, the actor who played Peterman now co-owns the company and because of the sombrero's prolonged popularity from Seinfeld fans, created a kickstarter campaign in 2016, 20 years after the show aired, to bring the hat to life. Although the kickstarter was a colossal failure, I think we all learned a valuable lesson: not everything in a '90s sitcom needs to be revived.
George Costanza- The Man Who Walked So We Could Run
Few Seinfeld fashion moments measured up to George's Gore-Tex jacket in the episode, "The Dinner Party" (S05,E13). Although it was "scary cold" outside, Jerry and Elaine mocked George for his comically large jacket, which he later found less than ideal for narrow liquor stores. In 2017, 23 years after the episode aired, Packer Shoes decided to commemorate this iconic moment in sitcom history by collaborating with ASICS to create the "Scary Cold" collection. Inspired by Seinfeld's most memorable piece of outerwear, the shoes mimicked the exact colour scheme of the jacket and featured similar winter augmentations. George obviously saw the hype about Gore-Tex before anyone else did, proudly announcing several times throughout the episode, "It's Gore-Tex. You know about Gore-Tex?" Flash forward 22 years and Raf Simons comes out with a very similar jacket that Rihanna was spotted wearing in 2016. This is not all we can give George credit for. In the episode, "The Doodle" (S06,E19), George totally rocked a velvet tracksuit, and although scoffed at by Jerry, George blatantly stated, "I would drape myself in velvet if socially acceptable." It almost seems like Gucci took what George said to heart because in 2012, the luxury brand released a ready-to-wear Fall collection with models literally dressed in velvet from head to toe. Now I'm thinking, what would athleisure be without George? Are you exhausted yet or should I move on to how George was also mocked for wearing fanny packs? In the episode, "Male Unbonding " (S01,E04), George explained a date gone wrong and Jerry refused to believe it was caused by anything other than his fanny pack. Jerry chided him commenting, "It looks like your belt is digesting a small animal." George Costanza walked so we could run.
Cosmo Kramer – "Hipster Doofus"
My favourite part about Seinfeld was always Kramer's grand entrances through Jerry's apartment door, waiting to see which funky shirt he had on. His signature style, what you would now call: "thrifted vintage," spawned a mini industry in the menswear department, and by 1996, manufacturers began coming out with "Kramer shirts." These retro, boxy shirts, replicating designs worn on the show, were sold through various retailers including Nordstrom, Neiman Marcus, and JCPenney. Soon, the "Kramer look" became a staple in the late '90s, inspiring the revival of '50s fashion. Kramer's style was not only unique because of his offbeat personality, but because he rarely wore any clothes from the decade. Charmaine Simmons explained that Kramer's wardrobe was almost entirely thrifted which was why the fabrics were worn in and faded. She also added that since vintage clothing naturally ran a little smaller, Kramer's sleeves and trousers hung a bit short. Simmons wanted Kramer to embody a character, who despite not having a lot of money, was still able to possess a sense of style. It was clear that Kramer was an advocate for fashion sustainability, always being the first to accept hand-me-downs and anything on the verge of being tossed out. I was not surprised that he was considered "King of Prime Time Influence" while the show was airing.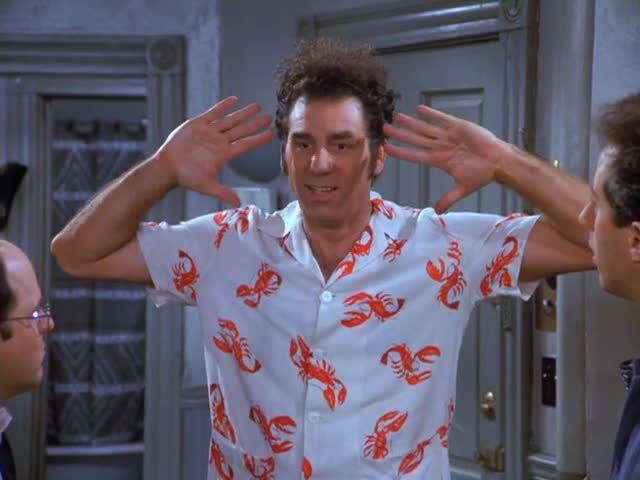 My inspiration for writing this article really came from Sue Ellen Mischke's bra top, and what she was referred to as "the braless wonder." In the episode "The Caddy" (S07,E12), Kramer and Jerry saw Sue Ellen walking down the street in a bra and as a result of their shock, accidentally crashed George's car. I remember thinking at that exact moment how fascinating it was to see something once considered eminently scandalous and unheard of as the new norm. It makes me wonder what they would have done had they gone to Veld 2019. The bra top was one of the many trends Seinfeld experimented with, and I wanted to be able to further grasp how each character's wardrobe, either worn for laughs, or as a sartorial holdover, were embraced throughout the industry. Even the worst fashion disasters in Seinfeld will thoroughly be remembered and celebrated throughout the sitcom's continuing legacy; Kramer's irremovable jeans, George's cotton Yankee uniforms, Elaine's dress from Barney's, and of course, Jerry's puffy shirt. For a show about nothing, Seinfeld sure gave us a lot more than that. Seinfeld's unofficial mantra was "no hugging, no learning," and although the characters may not have realized the extent of their influence, we continue to learn and find inspiration from them today. Doesn't that just make you want to give them a hug?
*Cue funky bass.*