Now that the dust has settled after the MUCH ANTICIPATED launch of Glossier shipping to Canada, I thought it was about time I rounded up the products I caved on buying and what I think of them. As many beauty junkies will already know, Glossier is a New York City based cult beauty brand invented by blogger Emily Weiss back in 2014. Since then, her beauty website Into the Gloss has gone from a Pandora's box of beauty tips from fashion industry insiders, to a chic, millennial focused beauty company with world wide recognition. The products are moderately priced and spectacularly branded. They caught my attention. Scroll further to discover the products I've been testing and what you should be investing in (and what you shouldn't – because #studentbudget).

#1: Milky Jelly Cleanser (+ Phase One Set)
Okay, I'm going to stop you right here. If there is ONE product from the highly covetable Glossier line-up that you should drop in your cart first, it is this. As many may remember, 2017 is my year of good skin health (see my thought piece here), and so it is no surprise that the first thing I added to my checkout was the Phase One set. One of the wonderful things that Glossier has done on their online shop is group like (and highly popular) products into sets that are more cost effective than buying each item individually. Since the beauty company champions a mission statement of "skincare first, makeup second, smiling always" it makes sense that they'd have a gift box dedicated to step one: skincare. The Phase One Set includes the (duh) Milky Jelly Cleanser, the Priming Moisturizer and a Balm Dot Com (you can pick the flavour you want upon checkout). Because of this, shopping is made a million times easier because their OG products are all in one cutely curated box, and you end up saving like $20 by buying the set, as opposed to the items individually. #WINNER
#2: Boy Brow
Aside from the skincare essentials mentioned above there is another product that was high up on my lust list when I awaited shipping to my region. This product is the much talked about Boy Brow eyebrow gel. Now you may be thinking: "why such a fuss about some goop that holds my brows in place?" Well let me tell you: THIS GOOP IS MAGICAL. Because I am a fickle shopper, and I'm also trying to budget, I wanted to make sure each product I bought would be used to it's fullest potential without worrying about which shades would match my skin / face. So I opted for the clear gel version (there are three shades: brown, black and clear) because my brows are dark and thick (ish) but I can never tell if they are brown or black. So for safety sake I went clear. And boy am I happy I did! Since my package arrived I have used nothing on my brows except this puppy and I've had some of the best brow days of my entire life. No joke. I was not a brow product person before, but now I am because of this. The gel is light but strong, goes on opaque and turns invisible as it dries. My hairs don't move an inch, but they also don't feel crusty or glued in place. The product also doesn't smell which is a bonus for me, cuz like who needs scented brows?? I sure don't (but if you do, no judgement here friend).
#3: Face Mask Duo
Remember how I said before that the Glossier team is SUPER smart by grouping like products that people are going to buy anyway? Well they did it again by grouping their two amazing face masks into one set for $48. The Mega Greens Galaxy Pack and the Moisturizing Moon Mask are probably some of the most heavy duty products Glossier offers at the moment. And because the two work in tandem to cleanse dirty polluted skin while moisturizing and reducing wrinkles, it feels like a no brainer that you can buy them together. So I did. And I'm in love. As per the Glossier website, the Mega Greens Galaxy Pack mask is described as: "a juice cleanse for your face"; intrigued yet? Read on.
"Made with simple, natural ingredients, the Mega Greens Galaxy Pack balances and conditions pores while helping to calm skin. Using the gentlest, most nourishing creamy white kaolin clay, this cleansing mask detoxifies by drawing out excess oil and impurities—leaving your face with a velvety-matte, clean finish. Beauty foods like vitamin-rich leafy greens and super-fruit antioxidants deliver a potent dose of nutrients for when you need to press the reset button on your complexion."
As for the Moisturizing Moon mask, the fun just keeps going.
"The most intensely hydrating treatment we could make: behold, the brightening, creamy dreamy Moisturizing Moon Mask. Sweet almond oil, plant-based squalene, and hyaluronic acid do a deep dive beneath the surface to visibly plump skin up with hydration, helping to smooth the appearance of fine lines and restore elasticity. Licorice root and lemon fruit extract work quietly behind the scenes to gently brighten and even out your complexion, while honey and aloe act as soothing agents."
So naturally the two must go together. BUT I will say, if you're on a tighter budget than I (which in reality I should be too) I would opt for the Galaxy Greens over the Moisturizing Mask just because the former is much more hard working and unique, whereas the latter just feels like a super duper moisturizing cream than a mask. Together they do work wonders, but if you're treating yourself, opt for the facial juice cleanse 😉
#4: Coconut Balm Dotcom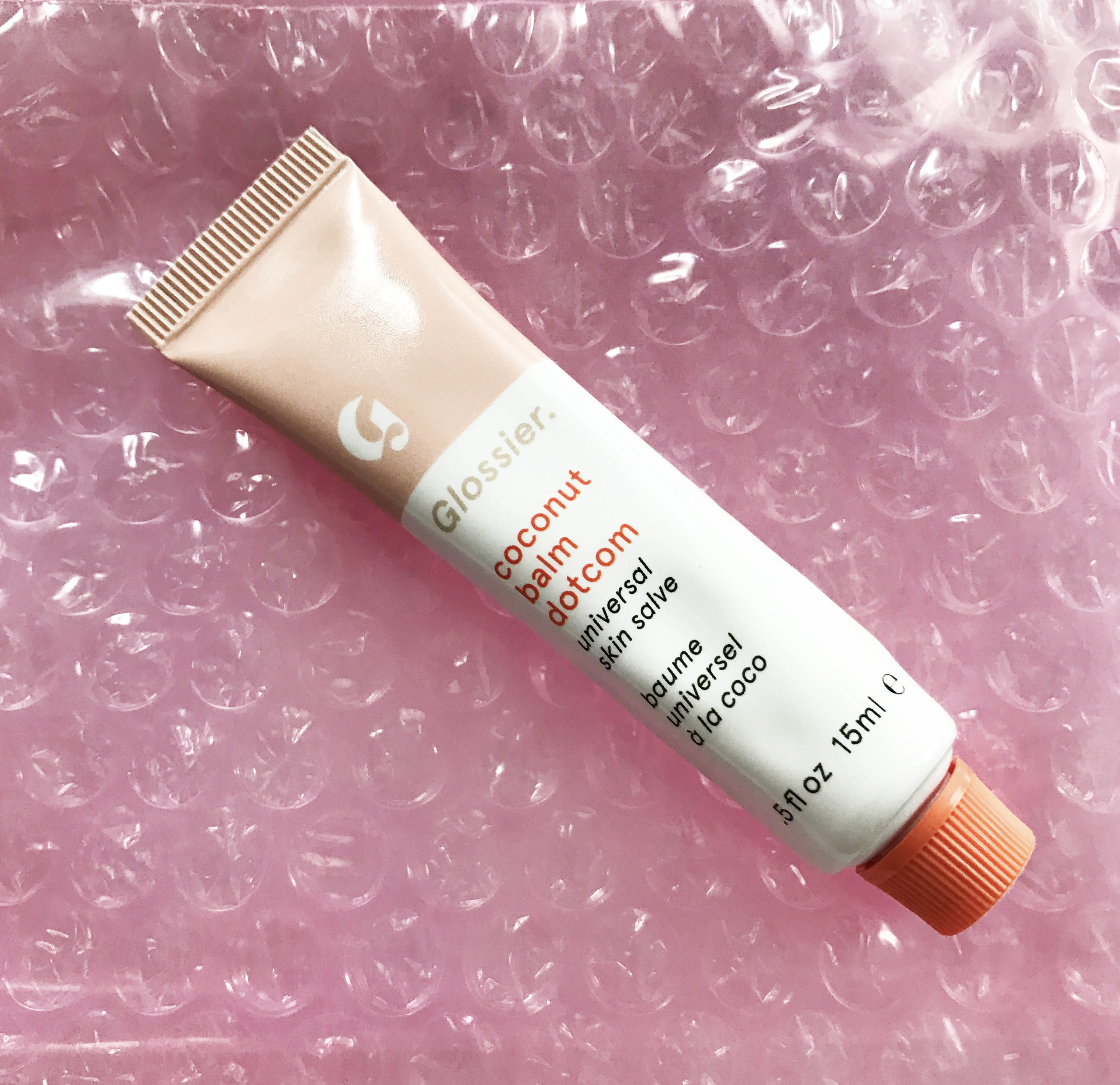 So as far as beauty products go, I think it's safe to say I am a lip balm addict. I am that friend who always has an emergency lip balm in her purse, school bag, car, makeup bag that's in my back pack, etc. etc. you get the point. I never leave the house without a lip balm. So it's no shock to anyone who knows me that I also picked up Glossier's highly raved about Balm Dotcom lip salve, because naturally I had to try it. Of all the scent/flavour offerings available, the coconut flavour appealed most to me for a few reasons. The first being that coconut is a beauty super food at the moment. The second, the smell – I assumed this lip balm would smell like a day at the beach and I was 100% correct. It also tastes like a fresh coconut-y mixed drink. And third, the branding on the box looked super cute and tropical. (Let's just admit it we are all suckers for good packaging) I will say, if you're not into things that smell, or are just not a lover of coconut, you can still buy a Balm Dotcom. Other flavours include: Original (unscented), Rose, Mint, Birthday Cake (which is a collaboration between the G Team and Momofuku Milk Bar's super star baker Christina Tosi), and Cherry.
#5: Haloscope Highlighter
In all fairness, because this was my first time purchasing products from THE beauty brand of the moment, I tried to not go too overboard. The urge to buy every single product was strong, but I also have a ton of much loved products from other brands that I didn't feel like replacing. So for this instalment I am sticking to skincare, with one exception. That exception being the Haloscope highlighter. This shimmery dewy highlighting stick is innovative in a few ways. The first is that it's a stick not a powder in a compact. Reminiscent of the Milk Makeup Highlighting Tubes, but with a lot less alien shimmer, this twistable highlighter adds just the right amount of shimmer while still giving you that "glow from within". The other amazing feature of this product is the core…or the fact that this highlighter HAS a core. HUGE! The G Team explains:
"It's a dual-delivery formula: the outer halo is infused with genuine crystal extracts for all-day enlightenment, with a solid oil core of vitamin-rich moisturizers for a hydrated, dewy finish. Expect an otherworldly sheen that's never dry, never glittery."
I will tell you now, this description is not hype, it is complete and utter truth. The oily core definitely makes this makeup product feel more like skincare, and it's ability to blend into the skin for a super natural finish is really impressive. As a skincare before makeup person I tend to be really skeptical of new products before I try them, because honestly I'm such a pessimist sometimes that I just don't think it's possible to have a perfect product. But in this case I was proved wrong and my pessimism was shuttered in an instant. The shade I got was Topaz but the brand offers two other variations as well: Quartz and Moonstone. These two are much lighter and much rosier, whereas Topaz is definitely a bronzer and highlighter in one. Given that it's summer time and we all want to be wearing less makeup, I would say this product is one definitely worth investing in.
Let me know if you too have caved at a Glossier purchase in the recent weeks, and what you got / what you love! This is why we have a comment section, chat with me!
*Also be on the lookout over the coming weeks as there is buzz in the industry that Glossier will be doing some type of event / project in Toronto seeing as Canada is the FIRST country to get international shipping from them (minus Quebec, sorry it's coming!). You can rest assured that we will bring you all the details, in as real time as possible. Lord knows we will be there if and when anything happens IRL.