With the New Year finally upon us, there appears to be no shortage of "new year, new you", "new year, better you" and the like swirling around the Internet to inspire us. Now I'll be straight with you, I don't normally partake or get swept up in new year's resolutions because I like to think I'm on top of my life all year long, and if inspiration hits me to strike up a new routine, I do whether it's in January or July. But, that being said, 2016 was a hectic year for all of us, and by December 31st I too was feeling wiped out. My mind, my body, and for once my skin. All exhausted. My skin, like never before was feeling dry, flakey, red in some areas, pale in others, and absolutely perilous in its fight against the winter weather. In a word, it was feeling lifeless.
Over the past year I tried to pare down my makeup collection to the bare necessities. I started putting a more of an emphasis on perfecting my skin care routine, building up a collection of cleansers, toners, moisturizers, serums and masks so as to minimize the amount of makeup I actually needed. The idea in my mine went as follows: better skin care = better skin = less need for makeup.
So, being that the New Year (as it always does) brought about an influx of "updated" beauty routines to the Internet – including suggested products that give the best results – I thought now was better than ever to refresh my beauty routine. And in light of my newly developed 'beauty goals' (read: better skin, less makeup) I decided to start with skin care. So, my 2017 resolution: perfect my skin care arsenal, focus on the basics, and develop a solid foundation of products I can carry into the future; and maybe, just maybe keep those wrinkles at bay for as long as possible. Here are the products I'm relying on this winter to keep my skin fresh, healthy and oh-so-hydrated, and why I love them.
Cleanse & Tone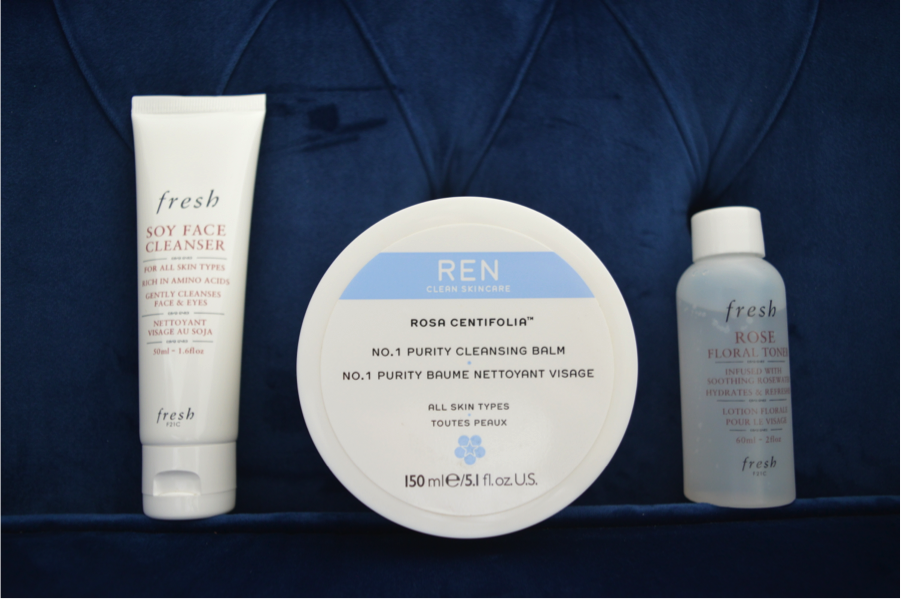 fresh Soy Face Cleanser ($47 on its own; I got this in a $78 value pack): infused with soy and rose extracts this cleanser is a god sent for anyone who loves an easy, gentle yet hardworking cleanser. Despite how gentle it is on the skin, it never fails in removing all my makeup – even tough waterproof mascara. I very much prescribe to the ideology that you should never sleep with your makeup on, and this cleanser makes washing my face every night something to actually look forward to. When I bought it, the wonderful woman at Sephora told me to use it in the morning and at night, so as to start and finish my day with the cleanest, freshest skin.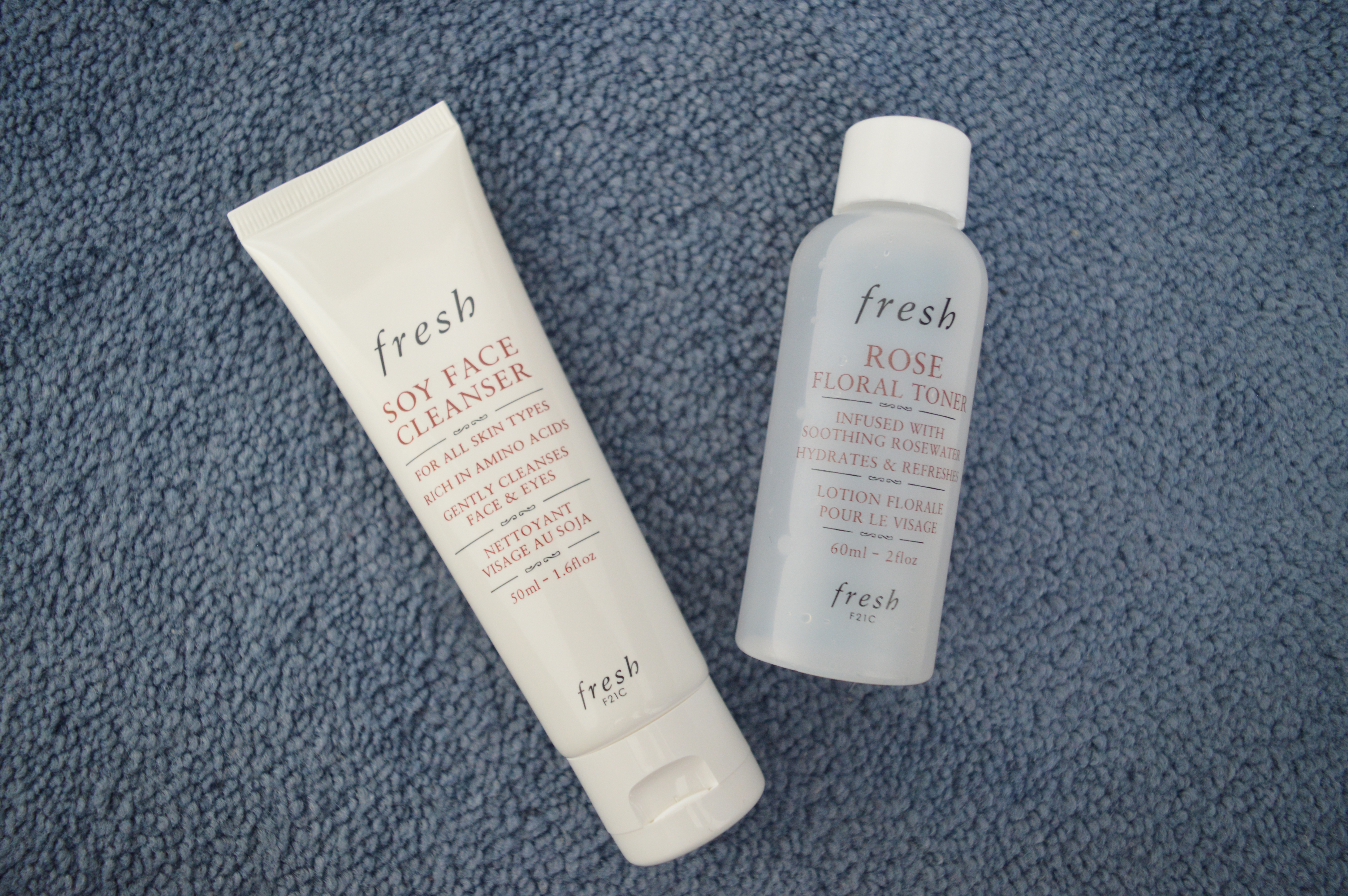 fresh Rose Floral Toner ($49 on it's own; I got this one in a $78 value pack): when I bought the Soy Face Cleanser mentioned above, it was in a package of multiple skincare products – a good skin starter pack if you will. One of its accomplices was this rose infused toner.
One of the tried and true methods of good skincare I've discovered over the last few months is a simple three step process – cleanse, tone, moisturize. When I learned this, I realized I'd been missing the middle step for a really long time. Apparently, cleansing strips your skin of valuable moisture and nutrients in the process of trying to remove the day's gunk and toxins.
The step that a lot of people miss (so I'm told), is applying toner before moisturizing – which is supposed to restore your skin to its healthy ph balance after being cleansed. Only after toning, should you then apply moisturizer. Now when I learned this, I'll admit I was sceptical. In my mind, moisturizing after cleansing my face has worked for years, and I didn't really know what else toning could possibly add to the equation. But now that I've been using the fresh cleanser and toner, my skin has felt so alive! Like seriously, the life, the colour and the moisture has just suddenly been completely restored. My skin soaks up more moisturizer after applying the toner; it feels more hydrated, longer. My tinted moisturizer sinks in better, and gives me more even coverage than before. And because I've been getting the gunk off my skin so consistently, the last few pesky blemishes have completely disappeared. My skin literally feels like gold.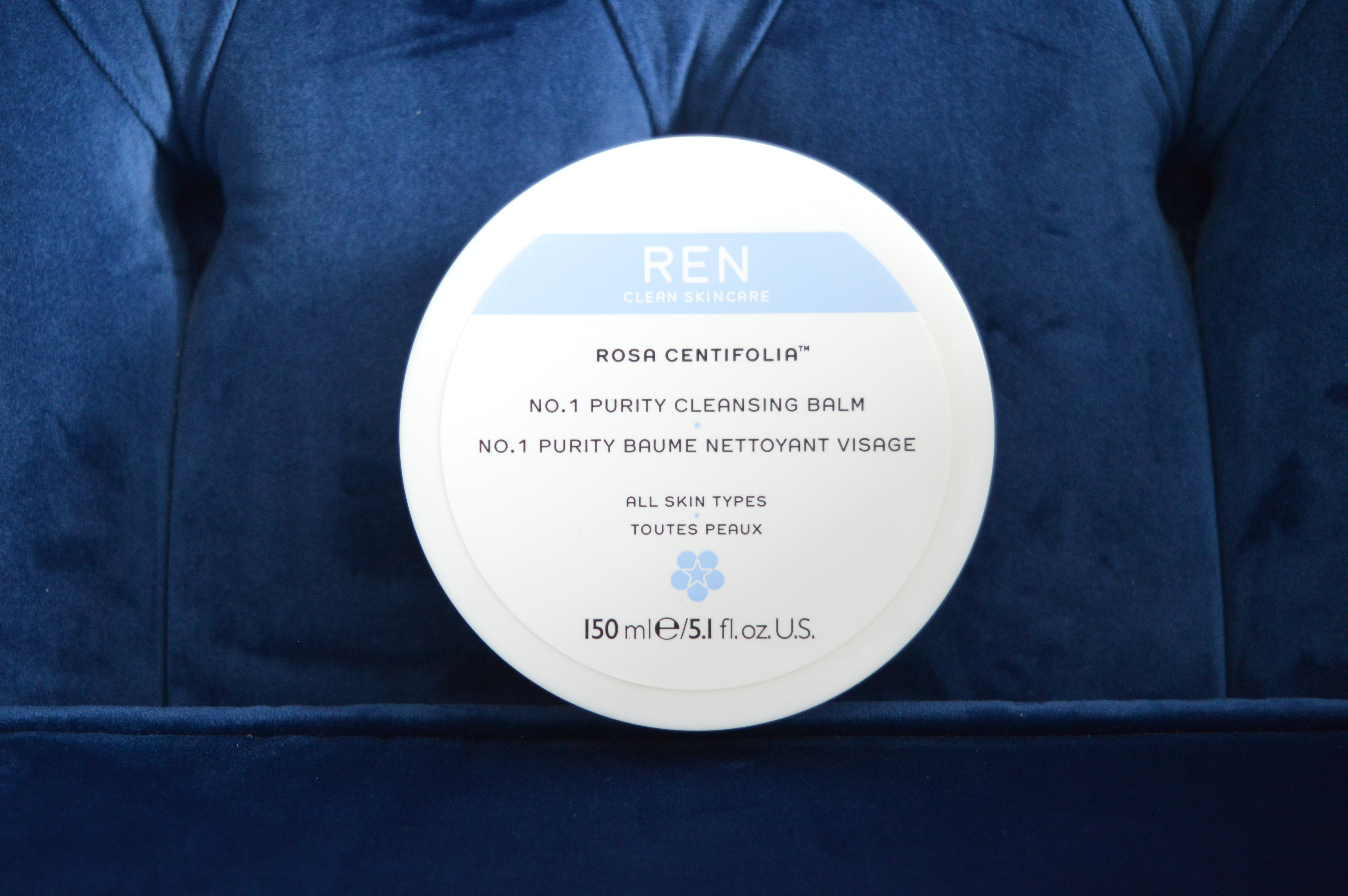 REN Rosa Centifolia Cleansing Balm ($60): before I discovered the fresh cleansing set, this REN cleansing balm was my go to skin cleanser / makeup remover. Being that it's a balm, the cleansing cream is super thick (like body butter but for your face) so it really cleans away all the dirt your skin has absorbed throughout the day. It's slightly oily too, so it goes on smooth and leaves a slight residue afterwards that keeps your skin from drying out before moisturizing. Aside from the thick consistency and how well it demolishes my stuck-on mascara, it also smells really good. (Are we noticing a pattern here?) And, if the cleansing + toning method I pitched above doesn't appeal to you, this is a great alternative cleanser that I always keep on hand for those extra dry feeling days.
Moisturize
Lubriderm Original Lotion ($8): I have used this drugstore moisturizer for as long as I can remember and I use nothing else. My mom swears by this moisturizer and has used it for over twenty years. She's in her forties now (sorry mom) and her skin is probably the best skin on a human being I have ever seen. So naturally, seeing what amazing skin my mom has, possessed me to use all the same products she swears by and I'm hoping it pays off. It's light, smooth and incredibly hydrating. I tend to use the unscented version because the natural scent of this one actually smells better (in my opinion) than the other scented versions. It's a great full body lotion and I use it whenever and wherever my skin is feeling dry. So, considering it's so cheap and so multi-purpose (i.e. not just for your face) I would say this is one of the best skin care investments I continue to make.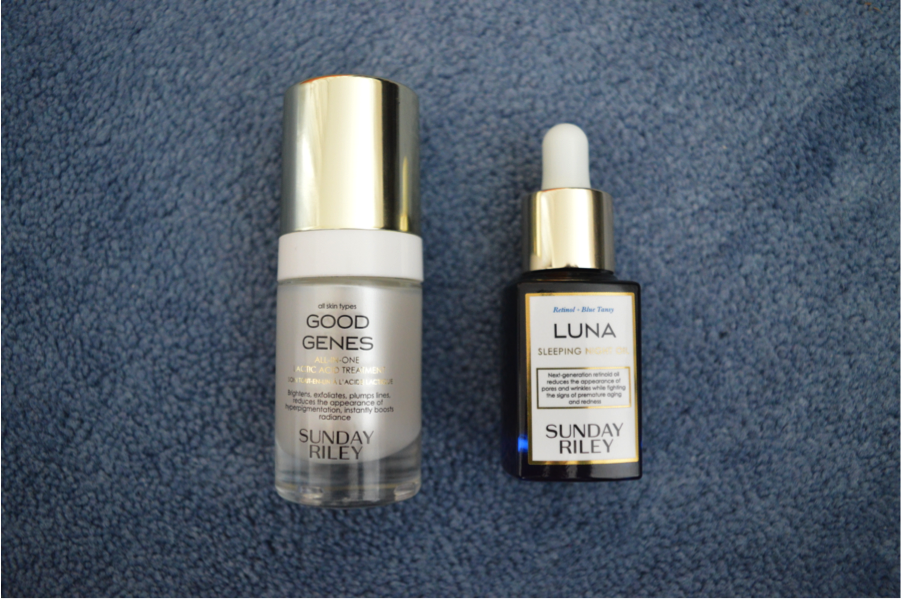 Sunday Riley 'Good Genes' All in One Lactic Acid Treatment ($175 on its own; came in a set that totalled $102): now for a little touch of luxury I've recently become obsessed with the brand Sunday Riley (along with the rest of the Internet and beauty fanatics on Instagram). Now I will forewarn you – this brand is not cheap. In fact it is so far from cheap that the only reason I bought it was because it came in a Sephora gift pack, along with the Luna Night Oil, at a RIDICULOUS fraction of the cost it would have been to buy these two items separately. If it weren't for Sephora's amazing Christmas boxes, we would not be having this conversation.
This moisturizer is great in the sense that it is jam-packed with all kinds of amazing ingredients that repair and restore your skin while its applied. The bottle instructs that you can use it day or night so regardless of when you apply it, all the awesome hydrating, wrinkle fighting, skin evening, blemish correcting ingredients are always at work. I like to use this mostly in the morning because I find it provides such an amazing base to apply my tinted moisturizer to. But then again I also really love using it at night, after cleansing, and before applying the Luna Night Oil.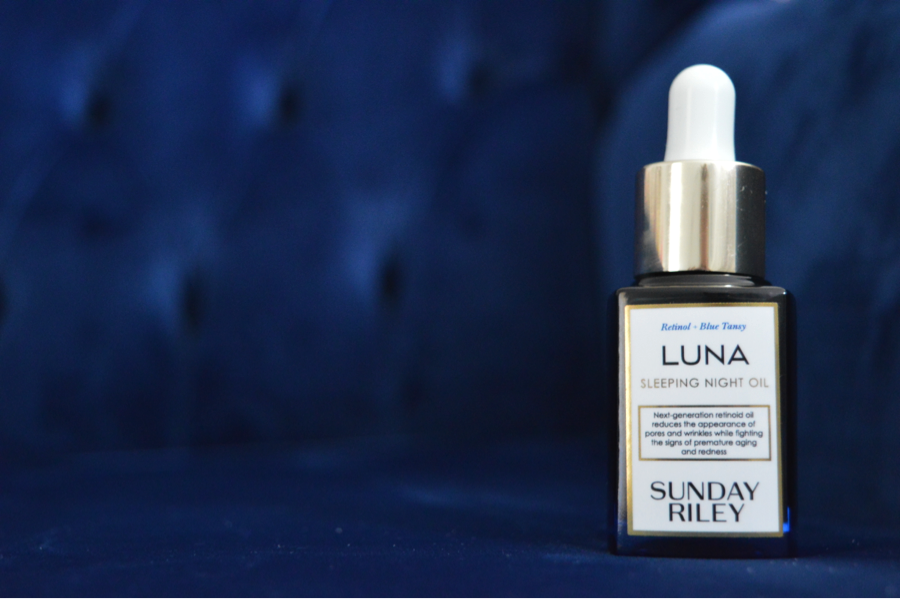 Sunday Riley 'Luna' Sleeping Night Oil ($131 on its own; came in a set for $102): now this night oil is in a category all its one in the beauty world right now. Bloggers, social media, every beauty website out there right now seems to be obsessed with this night oil and the entire brand that created it. I mean hello, look at the packaging! It's so beautiful. And Instagrammable – because we all know that matters A LOT (sometimes, even more than the product quality itself). Thankfully, Sunday Riley comes through on both fronts. Not only are its products great to look at, they are also solid workhorses when it comes to curing your skin's toughest woes. The only downfall, aside from the price, is that its only intended for nighttime and that striking blue colour tends to leave a stain on your pillow. But the stains aren't permanent and come out in the wash – so really, is that even a downside? I personally don't think so, and I'll deal with the stains because the results are just too good to handle.
Hydrate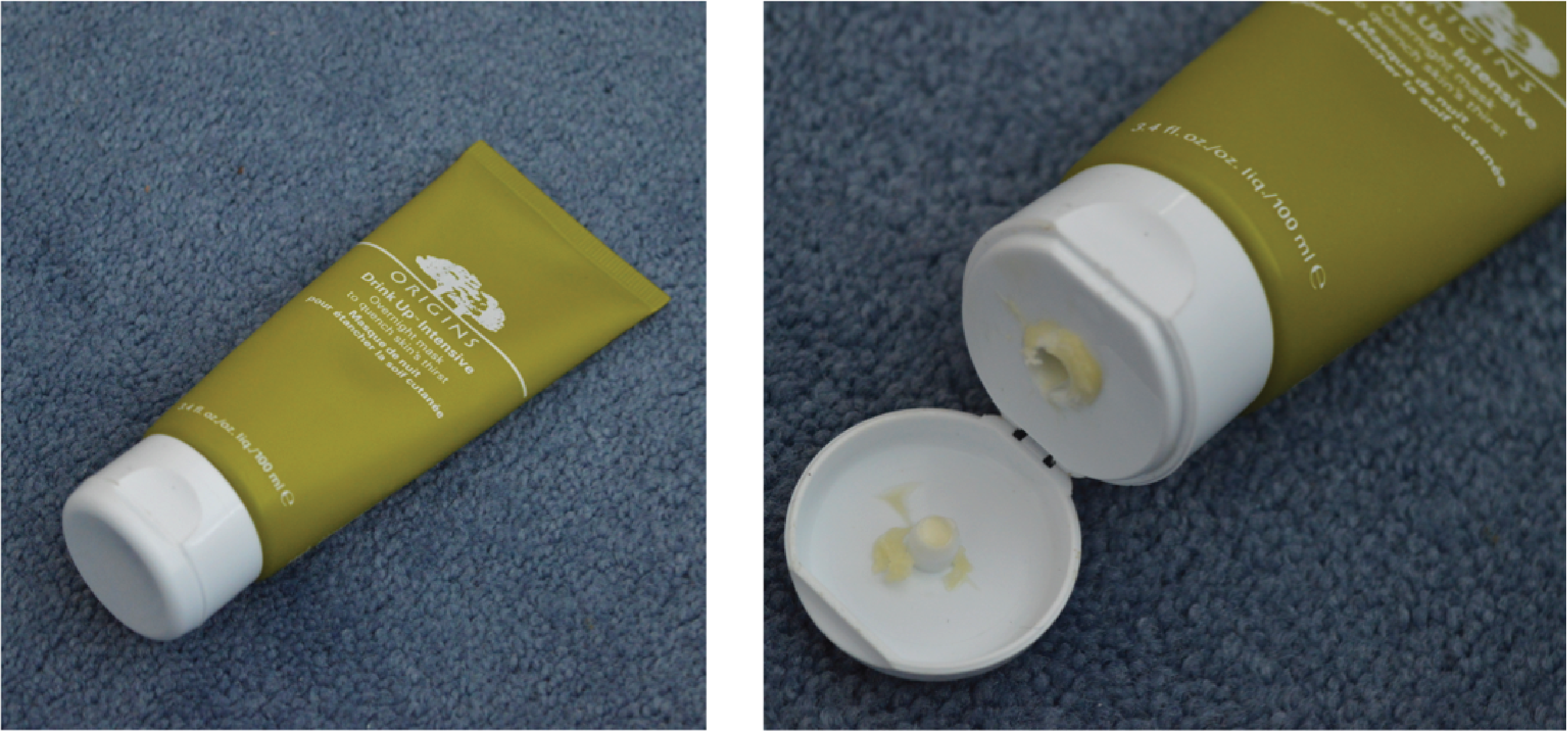 Origins Drink Up Intensive Hydrating Mask ($32): this mask has been my go to mask for a little over a year now, and I cannot say enough good things about it. The smell: to die for. This mask is infused with apricot, avocado, soy, and a bunch of other super healthy, super awesome smelling natural ingredients that literally make this mask smell like a tropical drink for your face. Part of the reason I use it so much is because of how awesome it smells when it's on. The cream itself is thick and just like a heavy moisturizer but the great thing about it is that you leave it on while you sleep. Intended mostly for nighttime use, this mask goes on like any other moisturizer and then sinks in and rejuvenates your skin overnight. In the morning, you awake and your skin is bright, vibrant, supple and oh-so-hydrated. You just wash off the remaining residue, moisturize and go on with your day. What more could we busy students ask for?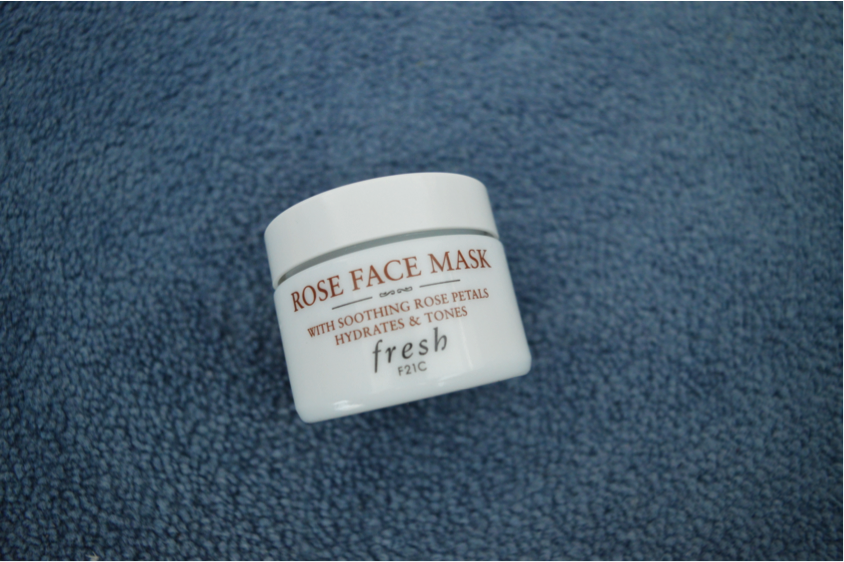 fresh Rose Face Mask ($75 on its own; got mine in a $78 value set): I cannot tell you how long I have been told to try this mask out. Whether it's by the Internet, or my friends, I cannot for the life of me escape this product and its endless recommendations. So, when I embarked on refreshing my skincare routine this year I thought it was about time I tried it out for myself. And boy, did it ever live up to the hype. As I write this, I've only used this mask once, but there are many more uses in my future.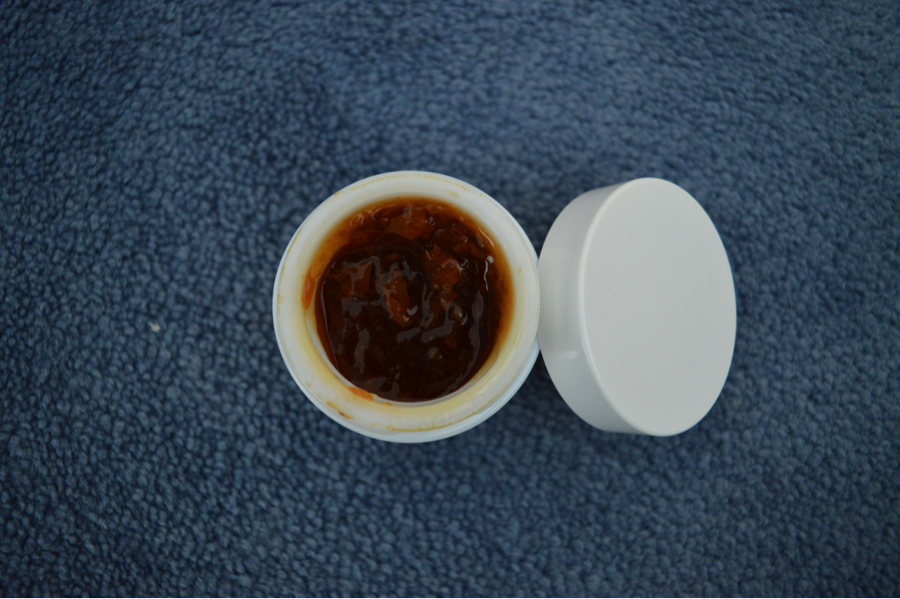 The thick brown mask is intended to go on, sit for a little while and then you wash it off before carrying on with your day or evening. The mask "gel" itself has real rose petals in it, and the entire pot unveils the sweet aroma of summer flowers when you twist off the lid. It soothes, it hydrates, it replenishes life in exhausted skin, and the smell is so killer you end up feeling like a walking bouquet for hours afterwards. The lovely thing about rose though, is that it is a very subtle flower, so you actually don't feel bad walking around in a cloud of rose scented aroma. At least I don't.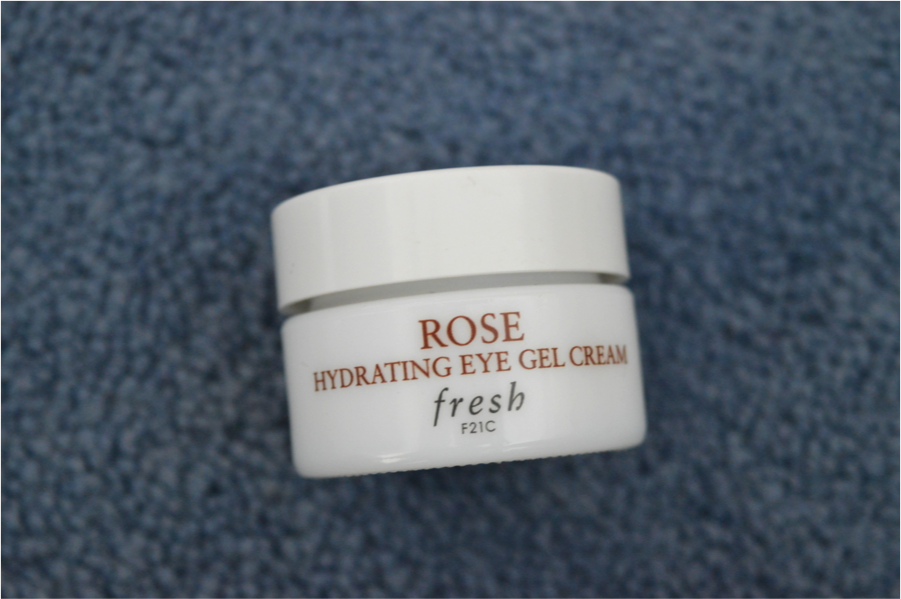 fresh Rose Hydrating Eye Gel Cream ($52 on its own; got this in a $78 value set): I will be honest – I am not much of an eye cream girl. I've never really had issues with dark circles, bags or laugh lines (thank goodness) and I like to believe it is a result of getting 8+ hours of sleep every night. I am definitely one of those people who needs their sleep (don't we all though?) and I kid you not, if I get anything less than 7 hours of beauty rest, I'm basically a walking corpse. But, when I bought this skincare pack at the end of December, it was included so I thought I would give it a whirl. And surprisingly, it's been really great.
Like all the other products in the fresh ROSE line, it smells like roses (shocker). But it is also a really luxurious moisturizer – the consistency is thick, but not goopy. It's smooth, but not oily. And it sinks in to my sensitive eye skin like an absolute dream. The New Year is about trying new things, and this year I may just become an eye cream gal because of this product. Since using this in the morning, I have seen a reduction in under eye circles / bags – which were already pretty faint to begin with (now they don't even exist) – as well as the skin itself seems to appear more even. What 'fine lines' I did have before have been stripped away, and in addition to all the other products I've been using with this eye cream, my entire face just feels completely anew.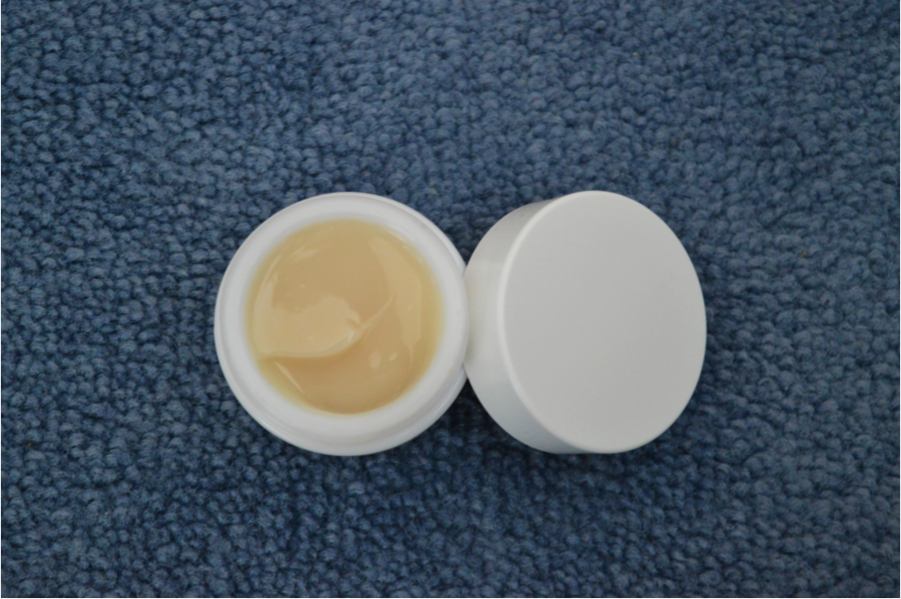 Now this may be a bit of a stretch, but I honestly think by getting a good skincare routine sorted out now, I am setting amazing groundwork for how my skin will be in the future. I read an article the other day that said the most important time in your life for ensuring skin health is in your twenties, and that if you want to have good skin at 40 and 50, you need to start early. From a logical perspective this made perfect sense to me. If you care for your skin well all throughout your life, the general idea is that it will be healthier longer (and thus 'younger' looking). The scientists and dermatologists cited in the article also aided in making a strong case. And when you think about it, we all only have one skin. We are stuck with it for life. And although it rejuvenates itself and sheds layers over the years, we only have one life to care for our bodies; so why not start early.
Like I said before, I'm not much for new years resolutions and annual overhauls of how I live my life. But I am becoming more aware of the importance of self-care, and this year I plan to make it a priority. Whether it is skin care, healthy eating, working out (ew…), or getting more rest, I fully believe that caring for the body I have in this life should be important all year round. This year I plan to start with my skin, and see where it leads me.
I hope this "review" / New Year commentary has inspired you to develop your own new and improved skin routine, or if they have affirmed some doubts you had about these popular products. But most of all, I hope it caused you to think about what kind of things you want to be mindful of in 2017. And with the new semester rapidly upon us, I think now is as good as ever to find little ways to refresh your routine, and make the New Year feel a little more special.
Photographed by Naomi Brearley // *All items available at Sephora