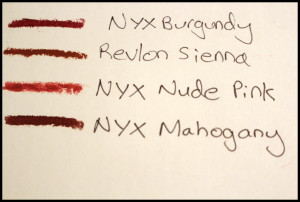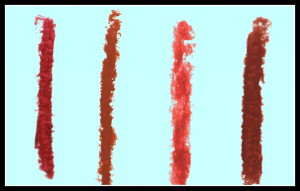 Here in Toronto, it's getting cold! Like really cold…or maybe I just think that because I used to live in Dubai. Either way, the weather won't stop us from looking fab while handing in all our assignments. We really think that cool weather demands even cooler colours, so don't be afraid to rock a dark or vibrant lip. It's still fall after all. We found five amazing lip products that last and don't break the bank, so all my fellow students, gather around because looking effortlessly stylish has never been so easy.
NYX lip liner SPL803 in Burgundy ($3.49 at Rexall)
This colour looks amazing on all skin tones, it's the perfect bold pinkish/red lip colour that is appropriate for class, and a night out. I personally love this lip liner because its lasting power is insane, you can rest assured that your lips won't come off with your morning coffee! For my fellow over liners, thank you Kylie (!) this is my absolute top pick for over lining (just slightly). In fact, the creamy formula of this lip liner makes it the perfect base to blend in with other lipsticks.
Revlon ColorStay lip liner in Sienna ($ 8.98 at Shoppers DrugMart)
It is a perfect dupe for Mac's oh-so-popular Spice lip liner. It has amazing staying power, the colour is dark enough for a night out and light enough to avoid looking overly moody during the day. It is a pinkish hue that leans towards brown. The consistency is creamy, but always make sure your lips are well moisturized before applying lip liner to avoid lip creases. Paired with some bronzy eye-shadow and you can make those late night coffee runs your runway.
NYX MPL06 retractable lip liner in Nude Pink ($4.5o at Rexall)
This lip liner is just what it says, a nude-ish pink, it gives your lips a natural flush of healthy pink without looking overpowering. It's matte finish makes it the perfect accompaniment for layering other lipsticks on top. I'd say all in all, this is a great choice for all my bare faced babes just venturing into makeup.
NYX Slim Lip Pencil in Mahogany ($ 5.00 at Rexall)
This lip liner last all day, goes on smoothly. It has dark purple and maroon undertones making it the perfect over-lining tool. In addition, it isn't overly drying like other lip liners can be. At it's price point you really can't go wrong. I suggest rocking this with some heavy mascara and an otherwise neutral face. Opt for some gold shimmery eye shadow if it's a night out and you really want to get on your glam.