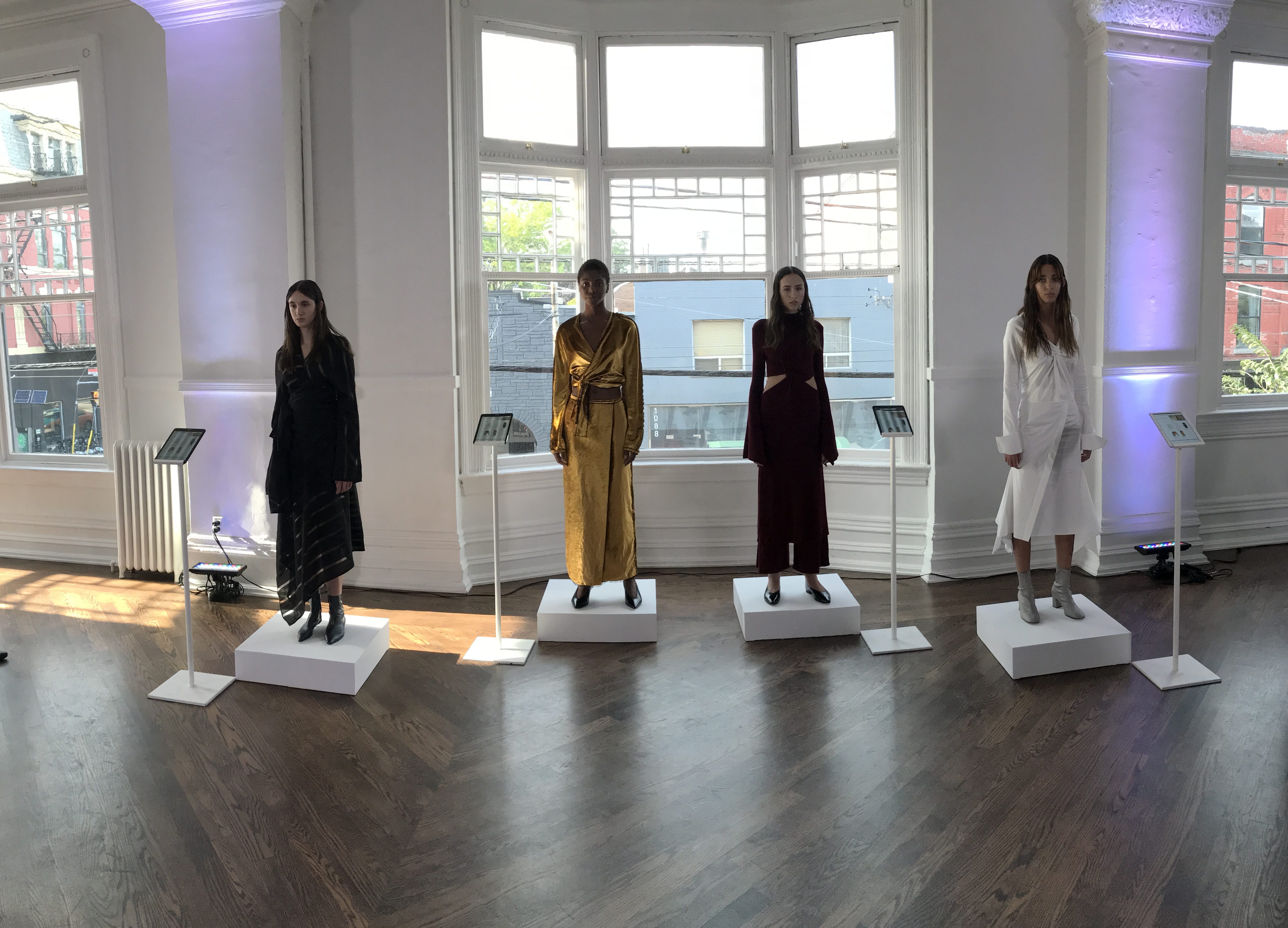 September is now in full swing and you know what that means: pumpkin spice lattes have arrived at Starbucks, school is back in session and most exciting of all, fashion month is here! In Toronto this means that some amazing Canadian designers will be showcasing their talent and latest collections at various events around the city. To kick things off, we attended the first night of RE\SET 002 by the Collections – a redefined fashion experience focused on putting designer objectives first. Style Circle collected some awesome photos of the event, oogled over the fabulous designs, and even scored an exclusive behind the scenes interview with one of our favourite designer's of the night, Alex Yu (stay tuned for that on the site soon). If you are interested in getting the inside scoop, read on!
#1: Sid Neigum
The first designer of the evening was Sid Neigum, one of Canada's most budding and noteworthy designers du jour. The show took place in a showroom setting instead of a runway, where models were placed and posed, as opposed to walking a runway. This made it much easier to snap photos of the outfits from all different angles and see your favourite garments up close. Showroom style presentations are becoming increasingly popular options for designers to display their work as they offer a more casual, laid back experience. The clothes did not disappoint either. The hair and makeup was simple and slick; a great compliment to more opulent outfits in royal tones such as cranberry and gold. Neigum's signature black and whites were also there to add some minimalism to the grandeur. For all you design kids out there, design elements included long lines, draping, cut outs, wrapping, synching, and asymmetrical silhouettes. We especially loved the gold, iridescent wrap top with the matching gold skirt. It was a clever styling decision to pair a wrap style top with an asymmetrical overlap skirt, making this outfit the perfect choice for a glamorous evening out. Understated elegance, futuristic glamour and all things rich tones had us swooning for days and we can't wait to see what's next for this promising designer.

#2: Tara Rivas
The third designer of the night, and second on our 'best' list, was a designer who was not only a highlight for us, but is a major rising star in Canadian fashion. Tara Rivas had an impressive collection that followed a similar colour scheme to Sid Neigum earlier in the day. Her pieces though included pops of yellow amidst an array of neutral black and white. This collection was equal parts sexy and edgy – an ode to the Toronto woman perhaps? – which made for a nice progression into the evening. For all you beauty junkies reading this, the makeup look was a subtle smokey eye, and hair was long, undone, and very slick backed. Doesn't their hair just look sexier pushed back? (Mean Girls, ya we went there) Again, we saw some repeated design details such as synching, clean lines, draping, and cut outs. The white bell bottomed trousers with the matching white cut-out-sleeved crop-top was a super modern take on luxe athleisure and even gave off some outer space vibes. This is also a trending theme at the moment. There was a good mixture of street wear styles and high end night wear in this collection making this collection feel not only right on trend but also incredibly accessible. We don't know about you but we think these pieces could be worn by so many different types of women, and we love that.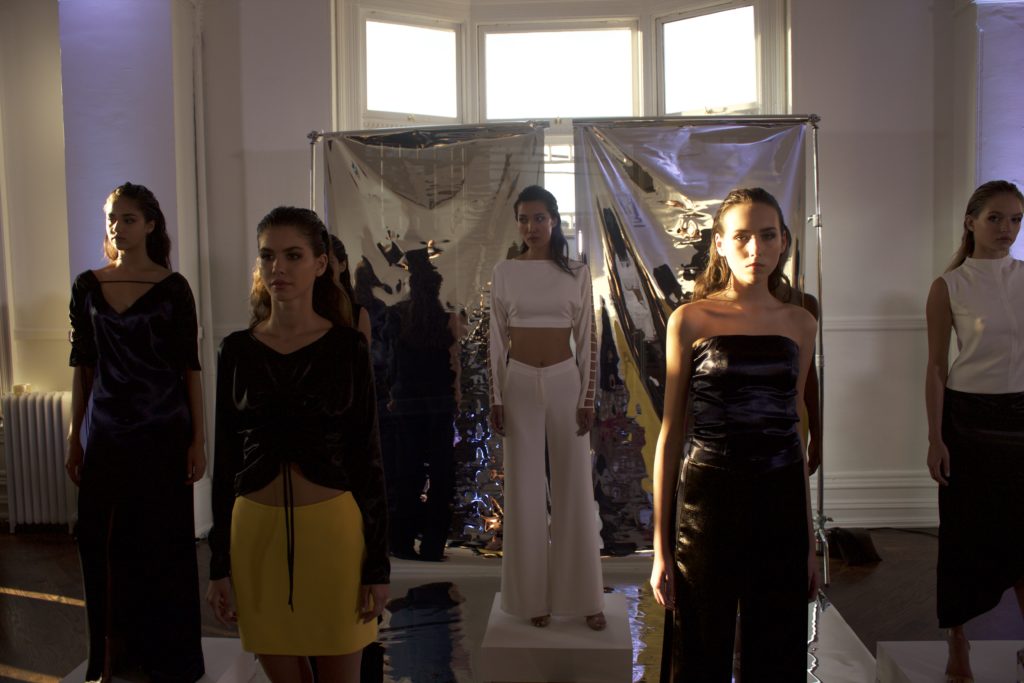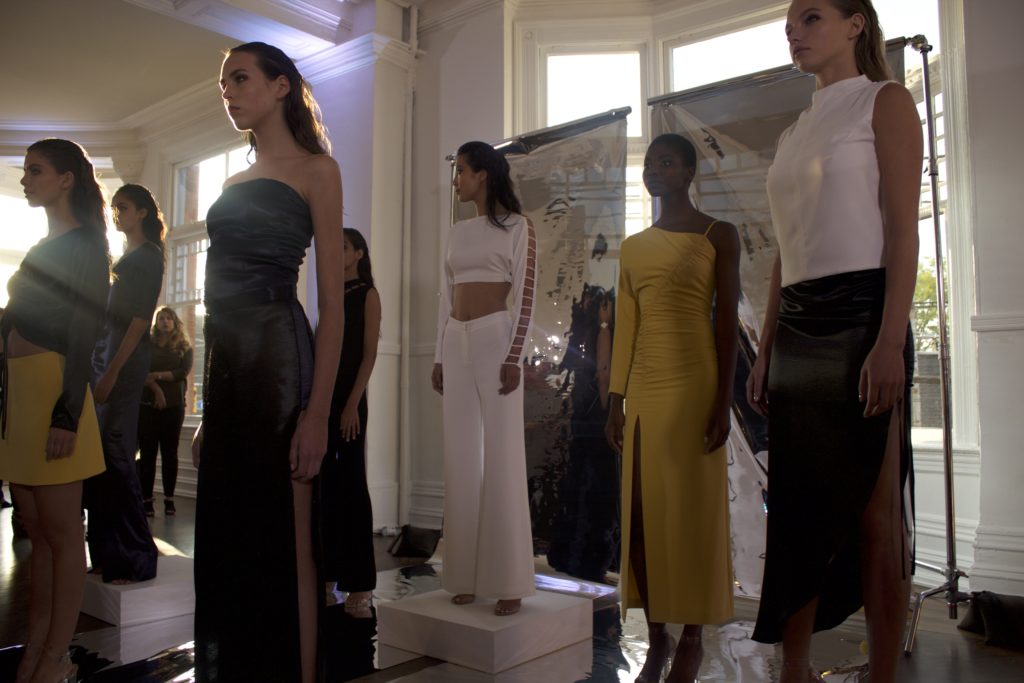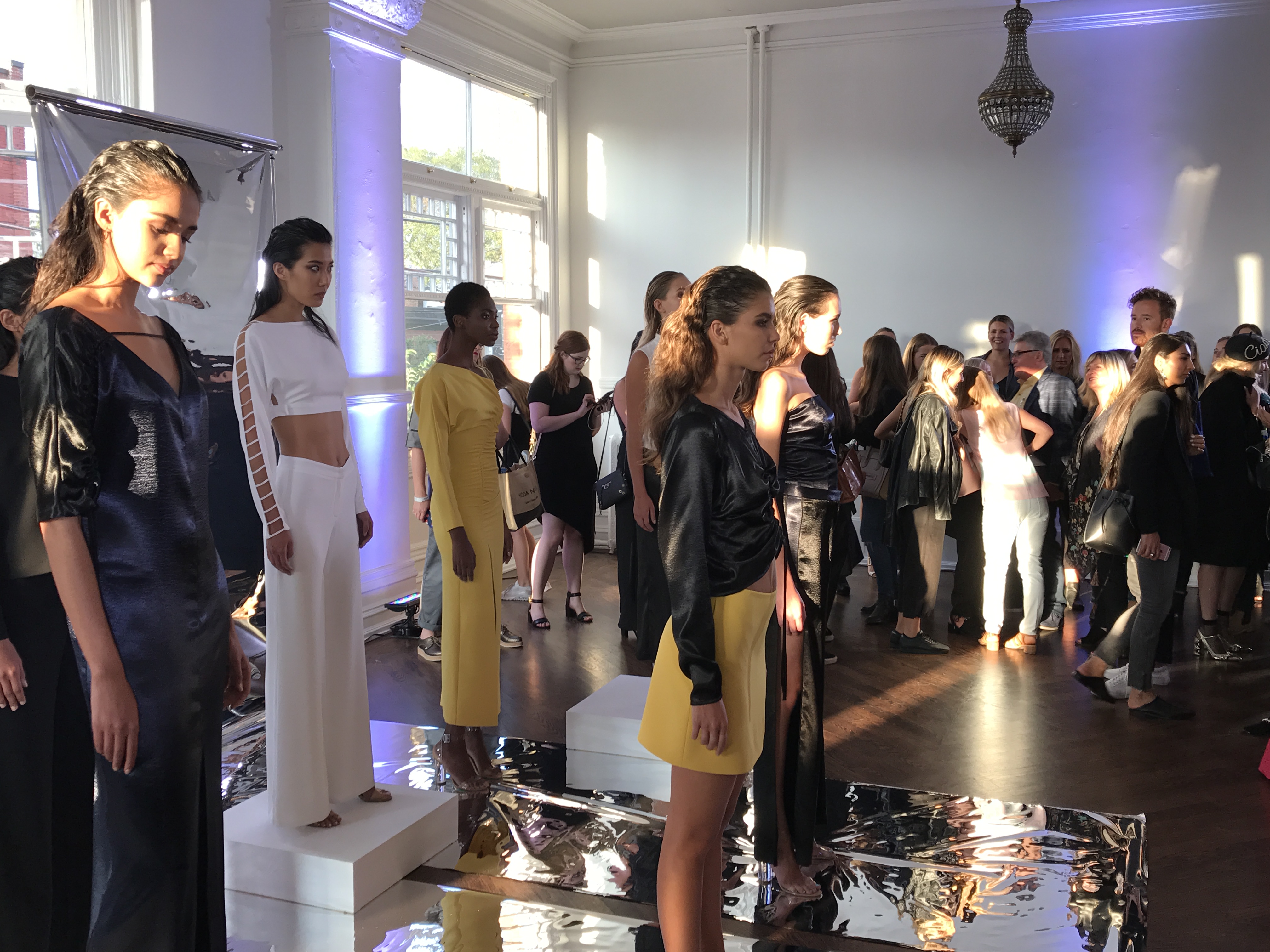 #3: Jennifer Torosian
Another presentation that knocked our socks off was Jennifer Torosian's delicate and feminine take on spring summer dressing. We saw lots of soft floral prints and silhouettes that played off the pyjamas- as-day-wear trend that is so huge right now. She also showcased inner wear as outerwear and some menswear styles, such as loose unbuttoned dress shirts. To play things up and make the ensemble more feminine, Torosian styled the loose pin-striped men's shirts with a black lacey bralette underneath, and made it into a full look with full-length, relaxed, mens-style trousers. The entire collection reminded us a bit of the nonchalant yet put together French-girl style that the industry is constantly obsessing over. The hair was simple, straight, and neatly tucked behind the models' ears. The makeup: fresh faced and rosey cheeked. We noticed trends such as pin stripes, floral patterns, light weight flouncy materials, silk, and cotton dress shirts. The collection was effortless and chic, perfect for pre-fall. The mix of structure and draping made for a beautiful contrast and there were a variety of pieces that could transition effortlessly from day to night.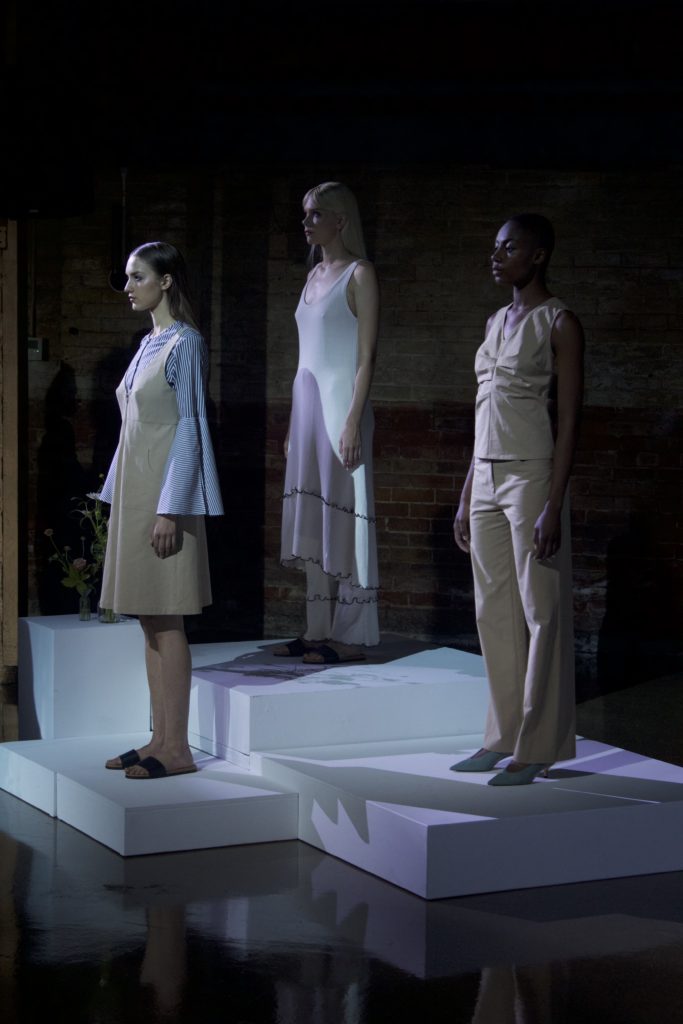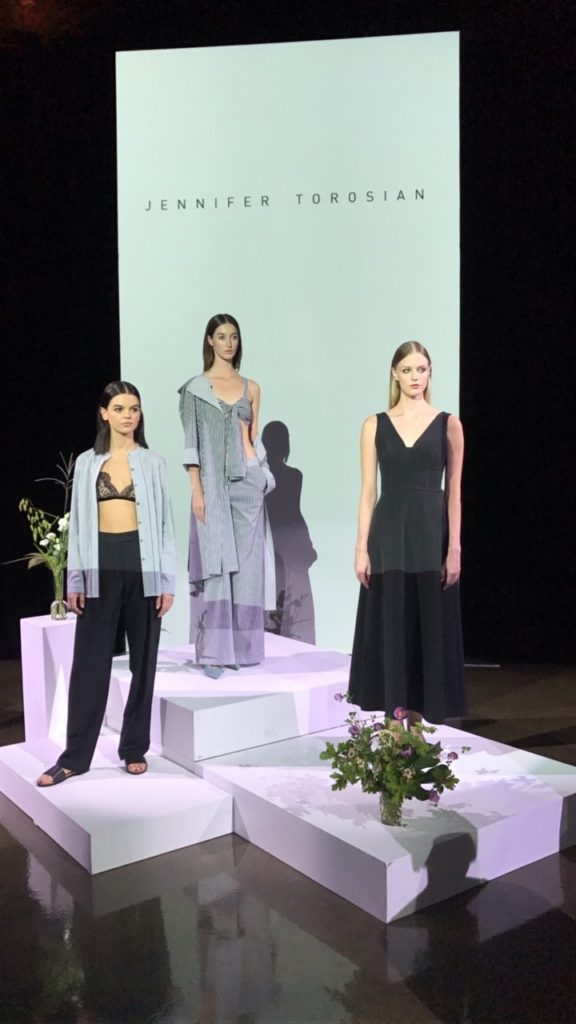 #4: Alex S. Yu
And last but not least one of my favourite designers of the night, Alex Yu. I met with him before the show to interview him exclusively for Style Circle so keep an eye out for that later this month 😉 School was fully in session at Yu's SS18 presentation on Tuesday night when guests entered the lower ballroom at The Great Hall. The half stationary, half runway style presentation featured old fashioned desks which some models sat on, as well as a digital projection of lockers on the backdrop. The mens and womenswear outfits donned by androgynous looking models played with an upscale idea of what prep school dressing could (and should) be. Dresses were layered over turtlenecks, blazers had shoulder pads and sneakers with frilled socks were everywhere. The beauty look was simple and understated, a focus on good skin was evident. This gave a very adolescent feel to all the models who were clearly no longer in school. Hair was tied back in either a pony tail or was pinned in some way to accentuate long statement earrings. We must say, if school uniforms looked like this, we would have no objections.
So there you have it: the first day of RE\SET 002 is a wrap. It was so fun to go and look at all the amazing designs and I can't wait to attend more fashion month events. Stay tuned for our round-up of the best collections from Day Two of RE\SET 002 as well as our collection of the best street style from both days.
*Written and photographed by Kelsey Adlem