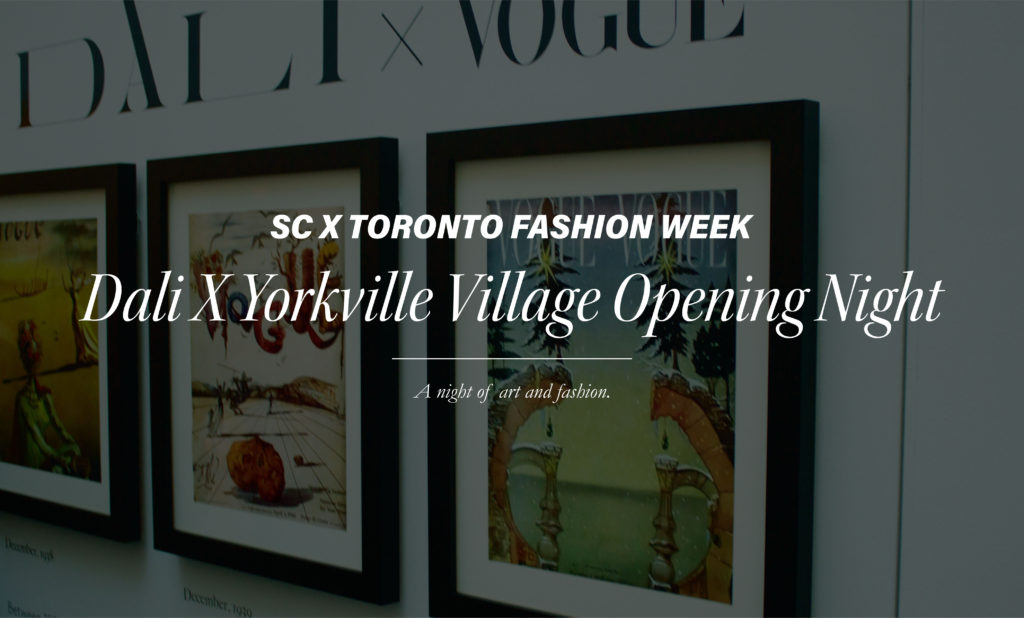 Toronto Fashion Week in Yorkville Village ended a fashion filled Day Two with a spicy opening night party for the brand new Dali X Yorkville Village exhibition. The special exhibit showcases a selection of Salvador Dali's prints and sculptures as well as garments inspired by his work.
The first three looks were totally conceptual and very fitting for the gallery-style setting. A Moschino plain white t-shirt dress with Dali's signature mustache draped to the ground and a color-blocked Ferragamo dress inspired by Dali's famous melted clocks in The Persistence of Memory (1931). This inspiration was shared by the third dress, a traditional Korean quilted gown with embroidered cabinets and colorful patchwork by designer Yung In.
The final three looks were all glamour. A simplistic crepe dress inspired by Dali's love of Mae West's lip shaped couch by Stewart Parvin, and elegant pleated and sequined gown with matching bolero by Allegra Hicks and an exquisite velvet gown with butterfly applique by Betty Jackson, one of Dali's favorites.
A variety of Dali's art was also on display including a variety of rare lithographic prints and a few sculptures. Our personal favorite? The bronze, aptly titled, "Homage to Fashion," an accurate representation of our obsession with all the incredible art and fashion throughout Toronto right now.
The Dali X Yorkville exhibit will open to the public during shopping hours at 136 Yorkville on September 9th 2017.
This slideshow requires JavaScript.
*Original photography courtesy of Luke Severin