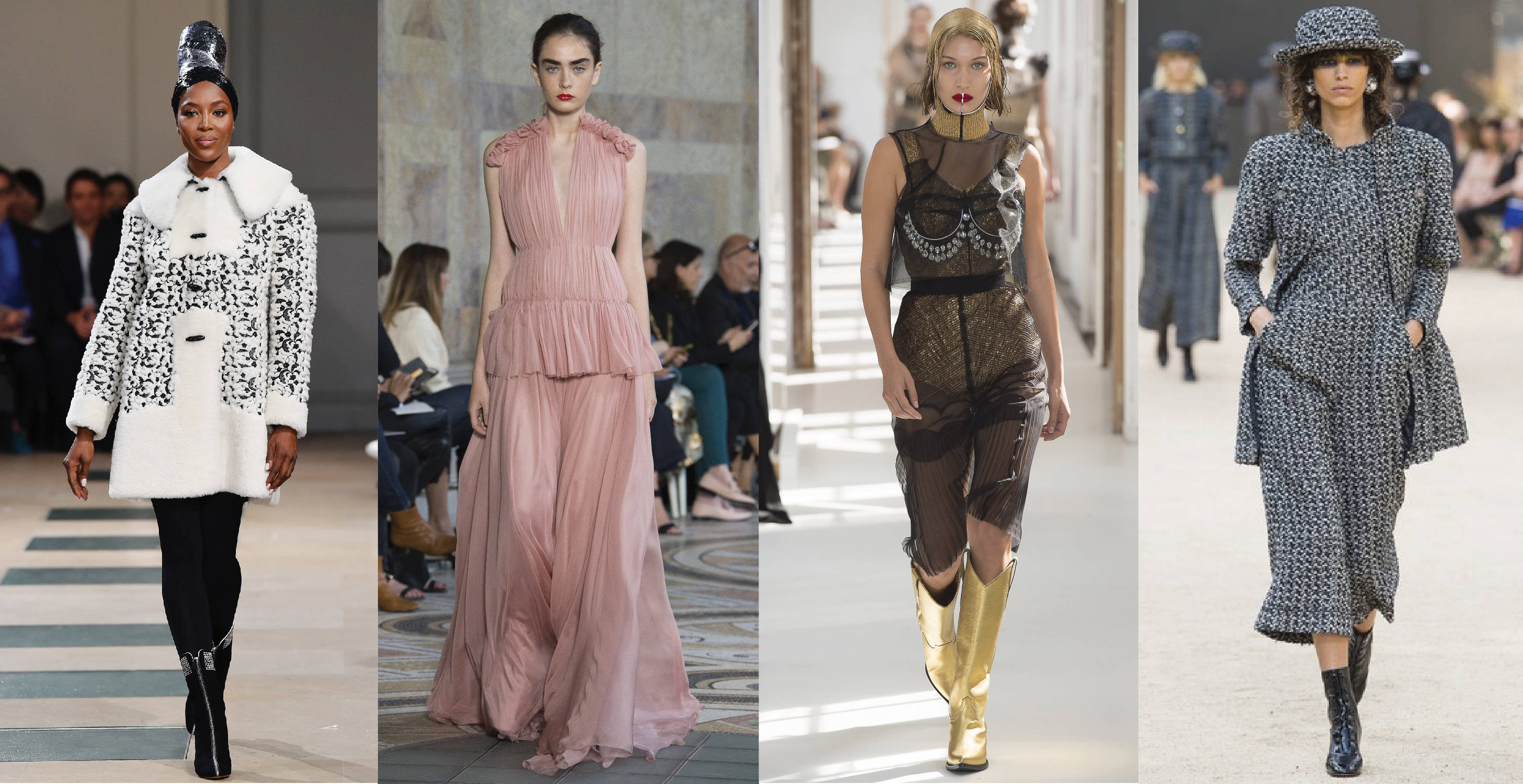 If Réalisation Par and Reformation are how to do French girl style during the summer, then the looks that came down the runway at Paris Haute Couture Fashion Week over the past days have taught us how to do French girl style for fall.
Chanel's Homage to Paris Was Classic Paris
Chanel's show, which took place at the iconic Grand Palais, showcased a 125-foot Eiffel Tower replica at centre stage. Vogue dubbed Chanel's show "an homage to Paris" and this homage, to Paris and French culture, was apparent in many other collections of the past few days. Another homage that was glaringly clear was at Elie Saab, but this one was more pop culture in nature. The Lebanese designer clearly binge-watched Game of Thrones before embarking on her fall collection that was heavily reminiscent of medieval Queens.
Dior Haute Couture Would Make Karen Blixen Proud
Dior's show was very much inspired by the history books as many looks were pulled straight from the Christian Dior archives. Dior's structural grey pieces inspired thoughts of war-era working wardrobes and featured silhouettes for a time of pared down living. In contrast to the austerity of the collection's pieces, the set was much more child-like. Life sized zoo animals dotted the runway invoking visions of Meryl Streep in Out of Africa (the 1985 film adapted from Karen Blixen's 1937 novel).
Modest Dressing is in According to Jean Paul Gaultier
Modest dressing took centre stage this season, most notably at Jean Paul Gaultier and Armani Privé. The brightly coloured, playful headdresses and hats on Gaultier's runway have caught our attention in particular. All looks showed minimal skin – downright refreshing – and Canadian fashion darling Coco Rocha stunned in a full body striped-suit matched with a cobalt blue headscarf. Every model in the Armani Privé show wore a glamorous sheer headdress, adding gorgeous going-out glam to every look. Azzedine Alaia also made a huge come back after a 6 year hiatus from couture. Naomi Campbell, long time muse of Alaia, opened and closed the show. Continuing the theme of modesty, Alaia showed beautiful coats with intricate floral motifs, and his signature black pleated gowns. A 60's theme was continually showcased throughout the collection, as well as plastic turbans worn by every model.
Galliano Does On-The-Go Glamour, Deconstructed
But above all, one collection has outshone them all: Maison Margiela Artisanal. The venue: John Galliano's MM studio and atelier, chosen to highlight the creative process of artists. The vision: grab-and-go glamour demonstrated in a red lip, a high heel, a trench coat. The purpose: to reinvigorate what it means to be glamorous and sensual in the age of speed and social media. John Galliano, past inhibitions aside, is a masterful artist and no one does Haute Couture like him. WWD said it best, no follow-up required:
"Galliano did what he does so beautifully: distort, twist, cut and shred with guts and discipline. Coats morphed into a frilled dress and a bustier worn over airy, bias-cut wonders. A trench and men's topper fused together. The fabrics amazed: sheer organza layered over opera-length mittens dotted with giant paillettes; a simulation of corrugated cardboard, an outerwear version of a Frank Gehry chair. Shots of Yves Klein blue added artful punch, while flashy metallic cowboy boots nodded to "The Misfits" and American pragmatism."
Azzedine Alaïa Returns After a 6-Year Runway Hiatus
Perhaps one of the most surprising, and refreshing, moments of Paris Couture Week was the return of a much loved and admired couturier: Azzedine Alaïa. The iconic designer has not shown a collection on the runway for sex year's worth of seasons and in the fashion world, surviving while making such a decision is a dangerous one. But evidently the designer has had amazing things in the works over the past years because this week's collection was worth the wait. The fashion crowd was also pleased that the couturier's muse Naomi Campbell opened the show.
As it always does this Paris Haute Couture season has come and gone at the speed of sound, leaving us a-blur in our attempt to process the aftermath. June 2nd to 6th has flown by but if there are any key takeaways, it's these:
This slideshow requires JavaScript.
Photos courtesy of Vogue.com and Women's Wear Daily.