"Fashions fade, style is eternal"… according to our dear friend Yves. Thus with a new year comes new trends, but really, how are you going to stay relevant when trends seem to be coming and going faster than the sell out of Kylie Jenner's lip kits? The answer: show that you have taste, wisdom, and a killer personality to match! Having three famous sisters and a professional momager might also help.
The best way to keep your wardrobe fresh without having to buying into the latest designer collaborations, seasonal items, and bougie, trending accessories is to invest in classic staples. After all, trends are just fashion repeating itself and adding new elements to the original look. i.e. Madonna's iconic cone bra that was inspired by Vivienne Westwood's Buffalo Girl collection circa 1982.
Listed below are some classic and tasteful items that will keep you looking and feeling fab in 2017.
LINGERIE
Trends for lingerie in 2017 include neutral tones (black, white, nude, blush, beige), floral, lace, and silk details, bralette styles, appliqué and embroidery features (especially in floral patterns), underwire styles, and minimalistic cotton fabrics. Some trending companies include: For Love & Lemons, Calvin Klein, and Are You Am I. Also, Kylie Jenner featured Cosabella's lace thongs as a must have on her app during winter of 2015. They are very similar to the hanky panky lace thongs, but fit smaller and have a slightly different shape.
 ~ Mood ~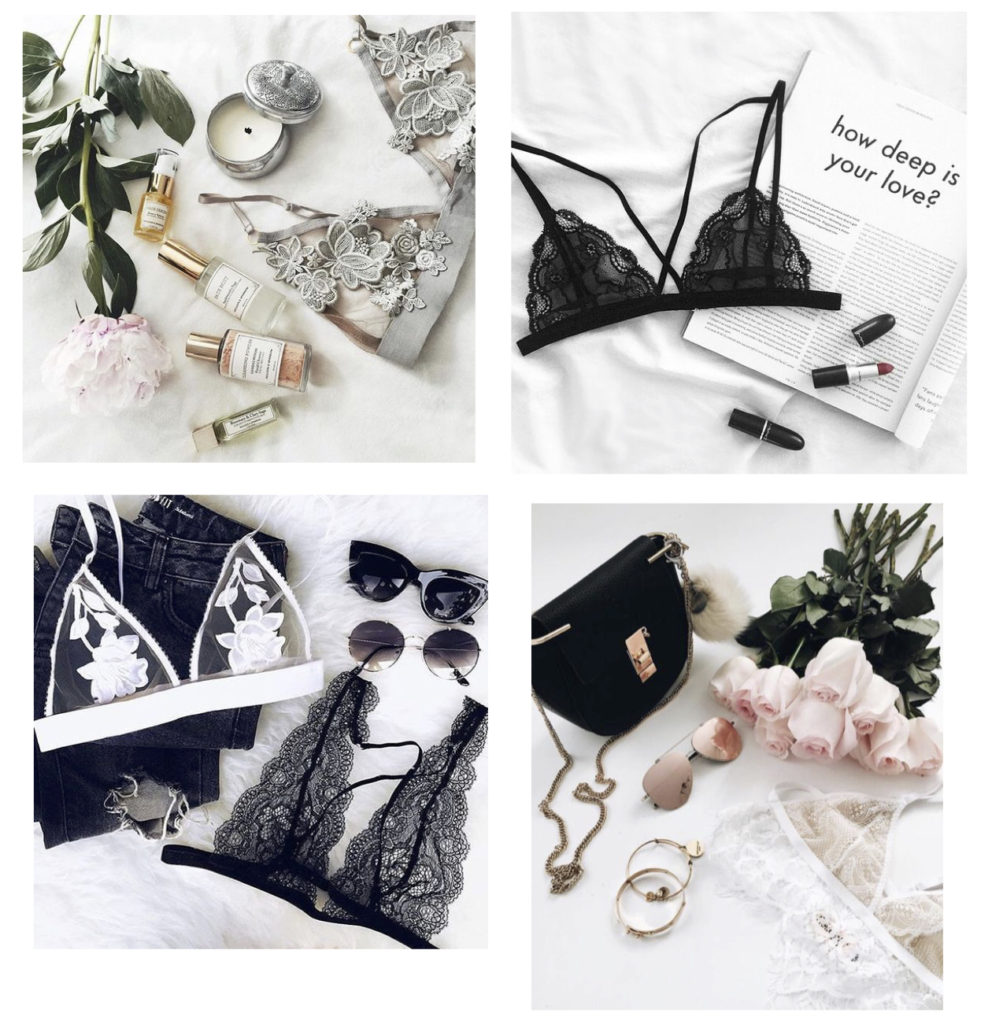 a. La Perla ~ Petit Macrame Triangle Bra
La Perla, an Italian lingerie company founded in 1954 by Ada Masotti, is well know for their intricate use of  lace, silk and tulle detailing. Ada started as a corset maker and her eye for detail and her perfectionism is what set her company apart and made them one of the first world famous lingerie labels. You may see La Perla advertised in magazines like Vogue and Elle. The company has had its ups and down, but in their past few years of collections La Perla has really knocked it out of the park. I especially love this triangle bra because it has the comfort and support of the elastic strap under the bust but is still super sexy and delicate. I would wear this under a relaxed white tee with a pair skinny jeans and chunky leather belt.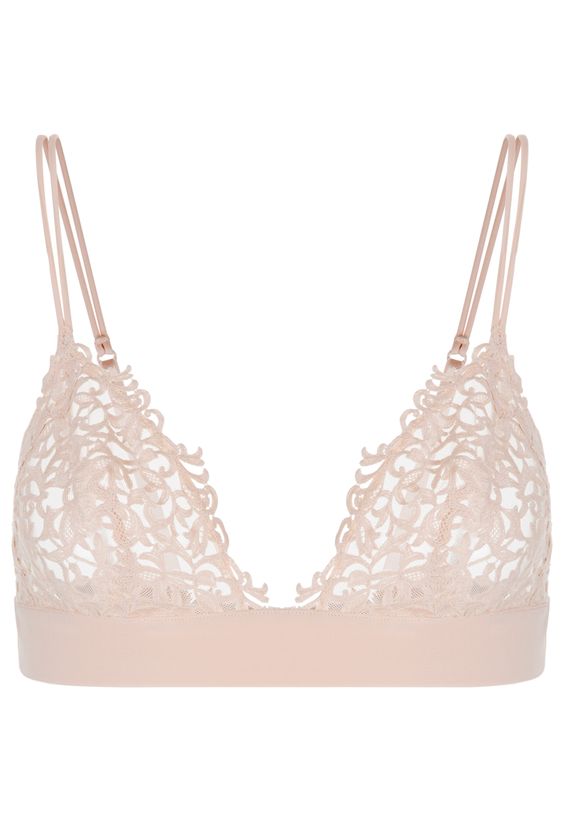 b. Natori ~ Feathers Bra
Natori never disappoints and their bras fit super well. They makes simple, well designed, and sexy pieces that blend easily under fitted tops and tees and their neutral colour palettes are perfect to wear under any ensemble. I love the way Natori works in their lace detailing especially as seen in the Feathers Bra. The lace makes a statement without being too in-your-face, and the craftsmanship is immaculate. The material is what makes these pieces so special. It's easy to get red and irritated skin from undergarments, but Natori's products are soft, comfortable and stretch easily with movement.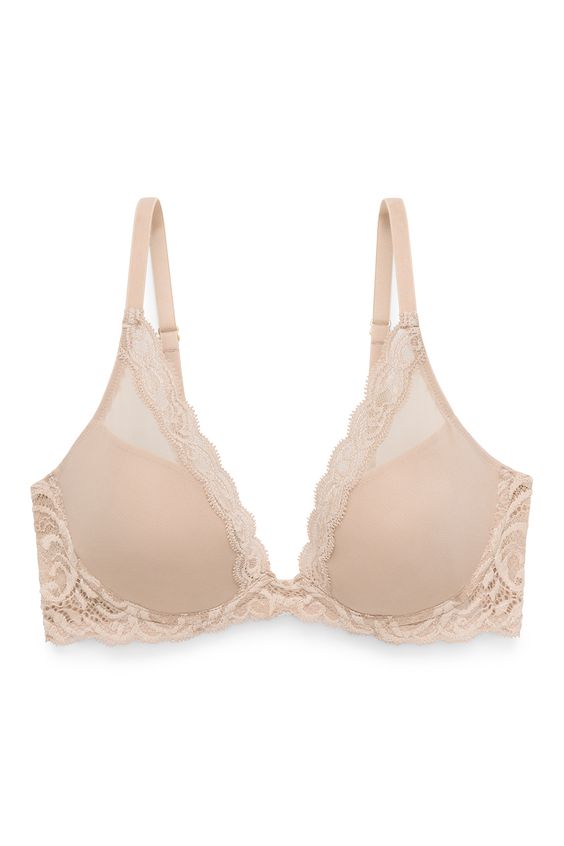 c. Agent Provocateur ~ Leola Bra
Longer cut bras are very popular right now. If comfortable, you can even wear them as tops in the summer at music festivals or when going out at night. Pair this bra with a velvet choker and leather pants and you're set to go.
You can't really bring up designer lingerie without mentioning Agent Provocateur. The line was created by Vivienne Westwood's son, Joseph Corré, and his ex wife, Serena Rees. As a son of a design legend, he was destined for greatness. The designs are beautiful and timeless and the fit and craftsmanship of every piece is flawless – Agent P is the King of lingerie.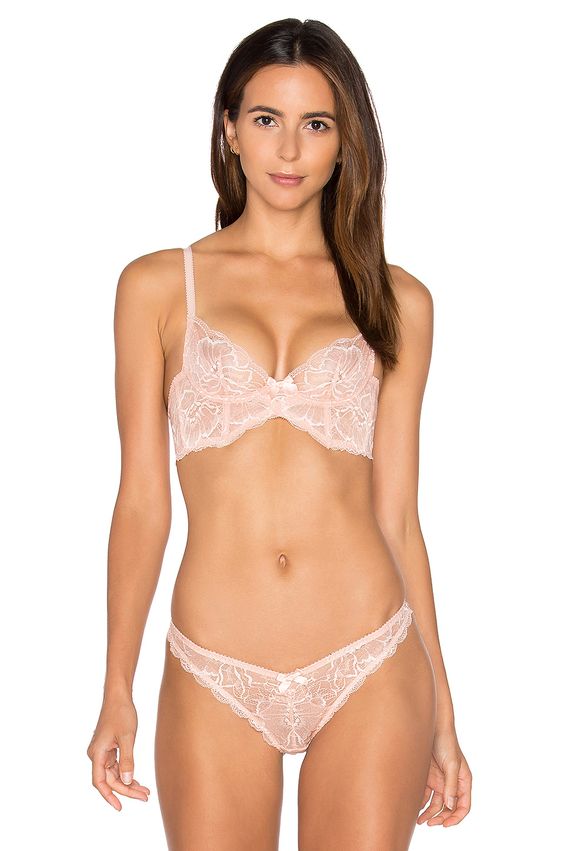 BAGS
Bag trends for 2017 are broken up into a variety of different categories. In 2015 we saw Fendi release a line of geometric, fun, and colourful bags with little "creature" faces on them and consumers went wild. Fendi also released similar style "puff ball" accessories with the same style of face motifs, and celebs like Kylie Jenner were spotted on multiple occasions sporting the quirky accessories. We also saw a comeback of silk scarves tied around purse handles. Even backpacks came into style, and mini versions with crocodile skin, vegan leather (from companies like Matt & Nat) and quite of number luxury brands (such as Alexander Wang and Louis Vuitton) were all producing fashion forward backpacks for women. In 2017, I think people will be wanting something practical that will last a long time and pair with anything in their expansive fast fashion and designer wardrobes. You can never go wrong with a black over the shoulder bag or mini purse in neutral tones with gold or silver hardware. In 2017 rose gold hardware and blush colours will fade out of style and be replaced by true gold and silver, and cooler tones of grey, camel and taupe. Grained leather, suede, snakeskin and silk will all be popular materials for purses and handbags in 2017.
~ Mood ~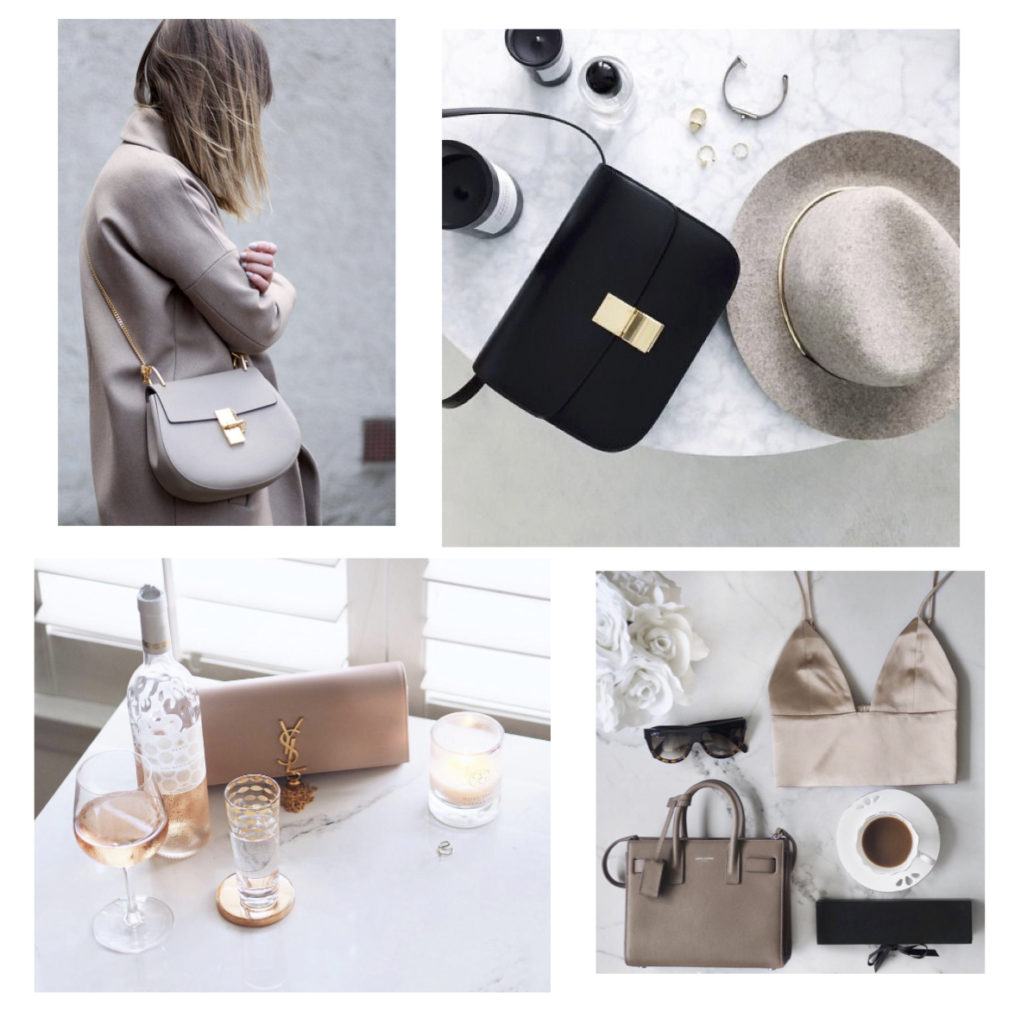 a. Chloe ~ Mini Drew Shoulder Bag
The mini Drew shoulder bag by Chloe is this year's staple bag for instagram bloggers and celebs alike. With its saddle bag-like silhouette and gold details, the Drew bag is a feminine classic. I love the pebbly grey colour because it can easily transition from spring to autumn. This bag is feminine but also has a practical appeal. Mini and micro bags are super trendy this year and even though this bag is a splurge, I can guarantee it's not going out of style any time soon.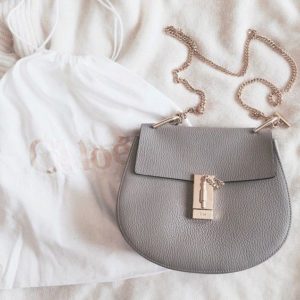 b. Saint Laurent ~ Classic Small Sac De Jour Bag
The sac de jour by Saint Laurent is the ultimate designer handbag. Pretty much every female celebrity has been spotted with variations of this bag at some point. I love the croc embossed texture as pictured below. This bag also comes in a nano version but I love the larger sizes because they make a bigger statement. You'll see many celebs clutching this bag in stylish jet setting chic outfits in those airport paparazzi photos. Pair with large sunglasses and a killer pair of Manolo's and you're ready for the runway.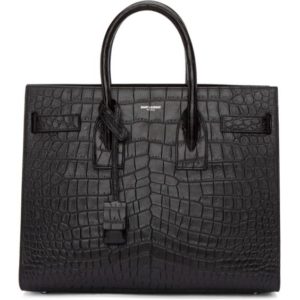 c. Celine ~ Medium Box Should Bag
Celine's sleek designs with a modern edge have always captured attention on the runway. Not to mention, who doesn't have a huge girl crush on Phoebe Philo? Phoebe's knack for must have handbags really stands out as an important part of Celine's reputation. One of Celine's most well known handbag designs is the boxed shoulder bag. Classic and elegant, I can see this piece being worn anytime, anyplace, anywhere. It's just that versatile.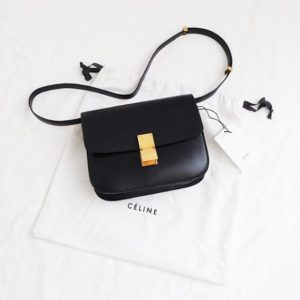 SHOES
There's nothing I love more than topping off my favourite outfit with a brand new pair of shoes. In Toronto, boots are a must in the winter, but when it gets toasty warm in the summer, I love pulling out strappy sandals and a cute pair of pumps. For 2017, embroidery, suede, velvet, fur, sneakers, pointed toes, mules, and La Belle Epoque style granny shoes are all going to be popular. However, sometimes it's easiest to invest in staple pieces that will never go out of style. Below are some cult favourites that will surely take your outfits to the next level.
~ Mood ~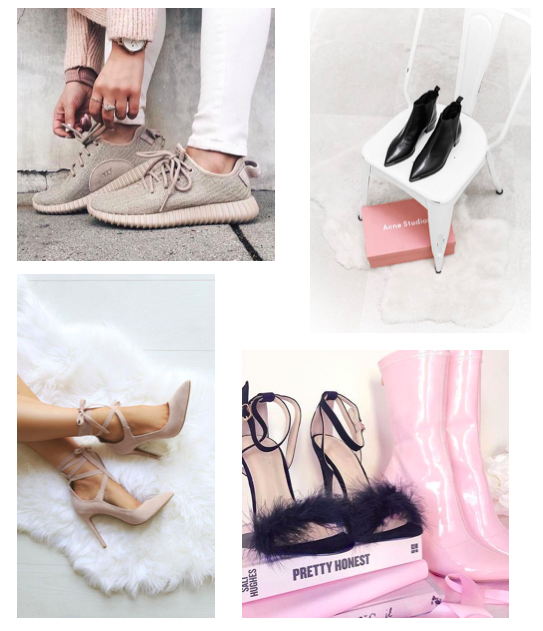 a. Stuart Weitzman ~ Nudist Heel
The nudist heel by Stuart Weitzman comes in many different colours and variations, but the classic and clean silhouette is what really makes this shoe a staple amongst celebrities and red carpet goers. It's casual enough to wear to the office, but can also easily be dressed up with a gown for black tie events. The nice thing about this shoe is that it's barely there. You can let your outfit speak for itself and the silhouette has a lean and elongating effect on your legs. The point of this piece is to make you look amazing without others knowing that your secret is all within the shoe.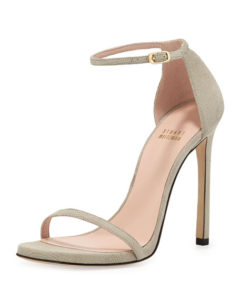 b. Maryam Nassir Zadeh ~ Penelope Mule
Maryam's thoughtful concept boutique on the lower east side of NY attracts some of the best dressed women in NYC. Her shoes really stand out to me and I love the simple yet modern designs. The Penelope mule is one of her best sellers because of its comfortable and flattering shape. You could pair these shoes with a billowy vintage dress or work slacks and a silk blouse. Her pastel palette in beautiful suede materials really captivates peoples attention. These shoes are feminine and practical and I could see them being worn in many different ways, for many different occasions.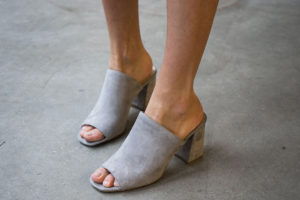 c. Stuart Weitzman ~ Highland Boot
Another Staurt Weitzman favourite is the highland boot. This boot comes in three different heel heights ranging from highland, to midland, to lowland (pretty self explanatory). As a student, I would go with the lowland because it is great for walking around campus and can be made super casual. The highland boot is great for going out at night because it gives you a extra height.