By Victoria Zander
As students, life is often a balance of classes and jobs during the day and a busy social life at night. But with only so many hours in a day, we sometimes find ourselves without the time to entirely transform a casual daytime look into a glam night-look. The solution is a look that can go the distance – suiting any situation you'll find yourself in – day or night.
An efficient day to night look doesn't require lugging an extra large bag around with you, stuffed to the brim with an entire wardrobe change, but rather it is a look that is appropriate whether its 7am or 7pm. The most effective outfit for this would require little to no adjustments when moving from the work scene to the nightlife scene.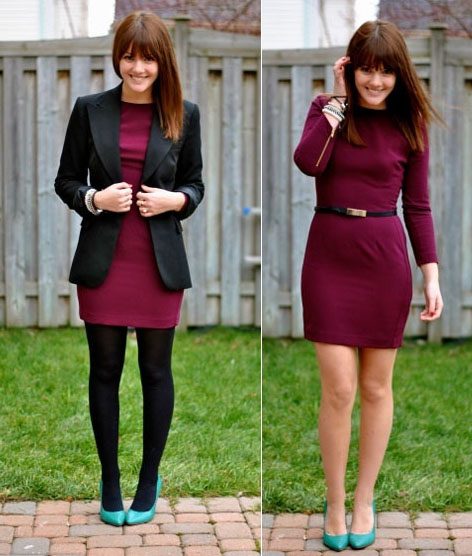 One of the easiest ways to bring a look from day to night is starting with a simple dress, (consider a tailored shift dress, or perhaps a slim sheath dress), and topping it with a blazer or otherwise tailored jacket. This look is neat and professional. Switching out the jacket for something more playful after work or class is a great way to make that same dress appropriate for a night on the town. Or consider that same dress – now paired with a neat pair of black or nude pumps. Switching out those shoes for a bright red pair of towering stilettos or fuzzy leopard print heels instantly turns a daytime look into night.
Jewelry is another sure-fire outfit transformation key. Changing out your stud earrings into a pair of dangling hoops or adding a bold cuffed bracelet or chunky ring will instantly shift your look. Long chain necklaces, statement pieces, bangles, pendants – all of these are standout items that you can easily add to an outfit to quickly transform it.
Also consider the bag that you're carrying – while a large leather tote bag or a patterned backpack may be practical when you're on the go during the day, it's not that ideal for carrying around all night. Think about bringing a smaller metallic clutch or a small bag with a top handle with you. This way, after work or class you can switch your essentials into the smaller bag and leave your large bag in your locker or drop it at home before heading out.
However, even the best accessory, shoe, or coat transitions can't transform your outfit if you don't start with the right base. The key here is avoiding overly luxurious pieces. If you're starting with a shining violet silk blouse pair it with a matte black pant instead of your leopard print skirt. If you've got a great patterned skirt going on, tone it down a bit for the day with a plain cardigan. Starting with a base like this where a quick change of pants or the removal of a sweater is all you need to glam up your look is the essence of day to night dressing.
Day to night dressing is a great skill to have as a busy student with demanding social, academic, and possible professional lives. Mastering small outfit changes like these are key in balancing these hectic schedules.