By Joanna Ho
Now that Halloween is officially over and retail stores have started to set up their holiday displays, we can begin to pump ourselves up for Christmas! We are beginning to see more and more of knitted sweaters, cozy blanket scarves, cute beanies, cinnamon scented candles, and fully decorated Christmas trees around the downtown area as well as festive Christmas lights making their annual appearance.
What this also signifies, is that winter is coming! Being in Toronto, a necessity for this season is a sturdy winter jacket to keep you safe from the icy winds and wet weather. When hearing the term "Winter jacket," one often thinks of a big, bulky, shapeless, and generally unappealing silhouette but it doesn't always have to be this way! These jackets are meant to be worn almost every day in the winter season year after year so picking out the right one is definitely an important first step and as these are pricier apparel items, it is important to do a bit of research before investing in the perfect jacket.
Everyone comes from a different financial background and, as students, we definitely understand that not everyone wants to spend north of $1000 on a jacket (we certainly don't). Shopping on a budget doesn't mean you only have "sportswear" options with more focus on performance than style aesthetics, it just means you may have to do a little bit more research. We've compiled a list of women's winter jackets at a variety of price points (all under $1000), all of a similar style from different brands to emphasize that winter fashion isn't price exclusive.
We'll help you pick a jacket that works with your style without straining your budget!
THE JACKETS
Jacket 1: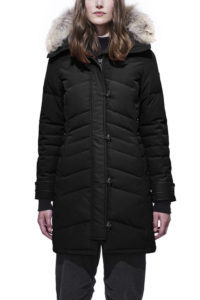 Brand: Canada Goose: The Lorette Parka
Price $950 CAD
This iconic down-filled Canadian winter jacket brand dominates the market for jackets that will keep you nice and toasty in extreme winters up to -20 degrees Celsius. This is one of their newer designs that is practical, durable, and also comes in seven different colours to help you find your personal favorite.
Jacket 2: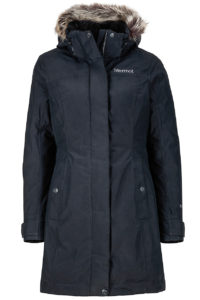 Brand: Marmot: The Waterbury Jacket
Price $400 CAD
This is also another down-filled brand that is known for their reliable quality as well as their stylish winter wear. It has the classic slick city silhouette that comes in black, grey, and navy blue. These jackets are found online only and they are well praised for their warm fleece accents and durability.
Jacket 3: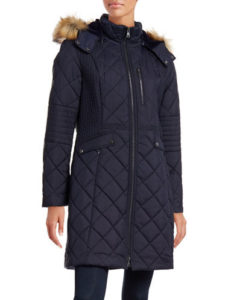 Brand: London Fog: Side-Braid Walker Coat with Faux Fur Trim
Price: On sale for $166.80
Another well-known brand for winter wear, London Fog designs stylish pieces for those of us who enjoy winter style without spending a large sum. This jacket is predominantly made of polyester so although not as warm as the down-filled ones mentioned above, it is still quite warm, just less sturdy.
Jacket 4: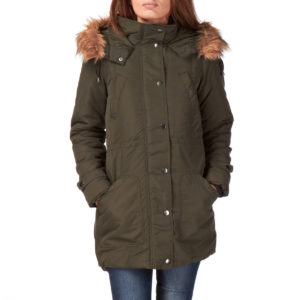 Brand: Vero Moda: Polar Arctic Three-Quarter Parka
Price: $99.00 CAD
Found at Hudson's Bay, this polyester fill jacket is sold at an affordable price and although slightly less durable than others, it provides comfort and most importantly, warmth. The exact temperature range it is designed for is not stated but based on the inclusion of "Polar Arctic" in the name, we can assume that it is pretty warm.
Hopefully this provides some guidance for ladies who are looking to enjoy this winter staying nice and toasty!