Ever the master of femininity, designer and creative director of Narces Nikki Wirthensohn Yassemi did not stray from the brand with her collection this season. Generally specializing in evening wear, formal wear and cocktail attire, this season showcased floor length gowns fit for the opera or a fancy dinner gala, as well as chic and captivating cocktail dresses for a slightly more lively formal evening occasion. Burgundies, whites, purples and teals composed this Fall/Winter selection, offering a range of colour options and vibes to those who will wear them. Bright red and even a shimmery olive green made an appearance in some of the floor length gowns. The colour story here was beautiful, yes, but in all honesty it wasn't incredibly ground breaking.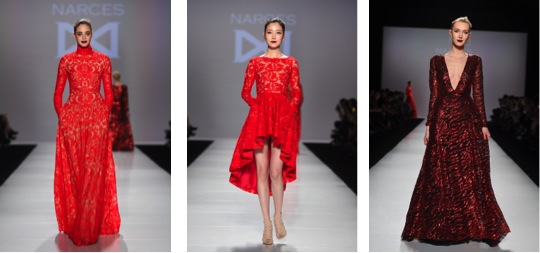 Another major feature of Yassemi's collection this season was see-through – or at least see-through detailing. Almost all of the dresses had a sheer underlying fabric that allowed the intricate designs of the dresses to contrast against what looked like bare skin. This allowed for all the incredibly detailed floral patterns to really pop against the model's skin, and create solid visual interest. The slightly disappointing thing about this collection though is that eveningwear / formal wear is kind of hard to change up. Unless you take it to an incredible "art-piece" point where no one would be able to practically wear it, it all pretty much looks the same. The necklines in Narces' collection were your typical assortment of crew neck or semi-curved necklines, deep v's, high neck's, strapless and small cap sleeves. Skirt lengths were either floor length, mid length or waterfall style – short in the front, longer in the back. Skirt designs were also either slip like and body hugging or voluminous and shapely.
Overall I was just not surprised by anything in this collection. Although incredibly beautiful to look at and many of the dresses I could see myself wearing for a formal night out (i.e. the gorgeous red and black deep v ball gown), it wasn't all that exciting to sit and watch. Speaking of unoriginality, there was also that minor detail of….oh….you know….ripping off the design motif on another well known (Canadian too) designer (see below). All in all, not a bad show – it just wasn't the greatest either.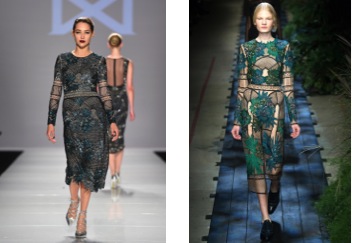 Written by Naomi Brearley
Photos courtesy of George Pimentel for TFW