As the momentum of Fashion Month begins to dissipate, we disciples of fashion turn our attention toward the newly minted Toronto Fashion Week (#TFW), I can't help but think that a little contemplation is in order. Big things have been happening in the industry over the past few weeks. Significant increases in diversity and representation were seen on some of the Fall/Winter 2016 runways, such as Tom Ford, Balmain, and Chanel (among many others). The CFDA released their study on the future of New York Fashion Week, Some designers displayed their collections strictly through social media – Rebecca Minkoff. We also witnessed the aftermath of recent designer burnouts as Balenciaga, Dior and Lanvin, who all presented collections with new designers at their helm. The fashion game, as we know it, has been in a state of extreme metamorphosis (yep I just brought science into this shindig).
Because of this I wonder what all of this change means for Toronto Fashion Week, if it impacts us at all. I wonder where are we sitting on diversity? How do our designers feel about burnout? Are they feeling the same pressure from the industry as designers at major fashion houses? Do we need to be thinking about a new model for how people see, experience and interact with the collections? As a Ryerson fashion student I am always reminded to think of the bigger picture and consider what impact our decisions have on the larger environment. Sometimes, it feels like Toronto is in it's own little bubble, and I wonder if we are so new at this still (being a major fashion city) that we should just keep doing our own thing and ignore the challenges the bigger fashion centres face. When I read things like the CFDA Status Report on New York Fashion Week, I can't help but think of how their research could connect with us. If Toronto Fashion Week doesn't experience the same challenges as Fashion Week in New York, then what challenges do we face? Do we have issues that these other fashion centres don't? Answers to these questions are what I will be looking for when I am sitting courtside (yup, sports too) at the runway shows this week, and I hope that by being in consistent attendance I will have lots to share afterward.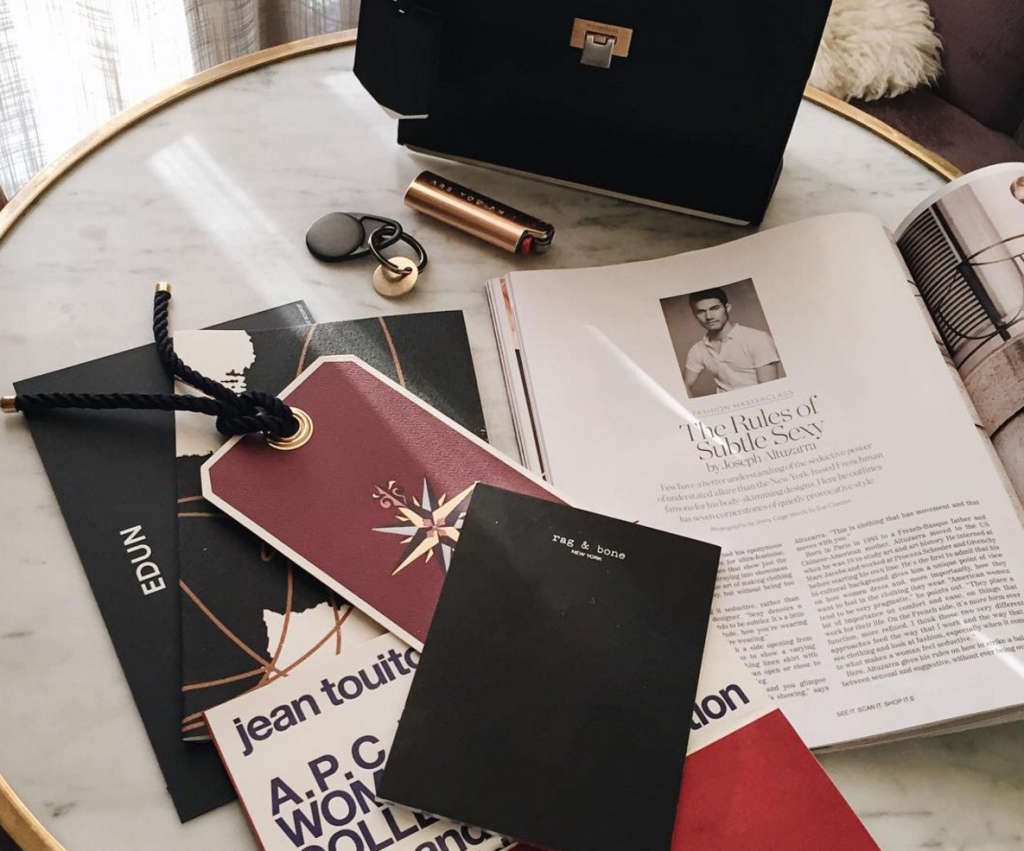 As a student who has attended Toronto Fashion Week once before, I can assure you that one issue we do have to address is that our industry is small! The community of people at Fashion Week here is incredibly niche – and elite. Think editors of major Canadian fashion magazines, local bloggers and social media influencers, friends and family of the designers, financial sponsors and then a few lucky fashion students who slip in through the cracks. That is it. If you don't know someone with a connection inside the big white tents, it really is incredibly difficult to get a seat. General admission tickets are at least $25, and even then there are very few of them if you decide to attend last minute. On top of that, if you do manage to make it inside, you are squeezed to the back and can barely see over the impeccably dressed people in front of you. Trust me on this, I did it last year and being an outsider is so – much – work. Now, this may not seem too different from other fashion capitals because historically these weeks were for buyers to preview what they wanted to stock in their stores next season. Magazine editors would attend so they could disseminate the upcoming trends to consumers. But given that our local fashion economy is still growing I think it may be a smart move to open it up a little and make it more accessible to consumers who devote their paycheques to supporting these designers.
I will be completely honest, one of the most exciting and enjoyable things about both Toronto Fashion Week and the industry here in general is that it is very exclusive and hard to pierce. This can be good because it maintains the air of mystery that fashion once had, it cements it's status as a thing for the elite because not just anyone can waltz in to the shows, and for someone hoping to work in the industry one day, it makes the achievement of succeeding within the business that much sweeter because you know you had to work really hard to get there. I'm not trying to say that Fashion Week should open the floodgates and let people poke their heads in off the street. But that being said, our industry here is very very small with a limited history that can make it difficult to access. I'm very excited to see what the designers have in store for this season, especially given all of the changes that have been happening on the global fashion scene. I wonder if anyone will embrace the connective power of social media like Rebecca Minkoff, or if any of the runways will be like Chanel's "Front Row Only". I would love to see the fashion community open its arms to everybody in this city, because there are people in every borough that eat, sleep, and breath fashion like we do here at StyleCircle. I truly believe that if we collectively operated with inclusion in mind, our industry would grow both economically and in international clout. We have amazing talent here in the Ye Olde North and I think it's about time everyone else knew that too.