---
Fashion reigns as the formal queen of visual emphasis where form, structure and coordination can sometimes seem secondary to the kaleidoscope of colours, prints and styles that change with the forecast every season. For many, simply trying a solid jewel tone, pastel or conversational print can be enough to break fashion rules. But when it comes to experimenting with silhouette, especially for menswear, style sense becomes more complicated, but if done right, can be a killer skill to add to your style repertoire. This week, we'll look a bit deeper into the avant-garde approach to sculptural form in fashion and how to make a bold statement by playing with silhouette.
Here's some looks from the runway:
---
(From Left to Right: Ximon Lee, Thom Browne, Alexander McQueen, Astrid Andersen, Moncler Gamme Bleu, Juun. J)
---
Ximon Lee's heavy silhouette is well proportioned; the sequined stripes, cut-outs and oversize collar go hand in hand with the gargantuan nomad clutch with copper detailing. Combined with simple socks and flops, a clean neckline and straight pleated skirt, the body seems to rise out of the mass of fabric and action in the coat and bag. What I love so much about Ximon Lee's look is that the body isn't lost or carried away in the oversize silhouette. Thom Browne has an approach to classicism that is always dramatic and elegant. Here layering is exquisite as the hat, veil, blazer, knee-length coat and ankle-length skirt effortlessly waterfall down the body. Subtle changes in grey and black are addictive and with tights, a simple tie, gloves and dress shoes we can see the man behind Thom Browne's deathly melancholy. Alexander McQueen can never go wrong, and neither can an oversize trench in a conversational print. Cropped pants and slick hair carefully balance the widening of the body and the colour palette brightens the face. Simple, bold, expensive. Amazing.
Astrid Andersen's layers feel luxurious and the violet and charcoal mix creates contrast. Mixed with a sick sneaker and counterbalancing hat, the figure is relaxed yet covered and poised for action, everything you'd expect from Astrid Andersen's sporty, imperturbable signature. Moncler Gamme Bleu's misty ensemble is everybody's ghostly nautical prep fantasy. The top heavy layering combines quilting, colour-blocking, and stripes all in a coordinating, sterile palette and luxurious fabrics. The double short shorts and long socks bring emphasis upwards and the dark shoes smartly create visual balance. Lastly, Juun. J, the master of proportion, mixes an oversize leather duffle with high-waisted pants and a flat neck shirt. The pants are slimming and the tee is short and simple. The zippers guide the eye and create enough interest to allow the look to carry the coat whose oversize demeanour, long sleeves, stoic seaming and polished gleam seem to help it carry itself.
Now for a few tips and tricks on how silhouette works and how to make it work for you:
---
If we look at history, the Ancient Greek male form in all its young, athletic glory is what predominantly stands the test of time. The broad shouldered, small-waisted adonis creates a triangular silhouette, best dressed in jackets that hug the shoulders and cinch the waist and tapered or straight pants that broaden the legs and draw attention to the upper body. However, today we live in the kingdom of slim fit and spray-on skinny, where small is the new large and pink is the new black.
So, whether styles make a return to Grecian glory or skip out on few training sessions at the Gymnasium, silhouettes in menswear never venture far from the slim/broad spectrum.
---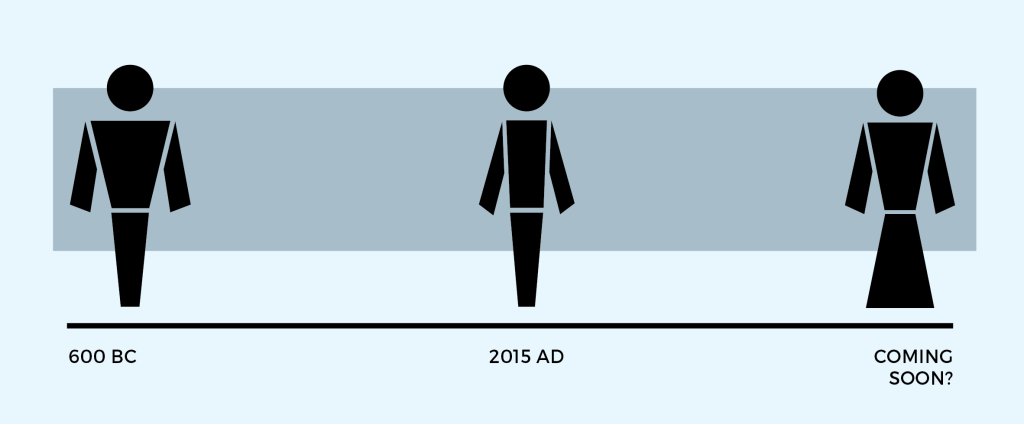 ---
What makes these runway looks successful is the fact that they change silhouettes by focusing on certain portions of the male form and diminishing others. Using length, layering and volume are great ways of doing this.
Layering adds visual interest and makes an outfit seem more complete. Even simple additions such as an undershirt, cardigan, tie, scarf, even leggings or jeans under shorts can add dimension to an outfit. Playing with length is great way to try something new. Long tees, shirts and coat lengths, tying a flannel around your waist, contrasting hem length with sleeve length, even skirts, culottes, baggy or cropped trousers can be interesting ways to lengthen or shorten the form. Volume is all about balance. Oversize bombers and denim jackets with skinny jeans or a neoprene top with slim fit joggers or sweatpants, an oversize sweater with short shorts or even a long sleeve tee with wide leg pants can create sculptural interest.
Overall, while silhouette can seem quite abstract, a little trial and error can go a long way. Playing with length, layers and volume are great ways to play up to your shape, change it up and make it unique. It's a great way to add another element of surprise and sophistication to your style.
Until next time, happy fashioning, and remember, life's a runway so put your best foot forward!
A little inspiration for you too…in length, layers and volume!
---
(From Left to Right: Ahn Sun Mi, henrikaau, Lou Ros, Lucas Chimello Simoes, Laura Grace Marci, Vinicius Gerheim.)